Robert Kyncl could have asked for a rosier set of fiscal results to accompany his first quarterly earnings call as Warner Music Group CEO.
WMG's investors would be hard-pressed, however, to ask for an address that was more candid and unequivocal.
Example: Within 50 seconds of his opening speech, Kyncl told analysts: "I am committed to maintaining straightforward and consistent communication within the investor community. So in that spirit, I want to immediately and clearly acknowledge that this was a tough quarter."
Obviously, Kyncl had due cause for this acknowledgment: WMG's recorded music streaming revenues fell 2.6% YoY at constant currency in the three months to end of December 2022 (calendar Q4, but fiscal Q1 at WMG).
For a major music company so used to reporting streaming growth to its investors over the past decade, that one stung. Yet there was some important mitigation: the equivalent quarter in the prior year (calendar Q4 2021) included an extra week of consumption.
When adjusted for this extra week, WMG's recorded streaming revenue actually grew 5% YoY in calendar Q4 2022, according to Warner's CFO, Eric Levin – with subscription streaming revenue up YoY in the "high single digits", offset by a "mid-teens" YoY drop in ad-supported streaming revenue.
Indeed, Warner said that it battled a "market-related slowdown in ad-supported revenue" in the quarter, in addition to a comparatively weak release schedule vs. the prior-year quarter.
While refusing to shy away from these bruising facts, Robert Kyncl's first earnings call at WMG – particularly amid a lively back-and-forth with analysts – was overall, forward-looking and positive in tone.
Despite repeatedly clarifying that he's only been in the job as Warner CEO for five weeks, Kyncl's address made two things very clear:
(i) This is not a mealy-mouthed or evasive leader who is likely to buckle under analyst scrutiny; and
(ii) He believes strongly that music can capture much more commercial value in the years ahead.
Here we sum up five particularly noteworthy points that the ex-YouTube exec made during the call…
---
1) He wants TikTok to think very carefully about its relationship with the music business
Spot the missing digital platform in this sentence from Kyncl's opening address: "This industry has achieved something rare: It's built mutually beneficial, long-term partnerships with many of the world's biggest companies – Amazon, Apple, Google, Meta, Spotify and Tencent amongst them."
Yup – there's no ByteDance or TikTok in there.
That omission would later be brought into sharper focus when LightShed Partners' Rich Greenfield asked Kyncl how important he thought music was to TikTok's core product – a timely question given recent events.
To answer the query, Kyncl called on his 12-year stint at YouTube, where he was the architect of much of the Alphabet platform's dealings with the music industry.
Those dealings ultimately ended harmoniously, with YouTube paying out over USD $6 billion to music rightsholders in the year to June 2022.
But they weren't always frictionless (anyone remember back before the YouTube Music subscription service launched in 2018, when leading music rightsholders were endlessly hammering YouTube for its so-called music 'value gap'?).
"At Youtube, we decided that [Music] was important to us… TikTok needs to do that."
"It's funny, having lived through that [tension with the music industry] we made the decision to launch subscription at YouTube, because we were looking at the industry holistically," said Kyncl today.
He explained that YouTube employed a "great audience segmentation strategy" alongside a mindset that "music is important to us forever" to drive its subscription offering, as well as a multitude of formats from which music rightsholders earn money – including premium videos, user-generated content, short-form video (via Shorts), and live streaming.
"We looked at this question [of committing to music] very closely [at YouTube] and decided that it was important to us and that's why we did it," added Kyncl. "TikTok needs to do that; it's the right decision for them to evaluate."
He added: "You can see from YouTube's execution what the results of these findings were for us, but I can't speak to what TikTok finds. My answer is: we're looking for a holistic relationship."
---
2) He's very tuned in to the possibilities – and threats – of AI
It's the topic de jour in wider tech and entertainment circles right now – and Robert Kyncl's taking it very seriously.
He was asked by Sebastiano Petti at JP Morgan today whether he's concerned about the potential impact of music-making AI technology – especially if that technology churns out huge volumes of music each day, and threatens to further dilute WMG's market share on streaming services.
Kyncl began his answer by saying: "AI is probably one of the most transformative things that humanity has ever seen, it has so many different implications."
Within music, Kyncl noted that those implications could include the use of AI to "help and support creativity", but could also be more threatening to rightsholders. Such threats, he said, include copyright concerns when AI music samples/ingests existing tracks, plus widespread worries over "the craft of artists and songwriters being diluted or replaced by AI-generated content".
"There are others who need to work on [this kind of copyright-identifying tech] because, in the AI future, this would be a serious deficiency."
Kyncl suggested that today's music industry needed to start working closely with leading AI platforms to ensure that copyright would be protected on their services in the years ahead.
He also looked on the bright side, too, noting that AI could help the music business with the "identifying and tracking of content on consumption platforms" that could then "appropriately identify copyright and remunerate copyright holders".
He cited YouTube's ContentID as an example of the kind of AI-driven framework that could help unlock monetization for the use of music content on certain other platforms. (MBW's gonna go out on a limb and suggest that those 'certain other platforms' who are yet to install a ContentID equivalent in Kyncl's mind include Facebook, Instagram, and TikTok.)
Continued Kyncl: "There are [platforms] who lack in this department and need to work on [this kind of copyright-identifying tech] because, in the AI future, this would be a serious deficiency."
---
3) He's keeping an eye on Spotify's pricing – and the general state of music as 'undervalued'
Kyncl didn't address the topic of Spotify's failure to raise prices in the US directly, but he skirted very close to doing so.
In his opening address to analysts, he noted: "YouTube drives the intersection of creators and technology, which means that I had many options to choose from in planning my next chapter. I chose music, first and foremost, because everyone loves music – including me."
He noted that the music business, in his view, still has "meaningful upside" ahead of it, for three reasons:
"One, as technology opens up emerging economies, the industry's addressable market will continue to expand even further";
"Two, innovation is constantly creating new use cases for music, giving us the opportunity to diversify our revenue sources";
"Three, music is still undervalued, especially when compared to other forms of entertainment like video."
It was while expanding on point No.3 that he appeared to momentarily bare his teeth in Spotify's direction.
"Since 2011, the subscription price of Netflix's standard service has roughly doubled," said Kyncl (echoing a point MBW made just the other week).
He continued: "Data shows that almost 80% of U.S. households subscribed to at least three streaming video services. This means that the average household is spending more than four times per month [than it used to] on a combination of digital video services that isn't even a comprehensive offering."
He added: "In contrast, the price of the music subscription has stayed the same since streaming was introduced over a decade ago. Most consumers subscribe to a single [music] service that carries virtually all the music ever released.
"Against this backdrop, it is encouraging that we're seeing first steps in the right direction by Apple, Deezer and Amazon."
Once again, Kyncl's target in that bit of speech was surely the company he didn't name, rather than those he did.
---

---
4) He's planning Tech-driven 'Efficiencies' at WMG
Robert Kyncl has raided his black book of YouTube and ex-YouTube execs for his first two senior hires at Warner: Tim Matusch (pictured inset), now EVP of Strategy and Operations at WMG, and Ariel Bardin – who headed up the creation of ContentID at YouTube – as President of Technology.
On today's call, Kyncl stopped short at outlining his overarching strategy at WMG, something he said was still "in development" after his first month at the company.
However, he did say that, under his leadership, WMG would "thoughtfully relocate resources to accelerate our technology investments to empower not only artists and songwriters, but also to drive efficiencies in the company".
He noted that the appointments of Matusch and Bardin were both "in that direction", adding that his goal is to "accomplish all of [this] with continued focus on financial discipline and cost-containment".
"I will be reallocating our internal resources in order to invest in technology and drive not only more tools for monetization for creators, but also greater efficiencies."
Kyncl later reiterated that he'll be "reallocating our internal resources in order to invest in technology and drive not only more tools for monetization for creators, but also greater efficiencies for us".
In total, there were three mentions of "efficiencies" from Kyncl in the same 40-minute call. So… are sweeping layoffs looking inevitable at WMG?
Perhaps not. Kyncl was asked by analyst Benjamin Black of Deutsche Bank if the recent cost-cutting (and related 500+ job losses) seen at Spotify might mirror the kind of "cost-containment" that Kyncl was thinking about.
In response, Kyncl noted that WMG had been "more measured in its headcount growth in the last few years than others in the industry, who are now undergoing significant layoffs".
To understand what he meant, check out the below graph, which juxtaposes WMG's global headcount (including part-time staff) at the end of each September, with Spotify's average global headcount (exclusively full-time staff, not including part-time) in each calendar year.
The tipping point: Spotify's annual headcount figure overtook WMG's in 2020.
---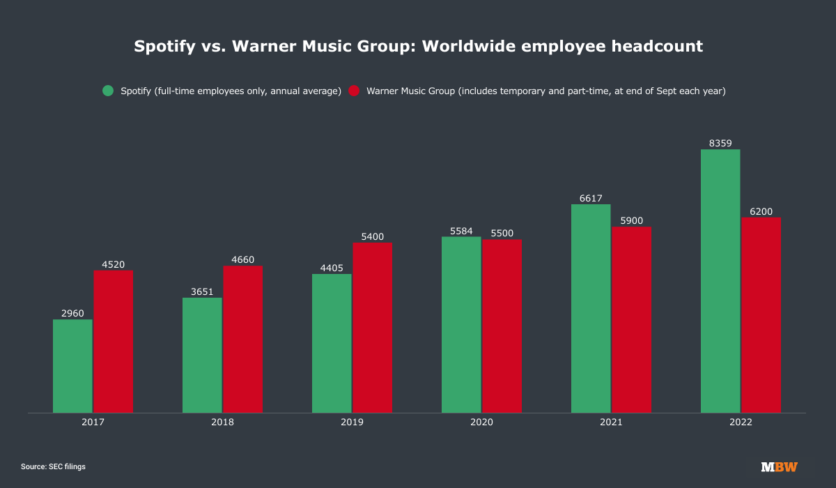 ---
Kyncl also noted today that there had been some "momentum" at WMG in terms of "cost transformation initiatives" that were underway over the last two or three years, before more recent "macroeconomic issues emerged".
Due to this ongoing "cost transformation", said Kyncl, WMG would be in a "slightly different position than others" when it came to cost-saving manouvers.
---
5) He seems surprisingly relaxed about indie tracks eating into major label market share
One of the more understated comments that pricked up MBW's ears in Kyncl's call today was this.
"Dilution [is] something that you've been seeing all along; it's obviously something I keep an eye on, that [I] sort of consider fair game."
This was in direct reply to a question from Michael Morris of Guggenheim Partners that cited the below data from Spotify.
Said data shows that music distributed by the three major record companies plus Merlin members has cumulatively been losing market share on Spotify for the past half-decade (at least).
---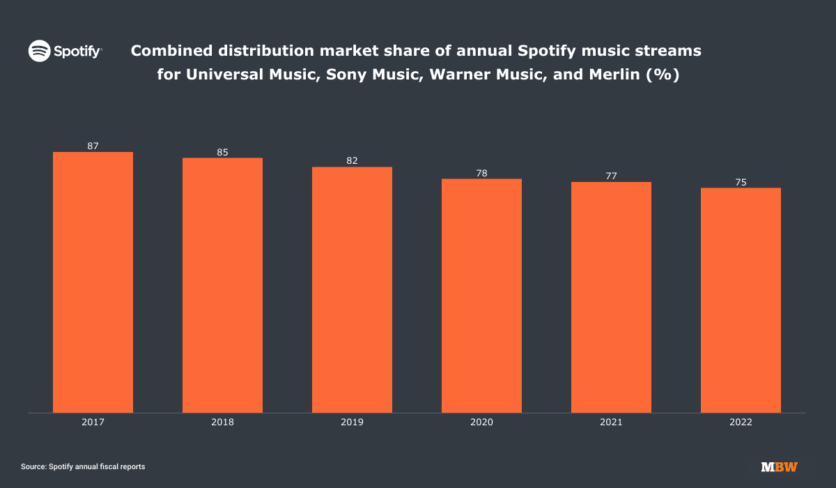 ---
The key cause behind that market share loss: the massive volume of tracks being uploaded to streaming services each day from the self-upload / indie artist community.
Kyncl's verbal shrug here – that this trend is "fair game" – may nod to his background at a tech platform (YouTube) that was supportive of, and commercially dependent upon, a vast army of DIY "creators".
There may, though, be another reason behind his phlegmatic attitude on this topic.
Namely: Does Robert Kyncl have a plan for a greatly expanded distribution and services offering for independent acts at WMG? One driven by Software as a Service (Saas) technology?
---
MBW has observed in the past that Warner Music Group's Level Music platform – a DIY music distribution and services offering in direct competition with TuneCore and DistroKid – appears not to have been a top-level corporate priority at WMG in the past few years.
Could that all be set to change? If so, how will Kyncl differentiate Warner's indie artist offering from the well-developed competitors in the marketplace?
We didn't find answers to those questions on WMG earnings call today, but Kyncl did say: "These are [streaming] platforms where content providers are uploading content, and [as a major] we have to do a great job in having a robust catalog and [working with] more great artists that are gaining meaningful share. We have to do a great job with them, so the onus is on us."
He earlier commented: "There is no question that technology will underpin everything we do, whether it's growth or whether it's efficiencies. It's important that we invest into it – and that's what we're doing."Music Business Worldwide