TikTok has more than double the number of active users worldwide that Spotify does.
We know this because – as reported by MBW three months ago – TikTok has confirmed that it had 732 million monthly active users (MAUs) worldwide as of October 2020.
MBW estimates the platform has comfortably over 800m MAUs today, and will surpass a billion over the next year.
The power of this scale for the music business was drilled home yet again today (July 21) via a new report from TikTok, which reveals that 75% of its US users say they discover new artists via the platform.
These stats come from a study that TikTok commissioned MRC Data to undertake in November 2020, called US TikTok Marketing Science, Music Perceptions Research.
Other key finding from the research: 63% of TikTok users say that they have heard new music (that they've never heard before) on TikTok.
These statistics fit with TikTok's long-held ambition to become a leading global partner for the music business.
Speaking to MBW in February, TikTok's Global Head of Music, Ole Obermann outlined TikTok's vision for being a prominent music discovery and A&R platform.
"The dream is that an artist is able to find their voice and find that first community on TikTok, and then they become famous enough where they are able to get a record deal or perhaps even a publishing deal off the back of that and go on to become a superstar musical artist and creator," he said.
The latter goal, of being an unsigned talent resource for the music industry, was highlighted in December when TikTok reported that over 70 artists who broke on the platform over the course of 2020 went on to sign major label deals.
TikTok says that MRC Data's new research "reveals the power of music on TikTok, shedding light on the importance and impact music has for brands and the creator community alike".
According to the report, 67% of TikTok users say that they are more likely to seek out a song they heard on TikTok on a music streaming platform, while 72% of TikTok users agree that they associate certain songs specifically with TikTok.
---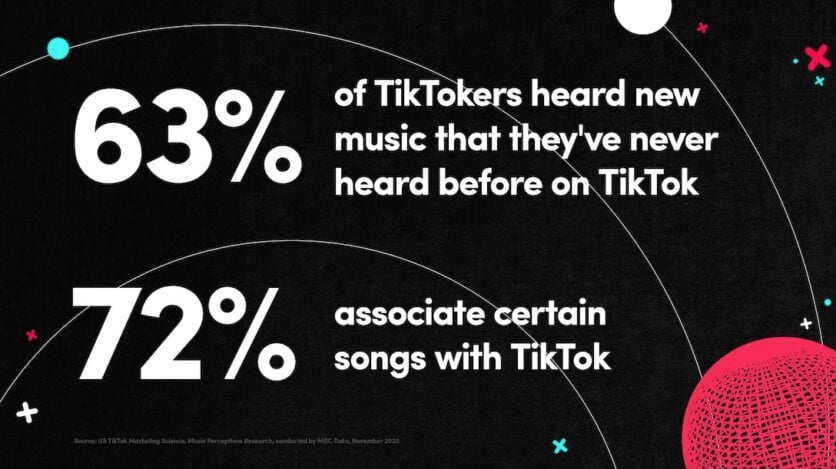 ---
"Music and sound play a big role in our lives, and brands are tapping into TikTok's sound on environment to connect with their community in a new and engaging way," says TikTok.
"When brands embrace music and partner with artists on the platform, they see a far-reaching halo effect of cultural relevancy and brand love."
---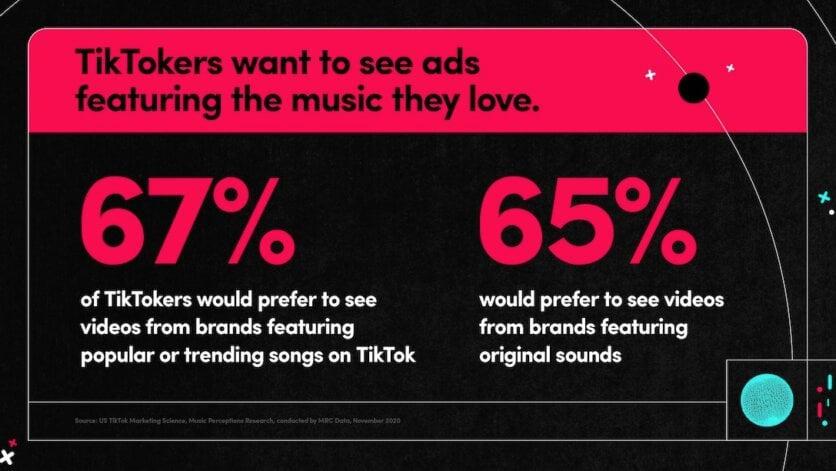 ---
Discussing the report's publication, Ole Obermann, Global Head of Music, TikTok, said: "TikTok has become an integral part of music discovery, connecting artists to their fans and introducing brands to every corner of the community," said
"TikTok is the home for music trends that permeate the culture, industry, and charts.
"TikTok has become an integral part of music discovery, connecting artists to their fans and introducing brands to every corner of the community."

Ole Obermann, TikTok
"From emerging artists to small business owners, the research from MRC Data reinforces TikTok's position at the forefront of providing opportunities to creators and artists alike."
---
TikTok's latest stats around music discovery on its platform follow the recent publication of a report by respected analytics firm App Annie, which states that as of May 2021, TikTok surpassed YouTube in both the US and the UK for average time spent per user, per month on Android.
YouTube is still comfortably the world's largest video streaming platform however, with more than 2 billion logged-in users playing music on its service every month.
Last week, it was confirmed that TikTok has now passed 3 billion lifetime installs globally from across the App Store and Google Play.Music Business Worldwide