Much-discussed streaming service TIDAL has put out some numbers regarding its last 12 months – and although it's by no means in the digital music big leagues, its performance might just surprise some critics.
The headline figure: according to the company, TIDAL has now surpassed 3m subscribers worldwide across 46 countries.
That means the platform has added around 2.5m subs since Jay Z purchased it for €50m in January last year.
It was revealed in March 2015 by filings by previous TIDAL/Wimp parent Aspiro that the service had 540,000 subscribers around the world.
According to TIDAL, 45% of its 3m subscribers today have signed up to its $19.99-per-month hi-fidelity tier.
In a press release celebrating its first birthday as a new company, the firm said: 'TIDAL now offers nearly 40 million songs and 130,000 high-quality videos, hosts exclusive livestreams and events, produces intimate fan-centric experiences through TIDAL X, and features original scripted video content and concerts.'
That's a long way behind Spotify's 30m and Apple Music's 11m subscriber figures, with both of those platforms currently adding around a million paying customers a month.
But remember that TIDAL's figure is in the same ballpark as more experienced rivals Rhapsody/Napster (3.5m) and Deezer – which technically had 6.3m subscribers last year, but nearly half of them weren't actually paying anything.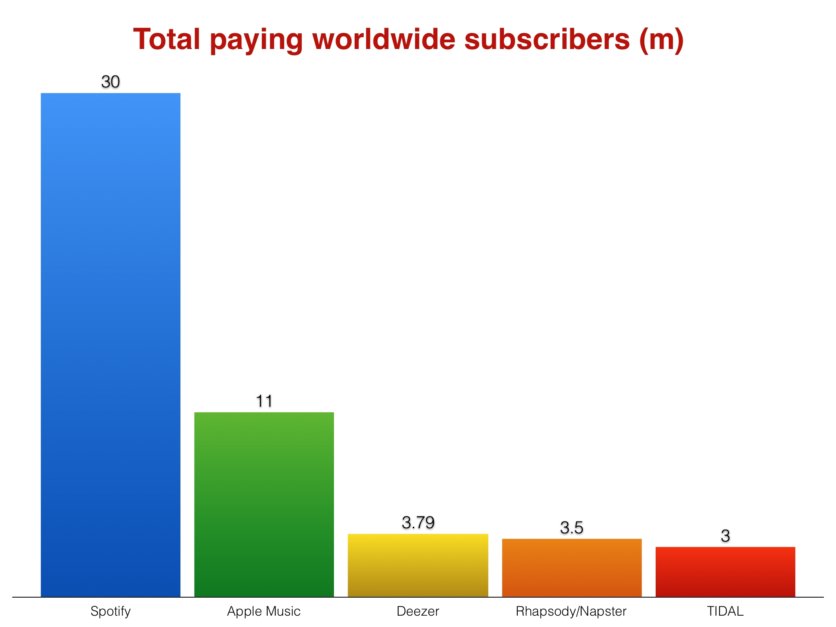 Within its numbers, TIDAL said that Kanye West's The Life Of Pablo album – which remains a complete platform exclusive with the exception of track Famous – was streamed 250m times in its first ten days.
Considering that Justin Bieber's Purpose recently broke Spotify records with 205 million global streams in its opening week, across that service's some-100m users, the Kanye figure seems high.
But that's what TIDAL says.
The company claims that The Life Of Pablo, which remains unavailable on the likes of iTunes, Apple Music and Spotify,  has 'ultimately changing the way the music industry views album rollouts'.
In other successes, TIDAL says that its exclusive debut of Rihanna's "ANTI" album was downloaded 1.4 million times in less than 24 hours earlier this year.
TIDAL now boasts 20 artist owners, an increase on the 16 stars who reportedly each took 3% in the business following its legendary press conference last March.
New part-owners of the business now include French band Indochine, plus Damian Marley, Lil Wayne and TIP.Music Business Worldwide