The following MBW analysis comes from Alex Bingham, Streaming Manager at EMI Records, the UK's biggest record label by SEA market share. Within the below number-crunching, Alex discovers/surfaces some very interesting facts and trends, not least: (a) Only four British artists topped the UK Spotify daily chart in the whole of 2020 (including Wham!); and (b) The average number of streams needed to hit No.1 on the daily UK Spotify chart has declined, without exception, over the past four years.
---
Did you know that The Weeknd's Blinding Lights spent the most time at the top of the Spotify UK chart in 2020? Or that the average number of streams needed to get to No.1 on this chart has continued to decrease year-on-year?
To follow on from my look at 2019, I've reviewed the tracks that reached the summit of Spotify's daily UK chart in 2020 (via SpotifyCharts.com) and some of the trends and records broken last year.
1) WHO TOPPED THE CHART IN 2020?
In 2020, 17 artists managed to top the Spotify UK chart. Of those, only four (24%) were UK artists; Stormzy, Joel Corry, Headie One and Wham!.
This is quite a disappointing drop from the previous years, where on average 40% of the artists topping the charts were from the UK. (Fifteen, sixteen and twelve artists topped the Spotify UK chart in 2019, 2018 and 2017 respectively; of those 40%, 38% and 42% were UK acts).
As you can see below, The Weeknd's global smash (and TikTok dance sensation) Blinding Lights spent the most time at the top of the Spotify UK chart in 2020, with 69 days in total.
DaBaby's ROCKSTAR spent just two fewer days in the top spot.
---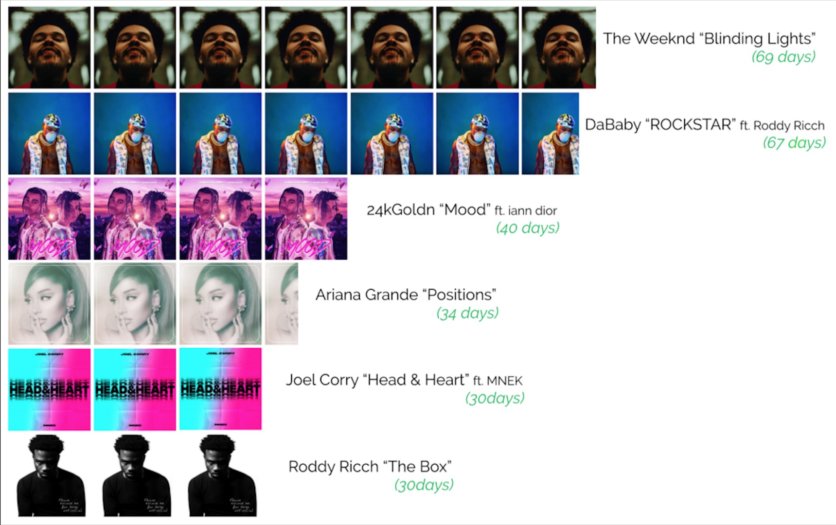 ---
The tracks that reached the summit of the Spotify UK chart in 2020 were:
The Weeknd Blinding Lights (69 days)
DaBaby ROCKSTAR ft. Roddy Ricch (67 days)
24kGoldn Mood ft. iann dior (40 days)
Ariana Grande Positions (34 days)
Joel Corry Head & Heart ft. MNEK (30 days)
Roddy Ricch The Box (30 days)
Cardi B WAP ft. Megan Thee Stallion (28 days)
Mariah Carey All I Want for Christmas Is You (26 days)
Drake Toosie Slide (11 days)
Tones And I Dance Monkey (7 days)
Billie Eilish No Time To Die (6 days)
Stormzy Own It ft. Ed Sheeran & Burna Boy (5 days)
Wham! Last Christmas (4 days)
Eminem Godzilla ft. Juice WRLD (3 days)
Billie Eilish Therefore I Am (3 days)
Headie One Only You Freestyle ft. Drake (1 day)
Lady Gaga Rain On Me ft. Ariana Grande (1 day)
Jawsh 685 & Jason Derulo Savage Love (1 day)
2) What's changed in the last four years?
The average number of streams needed to get to the Spotify daily No.1 spot in the UK has decreased by 17% in the last four years (2017 to 2020 inclusive).
The average chart-eligible streams needed to top the Spotify UK chart was just over half a million per day last year (504k).
That not only decreased year-on-year – it was actually down 17% across the four years in question (from 608,713 in 2017 to 504,623 in 2020).
---

---
This appears to tally with Spotify's financial results statement given in July 2020, in which the company said "gone are the days of Top 40, It's now the top 43,000". Spotify added in that statement that "the number of artists making up the 'top tier' of acts now stands at over 43,000, meaning that 90% of the streams on the platform are shared by these artists."
Whilst the top spot of Spotify's UK chart is still being dominated by megastar artists, the volume to reach the top is decreasing as Spotify surfaces a more diverse and wider range of artists to its users through its algorithms and playlists.
In turn, listener tastes have become more varied as they explore a deeper and wider breath of music, rather than relying on chart/radio hits to guide their listening.
---
3) Highs and Lows during the Holiday season
The festive period unsurprisingly leads to huge numbers of streams across Christmas-themed songs. 2020 was no exception with Christmas songs starting to flood the Spotify UK chart as early as November 1.
Wham!'s Last Christmas set a new record with the biggest ever day of UK Spotify streams. The track received a massive 2.5m UK streams on Christmas Day (December 25) last year.
This broke the record previously held by Mariah Carey's All I Want For Christmas Is You which registered 1.63m streams on Christmas Day in 2018.
In total, four tracks broke through the 2m daily streams barrier on December 25, 2020 (the first time this feat has ever been achieved, see picture inset).
Interestingly it was a festive period of highs & lows: the lowest ever daily streams to top Spotify's UK chart arrived just two days later on December 27; Ariana Grande's Positions hit No.1 with just 214k daily streams.
---

---
This record was then broken again just five days later, with The Weeknd's Blinding Lights returning to the top of Spotify's UK chart with just 197k streams on January 1, 2021. (The lowest-stream No.1 UK record was previously held by Clean Bandit's Rockabye, which topped Spotify's chart on New Year's Day 2017 with just 272k plays.)
Billie Eilish's Bond theme No Time To Die saw the biggest day for a non-Christmas track in Spotify in the UK in 2020, pulling in 1,094,688 chart-eligible streams during its opening 24 hours after being released on February 13.
The only tracks to have ever opened with more are Ed Sheeran's Shape of You, Castle on the Hill and I Don't Care.
---
4) Temperature Highs = streaming highs for Joel Corry
Another highly impressive chart topper in 2020 was UK artist Joel Corry with his song of the summer Head & Heart ft. MNEK. The track attracted three of 2020's biggest streaming days.
Interestingly, these peaks coincide with some of the hottest days in the UK. The highest peak day for the track, July 31, was the UK's hottest day of the year with temperatures soaring close to around 38°C.
Pulling the daily high temperatures in the UK and plotting them against the UK streams of the No.1 track on Spotify, you can see below that once temperatures soared above 30°C, streams on the biggest song tended to follow suit.
"Once temperatures soared above 30°C in the UK in 2020, streams on the biggest song tended to follow suit."
(Note: there are a handful of days in the middle of August where temperatures were above 30°C but streams didn't follow; whilst the temperature was incredibly high, there were widespread thunderstorms across the country.)
Using a bit of maths, I've calculated the correlation co-efficient between streams at the top spot and the daily high temperature between July and the end of August to be 0.49.
In layman's terms, this means that there is a moderate correlation between the two. This isn't massively surprising, as people rush out to sunbathe in the park and have BBQs while listening to music, but it's insightful nonetheless.
---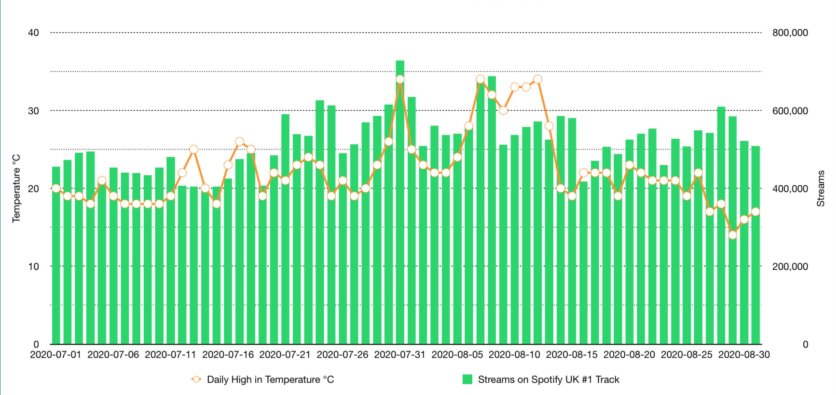 ---
5) A Pointless fact to end abruptly on
No track beginning with the letters; J, K, Q, U, X, Y or Z has topped the Spotify UK chart in the last four years.
---
The Spotify UK chart is updated daily and ranks all the tracks by the UK streams on Spotify for that day. Topping the chart means that that track was the most streamed track on Spotify in the UK that day. The data can be easily obtained from https://www.spotifycharts.com This article was created using all publicly available data. Historical weather data was obtained via https://www.accuweather.comMusic Business Worldwide