This picture was posted by none other than Drake a few short hours ago on Instagram.
It depicts a celebration of his album Views clocking up a billion streams on Apple Music.
A special plaque is being handed over by Apple's Eddy Cue and Apple Music's 'friend of the artists' Larry Jackson, as well as the Cupertino giant's overall boss Tim Cook.
It is a big deal.
Not only because a billion streams of Views will equate to a payout in excess of $5m to the artist and the music business.
Nor just because it makes Views the biggest album in Apple Music's short history.
But because… is Apple really starting to act like a major record label, or what?
---
We're used to seeing countless images of record companies – occasionally tour promoters – mugging for the camera with superstars who've just surpassed this or that commercial milestone.
But 'digital services'? Not so much.
They're rarely close enough to an artist to make it happen – especially one as huge as Drake.
For example, when was the last time you saw Daniel Ek posing with a megastar performer? (Mr Ek's invite to Taylor Swift must still be… pending.)
It's almost as if Apple is deliberately acting like a record label here.
(Or a live promoter; no great surprise considering it bankrolled Drake's latest headline US tour, Summer Sixteen – currently steaming through California.)
---
Going on tradition, you might expect Drake's major label distributor at Republic/UMG to be posing in the above shot.
But they're not. Apple is.
The same Apple that paid to make Drake's videos. Just like a label.
And who last week hired former Sony exec Scott Seviour to make original content. Just like a label.
And whose Larry Jackson just helped Drake make his own mini-movie. Just like a label.
In fact, the only thing different to a label in the above picture is – ironically enough – the lack of a metal disc to mark the occasion.
---
The fact Apple wheeled out Tim Cook for the shot indicates how important it considers its relationship with Drake – who was paid a reported $19m by Cook and co. last year for a multimedia deal.
It also shows how important it considers Views – an Apple exclusive for two weeks upon release – as a test case to help lock down more windowed artist releases in future.
What was it Tim Cook said at WWDC earlier this month?
"Apple Music is the premier destination for new artists and existing artists to launch their exclusive music."
And if that means rolling up his sleeves and posing for a label-style baller shot, Tim's down.
---
Oh, one last thing.
That frame being held by Drake?
It's got a special insignia on it.
Yep, the superstar in the room only went and signed it for his biggest fan.
We're talking about Tim Cook.
Tim Cook signed it for Drake.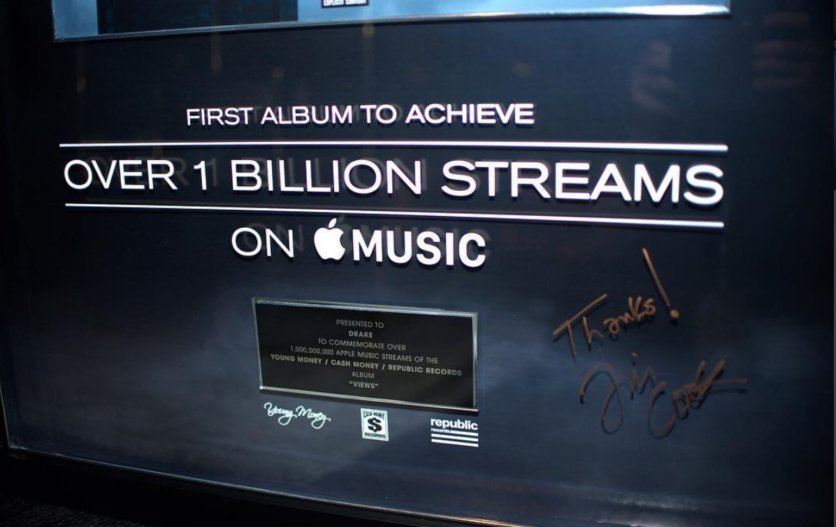 Music Business Worldwide