"Oh my God. Thank you so much to anybody who listens to my music… to my management team, Simon King and Jake Tasker, absolute legends; to my label Relentless, big up Shabs, absolute hero… to my gran who's watching somewhere on telly. Yes gran! Here we are!"
Witnessing the awestruck expression on Tom Walker's face when winning the Best British Breakthrough BRIT Award in February, you could be forgiven for thinking his climb to the top of the music industry was supernova-level in its suddenness.
The sincerity of the Scottish singer-songwriter's surprise at that ceremony was purely expressed – but his rise to prominence in this complex, streaming-dominated world hasn't been straightforward.
Walker must now be considered a bona fide British breakthrough star. His smash single, Leave A Light On – co-written with Steve Mac – not only has over 250 million plays on Spotify, but also, according to Radiomonitor, was the fifth most played track on radio across Europe in 2018, with 14.78bn impressions (i.e. separate individual listens).
It was also the biggest radio hit in France last year, beating out the likes of Maroon 5, Imagine Dragons and Shawn Mendes. Another major hit, Just You And I, has already racked up 117.5m streams on Spotify, and is Europe's 36th biggest radio hit so far this year, with over 5bn impressions. And Walker's debut album, What A Time To Be Alive, released in March, hit No.1 in the UK and has since gone Gold.
Walker signed to London-based Covert Talent for management five years ago after the company's founder, Simon King (pictured), heard an early demo. Up until this point, King had been better known for working with producers and songwriters (including Belle Humble, who wrote for Paloma Faith and Alexandra Burke), as well as being heavily involved in classical crossover 'Q4' artists including choirboy Jack Topping and the sea shanty sensations, Fisherman's Friends.
With Walker, King spotted an opportunity to build and break a self-contained singer-songwriter – but it didn't take too long before it dawned on the pair that theirs was something of a crowded lane.
According to King, Walker's emergence as a standout talent in a competitive field has relied hugely on the Scottish artist's musicianship – but it's also been a lesson in persistence and patience. Covert Talent was originally formed 'under the radar' whilst King worked other jobs in the industry (that's why he named it Covert, see).
In 2010, King left his long-time role at Universal Music Publishing Group to run the company full-time, whilst also consulting for the late Jazz Summers at Big Life, in their publishing division. Today, Covert continues to manage artists, songwriters and producers.
Alongside Walker, it also represents songwriter Alex Stacey (signed to Mike Caren's Artist Publishing Group) and writer/producer Hight, and it has also recently taken on a few new development clients. In addition, King – a former music supervisor and A&R figure at agency BBH – runs a production music library, Sauce Music, and is set to launch Covert's own indie publishing arm later this year.
Here, King explains to Music Business Worldwide how Covert, working closely with Relentless, has battled to ensure Tom Walker got his time in the limelight – and what's next for the artist and his management company….
---
You had some notable successes after you left UMPG in 2010 – not least a Top 10 UK album for the Fisherman's Friends. At what point did Tom come into the picture?
Around five and a half years ago. I was mainly managing songwriters and producers and the business was doing well. Then a friend of mine who was a music lecturer at the London Contemporary College of Music sent me a song of Tom's. Tis was a year before I met him and I thought, 'It sounds good but I'm not convinced he's quite sure of who he is as an artist just yet.'
Then, a year later, that same friend sent me another track, Home, which had been produced by Tom's housemate, Nima, from the group Whilk & Misky, and I instantly knew it was something special. I remember exactly where I was when I heard it. His voice was amazing, the production was interesting; he had really found the beginning of something great.
I asked to be introduced to Tom, we met in the coffee shop next door to my office and we just hit it of. Fade Away was another track he had at that time, which eventually made it on to his debut album.
I started putting Tom in writing sessions and one of the first tracks he came up with was Hot 2 Touch, with another great writer/producer we manage, Tim Deal, aka Hight. That later became a No.1 airplay record in Germany for Felix Jaehn and has since gone Platinum.
---
How did Relentless Records get involved?
We were helping do some remixes with Relentless at the time and they heard [the Hot 2 Touch] demo featuring Tom's voice. Jamie Croz [Head Of A&R, Relentless] took me for lunch; I was expecting him to talk to me about a production deal for Hight. In fact, he was like 'Who's this voice? Who's this guy?'
I explained, 'It's a new artist and we're not ready to talk to labels right now, but thank you very much. We'll come back to you when we are.' Then Shabs [Jobanputra, MD, Relentless] pursued… and kept pursuing!
He said, 'Look can I just come down to a rehearsal, just to hear Tom perform?' Eventually, I agreed and Shabs came down and, in typical fashion, brought 10 people from the label along with him! When we walked out of that session, he laid his cards out and said, 'I really, really want to do this.'
---
He convinced you?
Absolutely. And he took the time to really get to know Tom. I've known Shabs for a number of years. At that point he'd had three years for Relentless to find its feet within the Sony system and was building a really good team around him. It felt like the right choice. I'm not a big fan of starting a bidding war for artists, and we didn't shop Tom for a deal.
We went in early and agreed to develop it together with Relentless from the ground up and take our time. The deal was sensible and it meant we would stay of the radar of business affairs or anyone wanting a quick return on the investment at Sony, that we could grow organically and look to the long-term rather than having a quick hit.
---
Some people suggest that if you shop an artist around the industry you risk creating a situation where a lot of people, when they're rejected, will secretly hope your artist will fail.
I like to be very open and upfront with people. If you shop an artist around and use everybody else to drive up the price of the deal, it's not a shock that people then get resentful. You obviously have to make sure you find the right home for your artist and get the right deal, but it's all about how you treat people.
For me, the best deals, like with Shabs and Relentless, are those when someone hears something and goes with their gut at an early stage: 'I love this, I completely believe in it and share the artist's vision.' That way you can build steadily, put the right team around an artist and get everyone else excited over a period of time.
---
This is a day and age when there are more options for you to do things independently. What does an attractive early-stage major label deal look like to you?
I think it's about a sensible advance that allows the artist to live, but isn't at the level where people are hurrying you to finish your album or put music out. It's about getting a sensible, short number of options so the label knows they're going to get a return on their investment if it does well. But, at the same time, you'd always like a chance to renegotiate or review things down the line, so you're not locked to a stringent deal for years and years.
A sensible share of ancillaries is also important. Obviously no ancillaries is ideal, but its unlikely these days unless you're already a successful artist. I don't believe in giving a share of gross live revenue; that's insane. But a sensible share of net can be acceptable, especially if the label financially tour-supports the artist properly.
---
What was the lay of the land like when you signed to Relentless?
We came up when there were a lot of hype artists around, and a lot of male singer-songwriters. I remember BBC Radio 1 sent out a tweet naming about 20 male singer/songwriters at the time, saying, Who's going to be the one that cuts through?'
The whole industry was speculating and it often felt like Tom was the underdog as he wasn't always in, or as high up as others, in the various polls, but we were cool with that and just stuck to our way of working and kept on building steadily whilst purposely avoiding getting pulled into any inflated hype. We won a lot of friends, bit by bit. For Tom, he always exceeds expectations, but it's very much been a story of a shared vision and running our own race, at our own pace.
---
What was the UK media support like in those early days?
It's been interesting. Each single we released had a different effect. The first single we put out, [Sun Goes Down in 2016] was supported by Annie Mac and BBC Radio 1. That gave us a little bit of a 'cool' factor. And then the following single [Fly Away With Me] didn't get any radio play at all – but Spotify and YouTube really supported it. So that was our first expansion into streaming, which also helped us build Tom's live fanbase.
And then the next single [Play Dead] didn't get much streaming but it got us a Radio 1 BBC Introducing Track of the Week. So it seemed like every track we released was another part of the jigsaw puzzle, but wasn't necessarily bringing everything together. We were at a point where Tom had some amazing songs, but radio stations were saying to us, 'These are big day time radio hits, you need to go and build him through specialists first.' Then the specialists would say, 'These are big day time hits, so they're not specialist enough for us.' We got to a point where I was a bit worried we were stuck between a rock and a hard place.
---
What was the breakthrough?
The Radio 1 Brit List was a massive turning point. [Radio 1 Head of Music] Chris Price and his team confirmed we were going to get support for our next three singles. MistaJam was an early champion, and he backed the first track [of this trio], Heartland, which Tom wrote with Naughty Boy, and that crossed over on the B-list at Radio 1 and 1Xtra. And then Leave a Light On came in October 2017.
---
The track that changed everything!
Exactly. What was interesting about that track is that it initially reached No. 41 in the UK singles charts. We were A-list at Radio 1 and then we got Radio 2 as well, but it seemed to hit a bit of a ceiling. Then, while we'd released it in the UK, it was building throughout Italy, becoming a hit and getting Top 10 in the radioplay chart out there.
And then that momentum spread through Austria, Switzerland, Germany and France as well. Things really got supercharged when we got a [Europe-wide] Sony Bravia ad sync. That escalated the track in Germany [where it hit No.8]. So then at home in the UK we took the decision to go straight back again with the single in conjunction with the Sony Bravia advert, and we went Top 10. It really then spread around most of the world.
---
When you have a big breakthrough track moment like that how do you build on it and capitalize on it?
Tom did everything. We tried to take every single, suitable, opportunity we were offered. From radio events to TV, wherever it was, Tom worked so hard. He took about 127 fights last year and was touring or promoting constantly. That helped us build some great foundations, as well as relationships internationally with the DSPs, radio stations, TV shows, promoters and fans everywhere. For example, we did a collaboration with an Italian artist [Marco Mengoni] which allowed us to tap in to the domestic audience there and establish Tom as a household name.
Of the back of that we performed at San Remo Festival for 15 million people on TV. Now when Tom arrives in Italy he gets mobbed at the airport, chased by paparazzi on motorbikes. It's crazy but fun! Tom has been touring and promoting in the UK and across Europe for the last three or four years. We've very much done it the old fashioned way of building up a live fan base, putting out records, and then further building on that foundation.
We are fortunate that Relentless and Sony International have supported us to build Tom's live business and with Olly Hodgson and Sol Parker at [live agency] Paradigm we are continuing to grow it internationally. Te goal is for him to become a long-term career artist sustained by both live and records; album one will give us a strong foundation, album two will build on that and we'll just keep growing his career. That's the way classic artists like U2, R.E.M and even Coldplay, more recently, built their careers. It wasn't about a massive fash-in-the-pan hit. Of course this is also a very different time and we need to constantly adapt our approach within this ever-changing industry.
---
Streaming is a very demanding environment in which to build an artist like that. It's possibly harder nowadays to globally develop than it was in the era of U2 – you have to keep feeding the beast, while managing radio too.
What we've found really hard is that different territories move at different paces. For us, Leave a Light On took about eight months to peak. It just kept on going and going. But, as some territories were moving on, and we [were ready] to release another single, it was still one of the highest radio played records in other markets. Radio station feedback was, 'Actually we're good. Thanks but we are still playing this record.'
That situation is a blessing and a curse. You want to maximise the success, but also to carry on building the story of the artist – so you have to either be patient or maybe just focus on streaming, which brings its own challenges.
"You need all the stars to align to give the whole international story the right level of power; it's not just about streaming, and it's not just about radio. They look at what each other are doing so you have to work at it all."
We get a lot of good support from Apple Music and Spotify [in the UK/Europe], but I've also been out to the US nearly every other month this year to constantly push Tom to streaming gatekeepers there too. Generally speaking, Leave a Light On was very much driven by radio.
Radio seemed ahead of DSPs at the start, then the DSPs caught up. In other places the DSPs were ahead of the game. You need all the stars to align to give the whole international story the right level of power; it's not just about streaming, and it's not just about radio. They look at what each other are doing so you have to work at it all.
---
How important was the BRIT Award win in that journey of getting people to know who Tom is as a character?
It was amazing and unexpected. Tom and the entire team worked hard to campaign because it was a public vote. We didn't have the size of social media following some of the others did, so we had to approach it in a more old school way and do a mix of guerrilla marketing and just getting Tom out in front of people, especially focusing on his Scottish and Northern fan-base.
When it was announced Tom won, it was an amazing moment and I think Tom's genuine reaction really resonated with the general public. It was a 'join the dots' moment, solidifying all the previous TV appearances and showing his personality. He became a real person to a lot of people of the back of that.
---
Industry-wise, what other things mark Tom out as unique?
Aside from his incredible voice and work ethic, I will say he's one of the few artist/songwriters who's had a hit with 100% track: Just You and I was 100% written by Tom and most of his songs are either 100% original, co-written with one or a maximum of two other writers. Leave a Light On was 50/50 with Steve Mac.
It was a four hour writing session and the first song they ever wrote together after Mike McCormack [MD, Universal Music Publishing Group UK] introduced us to Steve. We as a company fell in love with Tom's songs from the get go.
My background is publishing so I'm very song-driven anyway. As a rule, anyone I manage has to be a great songwriter and have his or her own personality as a writer. We never felt like we needed to get in a dozen people to help rework and rewrite Tom's tracks. That's not who Tom is. He's a self-contained artist/songwriter who writes great songs that he personally connects with and in turn fans do too. We have tried lots of different producers, but that's a different thing. That's about bringing out the best bits in the songs and developing his sound.
---
What have Relentless and Sony brought to the table?
Relentless feels like a slightly rebellious independent record label within the major infrastructure, which I loved. Shabs, when he wants to, can move mountains. He's super passionate about the people he signs. What I loved about him before we signed, and certainly now, was that he sticks by his artists and really follows through. Shabs often drives me mad with his crazy ideas and energy but, pointed in the right direction, it is a powerful force.
He also has a great marketing team around him: Ben Coates [General Manager], Hannah Colson [Senior Marketing Manager] and Roland Hill [Marketing Consultant]. We knew Relentless didn't have many artists on its roster, so we'd be likely to get a decent amount of focus and energy, and that's happened.
They have a great team in-house and we also brought in an amazing freelance team to support key areas of the campaign. We've also benefited hugely from Mark Collen, his team and the Sony international infrastructure, which has been incredible.
They really got behind us and we had the international conversations from very early on to try and build Tom. Sony has been great across the board, from marketing to allowing Tom to do what he wants to do on a creative level. But also having the strategic and creative drive of Shabs and the label team. We've also been lucky that both Jason Iley and Rob Stringer have been huge supporters of Tom. It genuinely feels the whole of Sony are behind him from all departments.
---
Is the USA the next big ambition for Tom?
Yeah definitely. We've still got a lot of work to do in the US; obviously it's a very hard territory to crack. We're still building, and we haven't quite necessarily positioned ourselves in the way I'd like yet in the States. That's not to say we haven't achieved some great stuff over there already: Tom's selling out venues, and he's performed on the Late Late Show with James Corden as well as The Today Show etc.
I guess it still fits in with our long-term plan of just keep growing. America is definitely something we want to expand into and really conquer. But I'm more than happy for it to take a little bit longer and build a more solid foundation.
---
Outside of Tom, what does the next chapter look like for Covert Talent?
We've just set up our new home in London Bridge, where we will look to develop the company further, growing into the world of publishing, and we're also developing some great new talent which we aim to break internationally in the near future.
---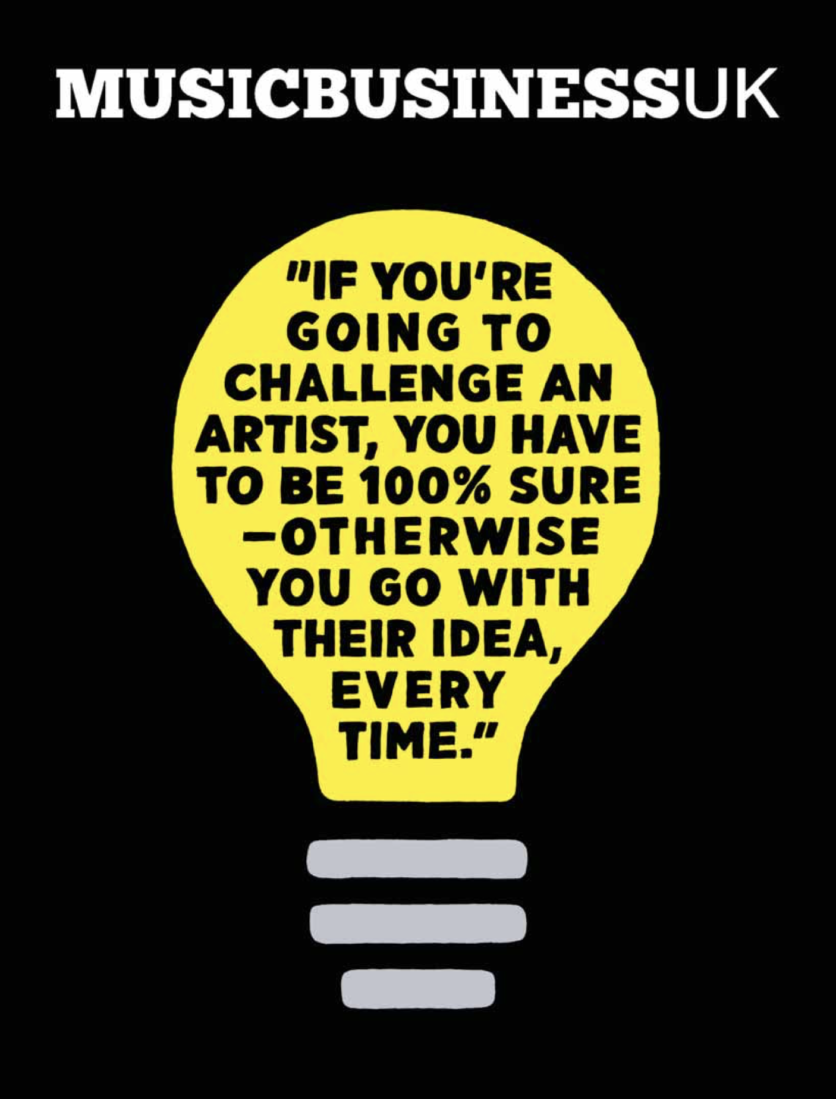 This article originally appeared in the latest (Q3 2019) issue of MBW's premium quarterly publication, Music Business UK (pictured), which is out now.

MBUK is available via an annual subscription through here.
All physical subscribers will receive a complimentary digital edition with each issue.Music Business Worldwide