MBW's World's Greatest Producers series sees us interview – and celebrate – some of the outstanding talents working in studios across the decades. This time out we talk to one of the best and most successful R&B record-makers of the last 20 years, Bryan-Michael Cox. World's Greatest Producers is supported by Hipgnosis Song Management.
---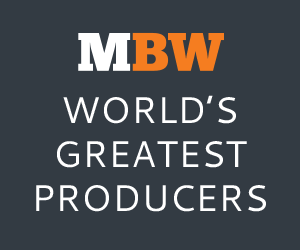 At an age when most kids are dreaming of being an astronaut or a professional athlete, Bryan-Michael Cox declared his intention to become a top producer.
He'd just watched I Love Quincy, a 1984 documentary about the original super-producer's work on Michael Jackson's Thriller. But, rather than aspire to Jackson's game-changing superstardom, Cox decided Q's behind-the-scenes role was the dream job to aim for.
"I remember being obsessed with that documentary," Cox smiles today. "The idea of being a producer was born during that process. I didn't quite understand what a producer was, but I knew that it was important… And once I was like, 'This is what I want to do', I aggressively went after it."
Of course, it's one thing to aspire to a job, and quite another to actually turn that thought into a successful career. But the title of this MBW series rather gives it away: over the intervening 40-odd years, Cox has become one of the most successful music producers and songwriters the industry has ever seen, leaving his fingerprints all over such blockbuster albums as Usher's Confessions, Mariah Carey's The Emancipation Of Mimi, Mary J. Blige's The Breakthrough and Justin Bieber's My World 2.0, to name but a handful of the recordings and artists to benefit from his Midas touch.
An R&B specialist, his old-school, hands-on production style has been behind over 100 million record sales, while the man also known as B. Cox has scored a remarkable 10 Grammys and been named SESAC Songwriter of the Year no less than nine times.

Mary J. Blige's Be Without You – which he also co-wrote – has been named the No.1 R&B Song of All-Time by the Billboard charts and he even broke The Beatles' record for having his name on the Hot 100 chart for the most consecutive weeks.
As he looks back over his incredible career, you get the sense that maybe this was always destined to happen. After all, growing up in Houston, Texas, Cox was in High School with Beyoncé (she was a freshman, he was a senior) and many other talented musicians, including jazz star Robert Glasper (Cox's most recent Grammy was for his production work on Glasper's Best R&B Album Black Radio III).
And school didn't just hone his talent-spotting skills, Cox did some early sessions with Destiny's Child – later returning to produce them once both were established stars – and it was DC's success that inspired him to believe he could turn his own dream into reality.
In pursuit of that dream, he moved to Atlanta for college and interned at Noontime, co-founded by Cox's manager Christopher Hicks. Noontime gave him the chance to get in the studio and, mentored by the likes of Jazze Pha, Teddy Bishop and Jeffery 'J.Dub' Walker, began to learn his craft.
He met Brian and Brandon Casey from R&B group Jagged Edge and, together with long-term collaborator Jermaine Dupri, he helped turn them into superstars with 1999's J.E. Heartbreak album. "It's been kind of a blur since," he quips.
What is, clear, however, is that Cox remains as hungry as ever. He recently joined Atlanta-based, Matt Pincus' MUSIC-backed record label/management company LVRN (aka Love Renaissance) as SVP of A&R and executive producer. There, he'll develop the roster – which already includes the heavy-hitting likes of 6lack and Summer Walker – and serve as exec producer on in-house projects.
He's enjoying exec life but, as he calls in from a sweltering Atlanta to talk MBW through his life and times and his ambitious plans for the new gig, it's clear that production remains Bryan-Michael Cox's first love.
You suspect that Quincy Jones – a man who famously once declared, 'Excellence isn't an act, it's a habit' – would be proud…
---
WHEN YOU WERE AT SCHOOL WITH BEYONCÉ, DID YOU THINK SHE'D BE A FUTURE SUPERSTAR?
Absolutely. Everybody knew it. And she wasn't carrying on like, 'Oh, I'm a star'. She was extremely humble with it. There were other girls in the school acting like they were going to be stars, all crazy, pretentious and stuck-up, but Beyoncé was a sweetheart.
You knew she was going to be a star; everybody knew. I credit Mathew [Knowles] and Destiny's Child for really making it real for me. [Working with them] was the power that charged me up to get me moving.
---
YOU HAD A LOT OF SUCCESS VERY EARLY ON IN YOUR PRODUCTION CAREER – WAS THAT DIFFICULT TO DEAL WITH?
Early on it was cool, but when the big, big records and the big, big money started coming, everybody's perception of you changes. That's when it got a little difficult. You have growing pains with your friends and about what people think you should be doing for them. I learned some valuable lessons during that period.
---
WHAT HAVE YOU LEARNED FROM WORKING WITH JERMAINE DUPRI?
The biggest lesson I learned is that the song is a conversation. Before I started working with Jermaine, I felt like songs came from an imaginary place. But when we wrote [Usher's] U Got It Bad, it was hours of us talking before. I was wondering what we were doing, why we hadn't started making the track or writing yet. Then we finished the conversation and I realized, Oh snap, we were writing the song right there!
As a producer, what I learned from him was, simplicity is the best way to go. Before, I would make great instrumentals, but I couldn't get a songwriter to write to none of them, because I had so much going on in the track. Jermaine stripped down a lot of things that I'd present to him and they became hits.
---
USHER'S CONFESSIONS ALBUM IS CERTIFIED DIAMOND IN THE US. WHAT WAS IT LIKE TO BE PART OF ENORMOUS SUCCESS LIKE THAT?
Well, for us, it was a continuation of [previous album] 8701. That was my first time working with Usher and Jermaine's second album with him, so when it was time to do Confessions, there was an unsaid confidence that all three of us had going into it. You're in the studio and it's on, you're just making music and if it feels good to you, it feels good to him and it feels good to Usher, you put it out.
Once it's a classic it's like, Oh shit, this is a classic – but you only confirm that when the record's a hit! You can aspire to make the biggest album ever but, in that space, we were just what I call 'tapped in'.
---
YOU THEN WORKED WITH MARIAH CAREY ON THE EQUALLY ENORMOUS THE EMANCIPATION OF MIMI…
Yeah, it's been an amazing journey. Emancipation was a culmination of a few albums that we worked on with her, that energy. We worked on a couple of albums previously – Rainbow, Charmbracelet. So, by the time we got to Emancipation, we were comfortable. We're having a good time, Mariah's flying down, she's bringing the wine and the vibes, she has ideas.
Writing with Mariah Carey is like pure joy, it's fun. Mariah is just full of life and personality in the studio, she's always got great ideas and I remember Emancipation being really fun. We always have fun with Mariah, but in that particular era, we were having a good time! It's not always like that, but there are certain artists I can name where, if we go in the studio, we're going to click. Me and Jagged Edge or Monica, us and Mariah… It's going to happen fast, we're going to find the groove at some point because we know each other so well.
---
NOT MANY PRODUCERS GET TIME TO BUILD THAT SORT OF RAPPORT THESE DAYS…
Yeah, these relationships weren't made by sending beats, they had to be built. We had to meet and like each other, go through ups and downs. There are some relationships I've had with artists previously that haven't stuck, even when we had big records. Some things stick, some things don't, that's the beauty of the music business I came up in versus now, where it's just sending packs. The artist and producer, or writer and producer rarely even connect and you can hear it in the music.
---
WHAT DO YOU MAKE OF THE MODERN TREND TO HAVE MULTIPLE CO-WRITERS AND CO-PRODUCERS ON EACH TRACK?
There have always been people in the room. It's just about everybody knowing their role. The way that the creators make their records now, that's how they were taught, that's the space they live in. Some of these records have 10 writers on them. But they're big smashes, so I don't knock it.
---
YOU'VE ALWAYS SEEMED TO RELY LESS ON TECHNOLOGY THAN SOME PRODUCERS – WHY IS THAT?
Tech is our friend, but tech is a tool. That's the way I view it, I don't view it as 'the thing'.
"No disrespect to how people make records now, but I'm a musician; I play for real."
No disrespect to how people make records now, but I'm a musician; I play for real. I can hear what I want to play, so I'd rather do it versus finding loops and dragging and dropping. I do that sometimes too, but I always build around the loop, I don't just let the loop be the record. I enjoy the process, that's the best part of my day.
---
ARE YOU WORRIED ABOUT AI'S POTENTIAL IMPACT ON PRODUCTION?
We're going to have to get some regulations on it. Now you have to worry about somebody taking your voice. I'm into tech and that type of stuff – there's always a dangerous side to innovation, but I'm not really looking at it as a threat. I'm trying to figure out how to incorporate it into what we're doing, from a music perspective and a label perspective. Because it's here and, once it's here, we're never going to be the same again, it's not going back. So how do we utilize it and incorporate it into what we do, how can we benefit from it? Those are the questions that I have about it. There are definitely some opportunities there, we've just got to tap in.
---
IS IT A VERY DIFFERENT PROCESS WHEN YOU WORK WITH A SUPERSTAR AS OPPOSED TO A NEW ARTIST?
It's no different. Established artists who are masters at their craft open themselves up to being directed. Working with Usher is crazy, because he sings ridiculously [well] and he'll still take direction. He'll ask you, 'Is that cool?' Of course it's cool, you're singing your ass off! So, it's the same, because they want to continue to be masters and the young ones want to master their craft.
---
CAN YOU TELL WHICH NEW ARTISTS WILL BECOME SUPERSTARS?
It's work ethic. With Chris Brown, we went to the studio, but it was the questions he asked, the intuitiveness and interest in what we were doing that made me say, 'Oh, this kid wants to know everything'.
Same thing with Justin Bieber – he was around me when he was a kid and he was super-talented, he could play the piano, play the guitar. When I started producing him, he'd pull a chair up right next to me while I was creating a track and he would ask me every question: 'Why did you do that? What made you do that? Is that how you do that? What chord progression is that? Can you teach it to me?' That's what made me be like, 'Oh, this little guy really gets it'.
Those are the things that make me say, 'OK, it's more than just 'I want to be famous, this is really a passion for them'.
---
CAN YOU STILL UNEARTH AND BREAK NEW SUPERSTARS AT LVRN?
Yes. I'm part of a generation where that's all I knew: bringing that wisdom and knowledge into this new generation and helping them with that perspective, and them helping me understand strategy, marketing rollout and the landscape of what young artists are doing now to make hit records – it's the perfect marriage.
We're developing artists like Äyanna, a Jamaican girl from London who's an amazing pop/R&B artist. We believe in the concept of artist development and that is the number one thing that I was attracted to coming into this situation, being able to help create new stars.
---
IF YOU COULD CHANGE ONE THING ABOUT TODAY'S MUSIC INDUSTRY, RIGHT HERE AND NOW, WHAT WOULD IT BE AND WHY?
it would be the blatant separation of genres. And what I mean by that is, the business aspect of it. Even though we're doing well, Black artists are getting rich and Black creatives are doing their thing, there's still a crazy difference in how our artists get treated as they grow older and grow up, versus some of the pop artists – in terms of the grace that [white] artists have and Black artists don't have.
"A lot of the top executives who are running the business and running the world, I feel like they feel we are disposable and replaceable. And we're not, we are the culture – we are the reason why y'all got hundreds of millions of dollars."
It's better now, because the world is different, it's changing every day. But I just don't like how record companies handle Black artists. A lot of the top executives who are running the business and running the world, I feel like they feel we are disposable and replaceable. And we're not, we are the culture – we are the reason why y'all got hundreds of millions of dollars.
If a white artist and Usher both give you the same exact same R&B-sounding record, but you service this guy's record to pop radio and you only service Usher to Urban AC, he's already disadvantaged – and Usher has sold more records than this guy 10 times over. Quit with the bullshit. Let's treat everybody with the same respect.
Music Business Worldwide