MBW's World's Greatest Producers series sees us interview – and celebrate – some of the greatest talents working in studios across the decades. Here we catch up with Stargate, the Norwegian production duo behind some of the biggest hits by, among others, Rihanna and Beyoncé. World's Greatest Producers is supported by Hipgnosis Song Management.
---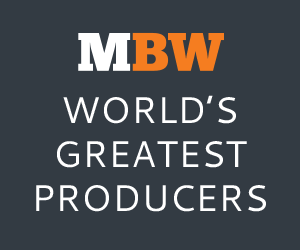 When you've broken out of (and moved away from) your native Norway to score dozens of Top 10 hits with teen-pop British bands and are then told, 'If I hear another Stargate record I'll be sick' from certain key gatekeepers, what are your options?
1) Head home and go back to working with domestic artists who barely register on the global stage 2) Burst into tears 3) Decide that, for the second time in your lives, you're going to risk everything, move to the States and, this time, try and make and sell the type of modern commercial dance music that you truly love, in the country that invented and owns the genre – and which has no real clue who you are and just as much desire to find out.
History doesn't record whether or not Tor E. Hermansen and Mikkel S. Eriksen (the writer/producers who are Stargate) initially opted for a touch of (2), but it (alongside the Billboard charts, the Grammys and other notable barometers) does record that they smashed the hell out of (3).
Since their breakthrough with Ne-Yo's So Sick, a US and UK No. 1 in 2005, they have produced huge hits for Beyoncé (including the game-changing, 10-weeks-at-No.1 Irreplaceable, 2006), Rhianna (six No. 1s, including Only Girl (In The World), 2010, and Diamonds, 2012), Katy Perry (Firework, No.1, 2010), Selena Gomez, Iggy Azalea, Wiz Khalifa and many more.
Most recently they produced five tracks on Sam Smith's new album, Gloria.
The pair first met in Norway, where Eriksen was trying to make his way as a young producer and Hermansen was Head of A&R at Warner. A mutual friend told them they had to meet – largely because they were the only two people he knew who were obsessed by (and wanted to make) US R&B and hip-hop.
Eventually, Eriksen took some music he was working on to Warner. Hermansen wasn't sold on the artist fronting the project, but he loved the production behind it and so began pairing his future-partner with some of Warner's roster. "We knew we were in sync creatively from the first time we listened to music together", remembers Eriksen.
The first big leap (of many), was for Hermansen to leave the safe and salaried eco-system of the major labels. He says: "The record company was great, and definitely an important learning experience, but I knew I wanted to make my own music.
"This was also in the late 1990s, when Max Martin was starting to do big things in America. I thought, that guy is living in Sweden, he's my age, he's inspired by the same music, he's got the same equipment; let's see what I can do."
Stargate enjoyed some initial success in Norway, and then came to wider intention via success in Britain, in no small part thanks to teaming up with two legends of the UK industry, Tim Blacksmith and Danny D (founders of Stellar Songs).
"There was another level that we wanted to reach. And we had to go to America to find it."
Eriksen says: "Tor actually flew Tim out to do some remixes. He saw the space, heard our songs and there and then he called Danny to say, 'I think we should manage these guys'. That's what happened, we started a relationship with Tim and Danny that lasted 25 years." The partnership came to an end last year when Stargate switched to Luke Mitzman's 100 Management.
Stargate's first non-domestic hits came through their involvement in the UK pop boom of the late 1990s/early 2000s, working with artists including [Simon Fuller project] S Club 7, Hear'Say and Blue.
After a few years, however, the industry, the general public and, to some extent, Stargate themselves, started to find the non-stop sugar rush somewhat less than satisfying. Hermansen and Eriksen craved something more substantial. And to find it they would relocate to the country that had produced the music that had always inspired them and was home to the artists they most wanted to work with. As Hermansen says: "There was another level that we wanted to reach. And we had to go to America to find it."
---
Why did you decide to take a risk and go to try and break the US market?
Mikkel Eriksen: That was always the dream for us. But, in the end, we were kind of forced to do it, because in 2004/5, everything stopped. [UK] radio was fed up with our sound. We were basically told, 'If I hear one more Stargate record I'm going to throw up'.
We thought, shall we just shut it down and go our separate ways or shall we give it one more go? Tim and Danny encouraged us to go to America and see if we could make something happen.
We took everything that was left in our business account, we booked hotels, flights and a room at Sony studios in New York and tried to get some sessions. We figured if we could sell one song, that would be enough to come back and keep trying.
And that's what we did, we made just enough to come back. And on the second trip we met Ne-Yo, which, of course, changed our lives.
---
And once you started working with Ne-Yo you had success fairly quickly, is that right?
Tor Hermansen: When he walked in the room, he already had a No. 1 [Mario's Let Me Love You, 2004]. I said to Mikkel, 'If we're ever going to write and produce a No. 1, it's going to be with this guy. He's got what it takes, so if it doesn't work, we can't blame him.'
So when we wrote and produced that first big hit together [So Sick, 2005, No. 1 in the US and UK], I knew it was special; I felt like we had turned the corner creatively and sound-wise.
We found ourselves in that moment. Until then I think we were always trying to copy American music. But when you're in America, you can't copy the music they already have, you need to come up with something that's your own.
When people heard such a different-sounding song on the radio, a lot of artists and managers came to us for this sound we'd created, we got more opportunities and bigger names. It changed everything for us.
ME: We were in the right place at the right time and everything came together.
We had our UK management with us, but we also partnered with Jay Brown who was at Def Jam at that time, so that was also really valuable for us. For them, I think it was, 'Okay, we don't have Timbaland or Pharrell or some other big names; let's make our own'. They kind of embraced us, like, these are our guys.
---
How did you come to work with Beyoncé and what sort of a game-changer was making Irreplaceable with her?
ME: Irreplaceable was written with Ne-Yo, but the initial idea actually came from Jay Brown. He said, 'You guys should do a song with acoustic guitar, but modern production.'
We were up for it straight away, we love acoustic guitars. One of the differences between us and a lot of US producers is that we're much more melodic, we use more real instruments, more chords, we have bridges… so it was very natural for us to use acoustic guitars.
There's also another Norwegian production team, called Espionage, and one of those guys is an amazing guitar player, so they actually laid down those chords. We took them, chopped them up and put some more hip-hop, urban-leaning drums on them.
We played it to Ne-Yo, and he wrote the rest of the song for himself. But then Larry Jackson came to the studio, listened to some songs, heard Irreplaceable and said, 'You know what guys, I think this song would work better from a female perspective…'
He had an artist he was working on with Clive Davis at the time, but they never got around to actually recording it. So it was kind of just sitting there. And then it got to Beyoncé, probably through Jay [Brown] or [Tyran] Ty Ty [Smith].
She loved it, put her vocals on it and took the song to a totally different level. When we wrote it, 'To the left, to the left' was just the first line, but Beyoncé made a lot more out of it, made it central to the song.
And at the last minute, she also asked us to make the drums even more hip-hop.
Then we heard it wasn't making the album [B'Day, 2006]. We knew that it was so different to anything else she was doing, or anyone else was doing for that matter. There was nothing like it; it wouldn't fit on urban, it wouldn't fit on pop, it didn't seem to fit anywhere.
We were working with Sean Garrett as well, who had just done Ring The Alarm, and we were like, fuck, we're nowhere and they're running it. We just have this little acoustic song, we were a little bit down.
But thankfully Swizz Beatz was working with Beyoncé. He listened to all the songs and he called her and basically said you're crazy if you don't put this record on the album. And she did!
It was track number nine, but instantly it was the song that everyone gravitated to. And it got played on all formats instead of none: pop radio, urban, rhythmic… and we hit No. 1.
TH: Irreplaceable spent 10 weeks at No. 1, it was the biggest song of the year, it was nominated for a Grammy. So now we're at the top level, and you don't know what it looks like until you're there.
---
---
I think what was nice was that it proved my own doubts wrong. I'm sure other people had doubts, but I don't care about them because we're in the studio all day, and we didn't really hear that noise. But for us, it was really like, Oh, wow, we did have what it took to make it in America.
---
Did you manage to enjoy that period?
ME: We put in 16-hour days years before then, without that sort of success, so we didn't mind! In a strange way we didn't have to work as hard, because we had built up the skills, the tools and the stamina to execute ideas.
TH: It was an amazing period in our lives. New York is a beautiful place, and when you make it there it's very special. So, yes, absolutely. I enjoyed every single day. I was here with my wife and my daughter, and it was just a magical time. There's nothing like making it in New York. I know it's a cliché, but it's true.
---
What do you think is the most important part of a producer's job?
TH: Well, there are levels to it. If you're working with an artist that's insecure and doesn't maybe have the skills, then the technical aspect really comes into it. You have to help that person sound good.
But at a certain point, when you're working with the greats, it's about capturing the magic moments. It's about protecting those magic moments; don't over-produce, don't let it slip away.
You also have to be able to recognize originality and be brave with your creative choices. Sometimes you have to make the most of a difficult situation. Maybe you only have a few hours, or there's a team of people and things happening that you have to maneuver, and that's when all those years of experience prior to America came into play for us.
"tempting as it was for us to sound like other American records, we had to remind ourselves, let's do something that's uniquely us"
You also have to trust yourself. If an artist goes into the studio with Pharrell, do you think Pharrell is going to try to copy Timbaland? No, he's gonna make something that sounds like only Pharrell could do it.
So, as tempting as it was for us to sound like other American records, we had to remind ourselves, let's do something that's uniquely us. Let's be more melodic, let's be more stripped back, let's bring some electronic elements in, which we started to do with Rihanna. Let's do something that the other guys aren't doing.
ME: I think the most important thing is shepherding the people you work with, staying focused on how to get the best possible song on the record.
There's a lot that goes into it, of course, you have to really know the technical side, master your craft so that you can execute an idea in the room really fast. That's super important. Things move quickly. If you've got Beyoncé sitting there, you can't spend 10 minutes getting the hi-hat right.
But you always have to be focused on the big picture, you have to read the room, so if things aren't going the right way, you can pivot – maybe switch the beat or just try something new. You have to figure out how you'll get the best out of everyone you work with.
That is one of Tor's biggest strengths. He's really good at keeping the big ideas in sight, keeping focus and getting the best out of everyone. You have to be polite, but also be brave enough to tell people when it's not good enough, or how to get it to a better place.
---
Following on from that, how do you think your skill sets and personalities complement each other?
ME: Tor is amazing at coming up with ideas. He's a fantastic keyboard player, producer and lyricist. As I said, he's really good at getting the best out of every single person he works with.
He has a great melodic sense. He paints in primary colors. He doesn't sit and fiddle around programming something, it's like: Is this idea good enough? Is this chorus good enough? Are these lyrics saying something? He has the over-arching view and the big ideas.
I think I am fairly good at executing things pretty fast. I'm more on the technical side, I do most of the vocal recording and vocal production and I can get very good vocals out of almost everyone we work with.
In terms of personality, Tor is more outspoken, louder. I'm more quiet and shy. But there's a reason why we've been having success together for 25 years: the sum of us together is greater than the two parts separately.
TH: We are very different personalities, and that's why it works. Mikkel is even more of an introvert than me. But he is more technical and more skilled, without a doubt. He actually knows how all the equipment works [laughs], and he knows how to play everything. Because of him, we can try out any idea within two minutes, without fiddling with everything.
And then I like to sit and have a lot of opinions [laughs]. And that's really where a lot of the magic comes from. I have a lot of ideas, a lot of opinions, and he has the ability to execute them.
And we don't ever argue over things. We have a very flexible and open-minded relationship when it comes to ideas.
Mikkel knows to trust a lot of my melodies, the chords that I come up with. And I know to trust him when he wants to add stuff, finesse stuff or if he just says it doesn't sound right yet.
---
And you've never had a major row or come close to splitting up?
TH: We had a couple of years where we were making music in separate bedrooms. But I think that is healthy in a very long relationship, because it made us realize that we're better together. The stuff we make togther, we can't do on our own.
I think he missed having some of my ideas, and I definitely missed having him around to execute and to really finish stuff – to a really high standard.
Because I get bored. He records all the vocals and all the harmonies. I think it sounded great two hours ago, and he's still working, chipping away, making it perfect. And that's what it takes to be great; I really respect that.
---
What's the key to a successful working relationship between a producer and artist?
TH: You have to bring something to the table that's brave and original, don't be scared of that. And then, of course, to embrace what's unique about them.
OK, so Beyoncé doesn't want to sing the melody the way it was originally intended, or she wanted to change the drums on Irreplaceable. Then you have to tell yourself, that's Beyoncé right there, she also knows what she's talking about [laughs].
So let's try it – but without losing yourself. Because if you run around trying to please a big artist constantly, you lose what you bring.
We had this experience with Madonna where she said, 'I want to be there when you make all the beats and all the decisions'. And I was like, 'That's probably not the best way, because then we're just going to look at you every time we try a kick drum, and ask you what you think'. And we never heard from her again.
You have to find an environment where you can offer something to the artists so they feel like they're getting something they wouldn't get anywhere else, but then at the same time, really appreciate the personality it takes to be a top-level artist.
We've worked with a lot of, I guess, demanding artists, and we've always been able to make something great. Of course, it also helps to have big songs together, because then you start to trust each other and the process becomes easier.
---
Are there any little tricks or techniques that you guys use when things aren't working?
TH: Sure. Let's try something else, that's an easy one. And if it's just me and Mikkel, we don't have to be polite. We can just say, 'I'm bored, and I don't want to be bored. What would this sound like if it wasn't boring?'
At the beginning, I would ask myself what would a much better producer than me do in this situation? [Laughs].
There are little mental tricks that can take you somewhere else, and we're never afraid of that, we have no ego invested in our ideas. In my experience with the greatest artists, they don't either, because they know what it takes to come up with great stuff. Sometimes you have to throw out the thing that you spent eight hours on and just use the thing that you spent two minutes on, build everything around that and junk the rest.
---
You've now joined 100 Management, how did that come about and what sort of difference has that made?
ME: We worked with Tim and Danny for 25 years, and of course we're super-close, but there comes a time when every team needs fresh blood and new energy when it comes to the day-to-day of pitching songs and setting up sessions.
And with Luke [Mitzman], it just worked. We've known him for many years and we always enjoyed spending time together, hanging out socially. So when it came time to look for new people, he was top of the list. He'd also just formed a partnership with Mike Caren's APG, and we felt that was a really strong setup.
I think maybe we needed a reset as well, maybe needed to impress someone new. It's been really positive, a lot of new sessions, new co-writers and artists. We've been introduced to a new set of people, in addition to working with the people we already love and admire.
TH: We all became very successful together, but at some point, maybe there's a little bit of complacency that sets in – for us too.
We'd been around each other for so long. Maybe we needed some fresh blood and fresh eyes. Luke is a guy that wakes up in the morning with that hunger and that drive.
---
Despite all your success and your network, do you think to some extent you'll always feel like outsiders?
TH: I do, and I think there's strength to being an outsider. When we came to America, because we were outsiders, we were allowed the leeway to sound different. I remember Timbaland, right after we did Diamond with Rihanna, he said, 'You guys took dance and you slowed it down 20bpms; who does that?!'
And our stuff didn't have to sound like the city we came from, because as far as everyone else was concerned, we were from nowhere!
ME: I also think it's important that because we were in Europe, we only got to hear the best of the best records coming from the US. We didn't get to hear the 27th best song that week, we got to hear the smashes, from the biggest artists, and so that's what we measured ourselves against. If our records weren't at least close to being as good as that, then we didn't care about it, we didn't think it was good enough.
TH: Of course, once you have hits, then you become more accepted, more respected. But do I feel like the ultimate industry insider? No, we will always be outsiders in a sense, and we like that. What's important is that, even as outsiders, we were embraced by America, especially the Def Jam guys, and that was really amazing. Because they could have easily said, 'Why should we work with these two lanky Norwegians?' But they judged us on the strength of our music, and that's all we could ask for.Music Business Worldwide