The volume of paid on-demand subscription streams on the likes of Spotify and Apple Music outstripped 'free' ad-supported equivalents by four times in the US last year.
That's according to the new BuzzAngle Music 2017 report.
The gulf was caused by the growth in paid-for streams accelerating much faster than that of 'free' music.
In 2017, on-demand audio streams on subscription platforms rose 57.5% to hit 301.3bn, while those on ad-supported tiers (such as Spotify and Deezer's 'free' offerings) grew slower – rising 27.3% to reach 75.6bn.
In total, on-demand audio streams across paid and 'free' reached 376.9bn in the US last year — a 50.3% rise on 2016.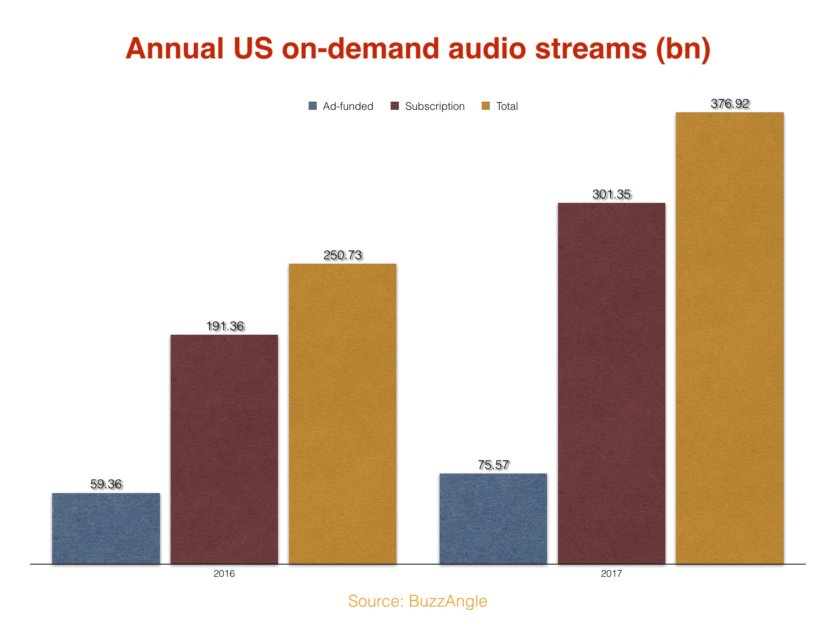 Of this total, on-demand subscription (paid) audio streams took an 80% share, while ad-supported streams claimed 20% of the market.
---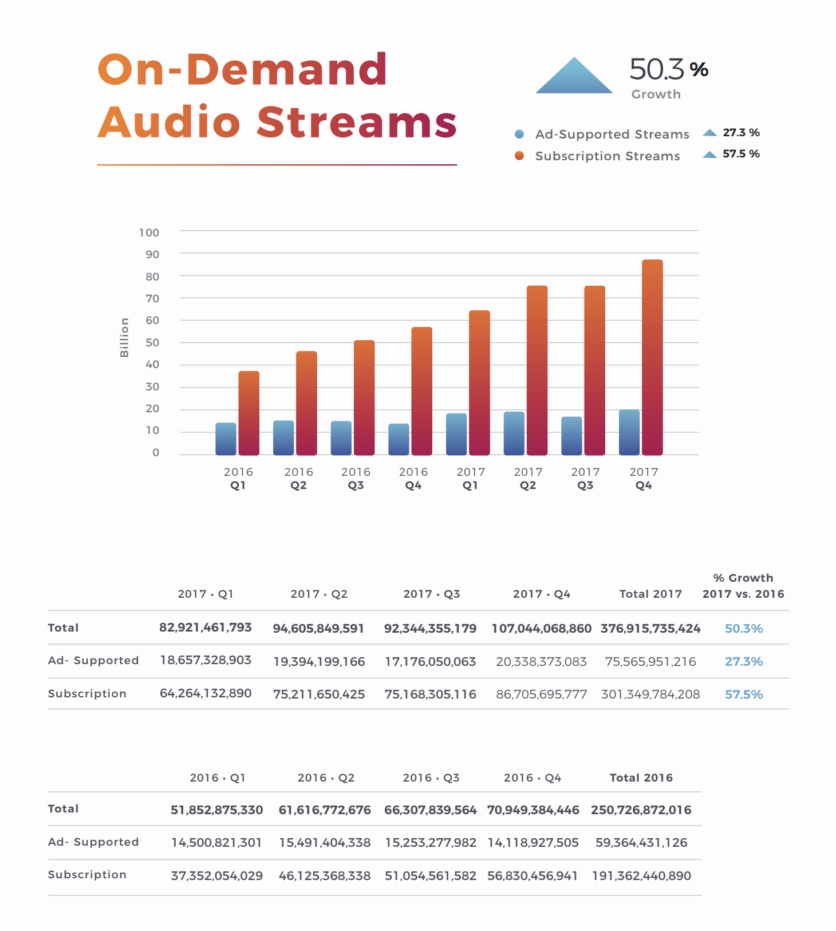 ---
Meanwhile, total on-demand video streams (across the likes of YouTube and Vevo) rose 21.9% in the US last year to reach 221.1bn.
However, BuzzAngle points out that YouTube stopped reporting stream counts for songs that didn't exceed 1,000 per day starting in the third quarter of 2016.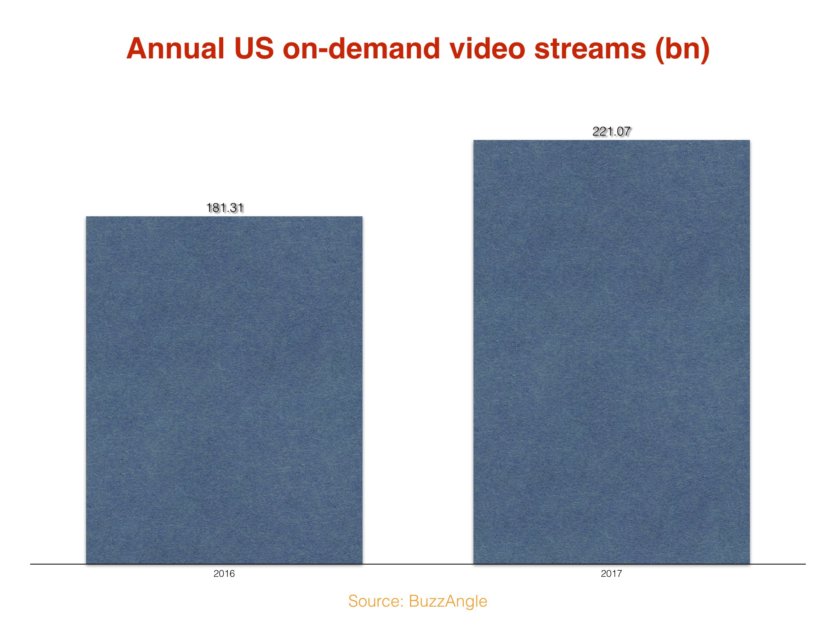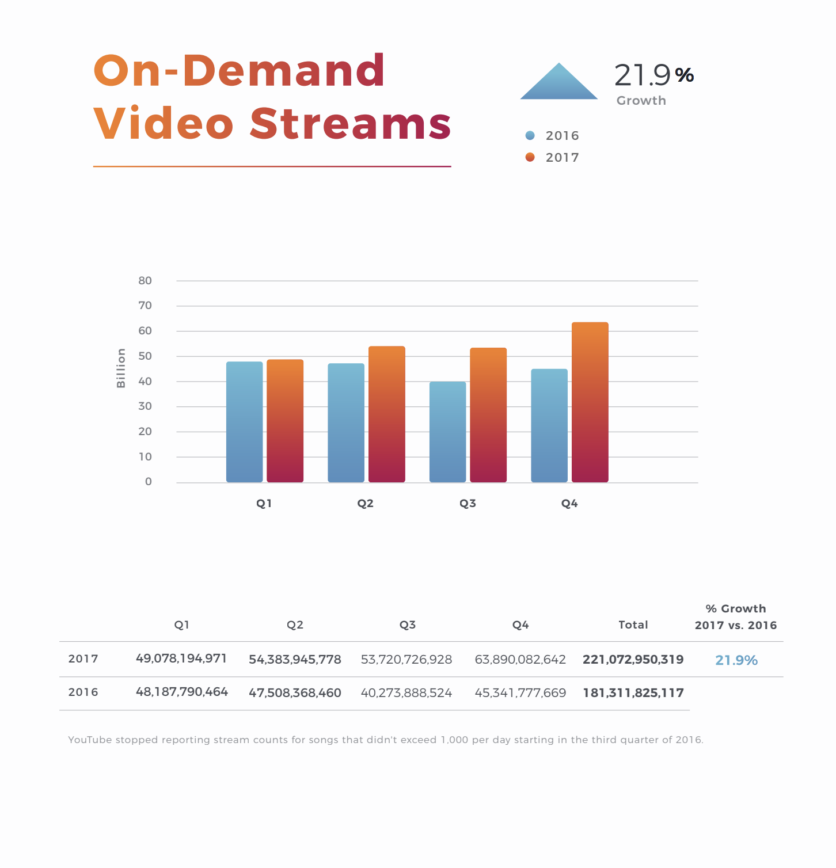 ---
Thanks to a 7% decline in physical album sales (including a 2.4% dip in CD sales) and 22.6% dip in digital, overall album sales declined 14.6%.
Digital had a 44% share of the albums market with 64.9m, while physical held 56% with 83.2m.
Vinyl was up 20.1% to 8.6m, accounting for more than 10% of all physical album sales for the first time.
Last year, just two albums broke the one million pure sales mark.
Those were reputation by Taylor Swift, which reached 1.9m sales, and ÷ by Ed Sheeran with 1m.
---
Song consumption was up 25.9% to reach 4.6bn thanks to a 38.4% rise in total on-demand streams, while digital downloads dipped 23.2%.
Worldwide hit 'Despacito' by Luis Fonsi and Daddy Yankee, furthered by a remix featuring Justin Bieber, broke the one billion-stream mark for the first time ever as the most streamed song of the year.
Music Business Worldwide