Music fans in the United States are making it rain.
New stats confirmed by the RIAA today (September 5) show that, on a retail basis – i.e. the money spent on streaming subscriptions, as well as physical and digital music – the US record industry generated $5.39bn across all formats (plus sync) in the first six months of this year.
That was up by $822m (or +18%) on the equivalent H1 figure from 2018 ($4.56bn), which in turn was up by $383m (+9%) on the RIAA's retail figure for H1 2017 ($4.18bn).
In fact, the US record industry – on a retail basis – is collectively now turning over more than $200m every week, and approximately $30m every day.
And with over $5bn generated in the first half of this year, it's also now clearly on course to turn over more than $10bn at retail in a calendar year for the first time since 2007.
Want another exciting stat to chew on?
If the US market grows by the same percentage margin as it did in H1 2019 (+18%) over the next year, it will be generating over $1bn every month from recorded music in the first half of 2020. Party time.
How much of the US industry's $5.39bn H1 2019 turnover made its way back to record labels and artists?
According to the RIAA, this 'wholesale' portion amounted to $3.5bn – equivalent to 65% of the total cash splashed at retail.
In H1 2018, according to previously published RIAA data, artists and labels obtained a 'wholesale' percentage of retail spend of 67%.
---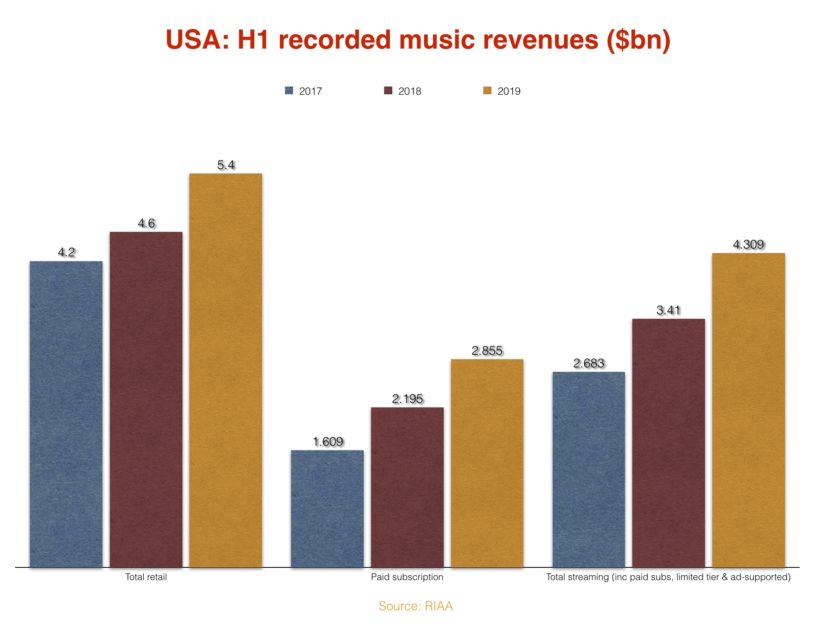 ---
"Hang on, hang on," you might be thinking. "Didn't Nielsen data just show us that the US recorded music market's streaming growth is slowing down?"
And yes, it did: on-demand audio stream volumes in the US officially increased by a lesser margin, year-on-year, in H1 2019 than they did in H1 2018.
In positive news, this pattern did not carry when it came to the amount of hard cash spent by music fans on the format.
According to RIAA data, revenue derived by premium streaming subscriptions on services like Spotify and Apple Music grew by $660m (+30%), year-on-year, in H1 2019 – hitting $2.86bn in the six months to end of June.
This YoY growth in paid streaming subscription spending (+$660m) was slightly larger than that seen in H1 2018, when the category generated $2.195bn – a YoY increase of $587m.
---
'Limited tier' streaming subscriptions (i.e. those subscriptions not offering the full gamut of premium access, such as Pandora Plus and Amazon Prime) generated a further $481.6m in H1 2019, up 39.4% year-on-year.
Combined with 'lean back' radio royalties (collected by SoundExchange) and ad-supported on-demand offerings (like Spotify's 'free' tier) total US streaming revenues hit $4.31bn in H1 2019 – up 26.4%, or by $899m, year-on-year.
That $4.31bn haul meant that streaming (of all types) made up 80% of US recorded music revenues in H1 2019, with downloads and physical formats sharing 9% apiece.
The total number of US-based paid subscriptions to Premium on-demand streaming services grew 30% to 61.1m, on average, in the half-year to end of June.
UPDATE: That was up by 14.2m year-on-year, although it represented a smaller rise than the YoY growth in sub numbers (+15.4m) seen in H1 2018. (The RIAA has updated its historical number for H1 2017 below.)
---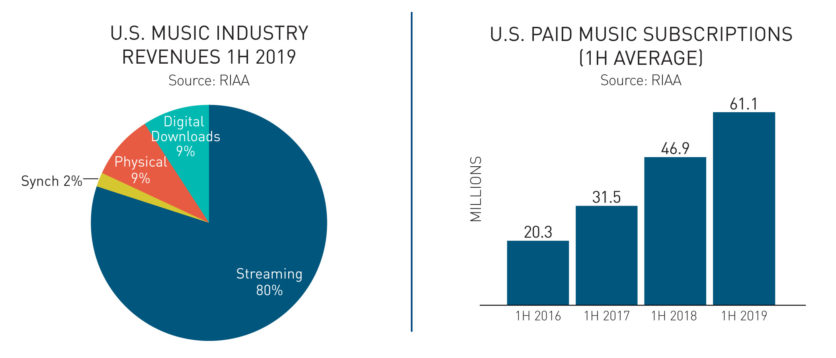 ---
Net revenues from physical products actually grew 5% to $485m in H1 2019; however, according to the RIAA, this growth was the result of a reduction in physical product returns, and on a gross basis the revenues from physical product would have been down for the period.
Vinyl albums grew 13% to $224m, but still only accounted for 4% of total revenues in 1H 2019. That $224m was actually close to the revenues generated by the CD format ($248m) in the same period.
Revenues from digital downloads fell 18% in H1 2019 to $462m. Individual track sales revenues were down 16% year-over-year, and digital album revenues declined 23%.
Mitch Glazier, Chairman and CEO, RIAA, said in a blog post: "Our mid-year report tells a great story and highlights how the music industry's embrace of new platforms and technologies has fueled a huge amount of growth and excitement — and a gusher of great new options for fans everywhere."
Check out the in-depth US H1 2019 retail numbers at-a-glance below.
---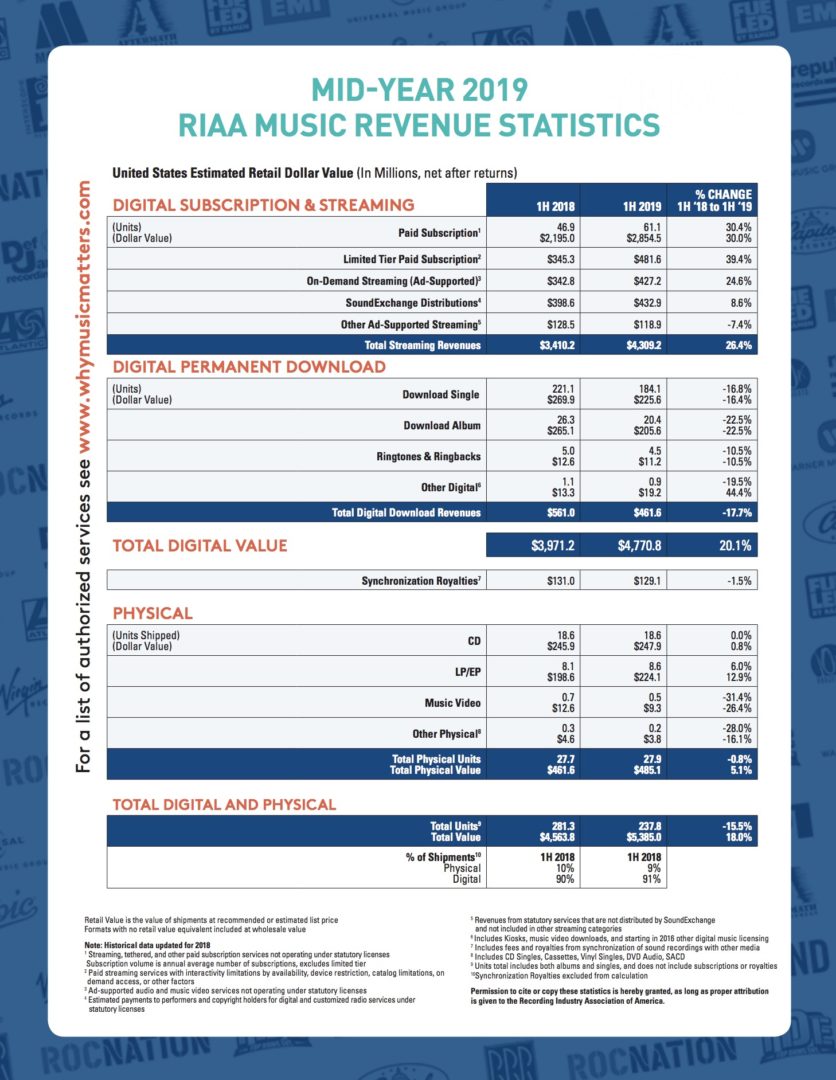 Music Business Worldwide