UK recorded music body the BPI has released new figures showing that the weekly volume of audio streams in the country has now topped 500m for the first time in history.
These numbers, though, literally only tell half of the story: according to separate BPI data recently analysed by MBW, that figure more than doubles when you include video services (YouTube, Vevo) as well as audio platforms (Spotify, Deezer, Rdio, Google Play).
Indeed, online video is the dominant choice for streaming music consumption amongst people in the UK: claiming 52% of all streams by volume in the first six months of 2015.
According to the BPI's new figures,  weekly total streams on free and subscription audio services continue to grow significantly, up to a 484m weekly average in June this year.
And with Apple Music and Tidal helping give the numbers a recent boost (see: 'Is Apple music having no meaningful impact?') the week ending Thursday, July 16 saw 505.85m streams consumed in a single chart week.
(Interesting side-note for you streaming cynics: the UK's month-on-month streaming volume actually dropped slightly in June. But that was coming off the back of an April-May increase of more than 30m.)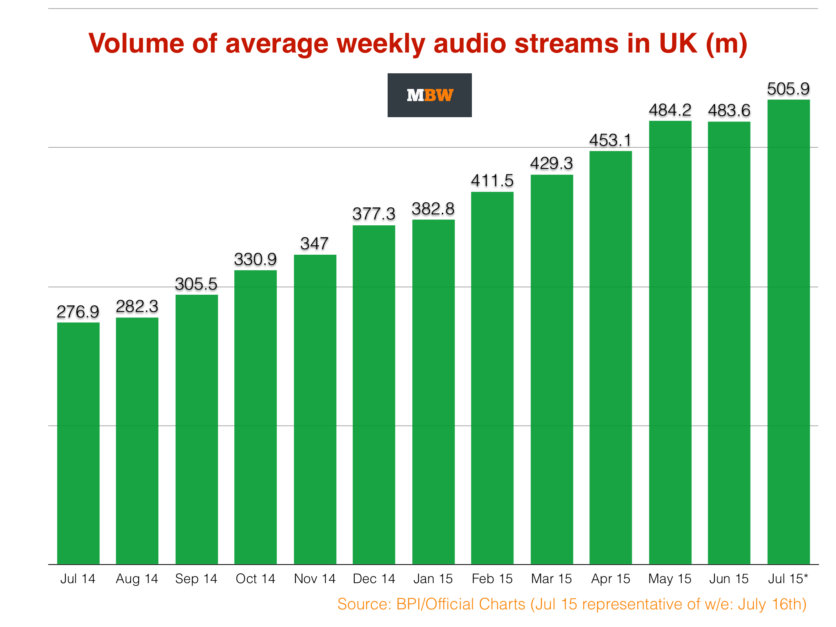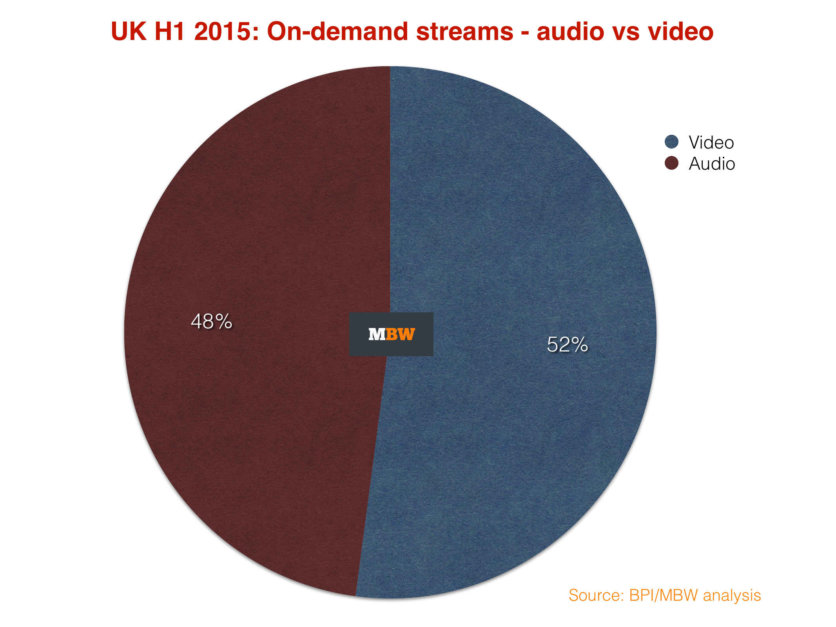 Here's another interesting way of looking at that data: according to historical BPI statistics, the UK streamed 3.7bn audio tracks in 2012, which doubled to 7.4bn in 2013, and then hit 14.8bn in 2014.
A quick bit of basic maths and, oh yes, the UK is now streaming more in a week than in did in an entire month just three years ago.
As pointed out by the BPI, if this level of growth continues at the current rate across the rest of the year, the number of audio streams in the UK in 2015 should comfortably exceed the 25 billion mark.
Were video streams on services such as YouTube to be added, the overall UK volume for 2015 across all platforms would – as explained – double, passing the landmark of 50 billion annual streams.
For comparison's sake, let's take a look at the USA. Nielsen reported in January that the US streamed music (audio & video) 164bn times last year.
In the first half of 2015, that number reached 135.2bn in just six months – or 5.2bn streams every week.
Here's another way of slicing that American pie.
The US has an estimated population of 319m. For the UK, it's 64m.
Which means…
The average US citizen is streaming music (including video) 16.3 times a week (5.2bn / 319m) – or 2.3 times a day;
In the UK? The average person is at it (including video – estimated) 17.2 times a week (1.1bn / 64m) – or 2.5 times a day.
The BPI also revealed that in the first six months of 2015, 59 tracks were streamed more than 10 million times in the UK.
The most streamed song was Mark Ronson ft. Bruno Mars' Uptown Funk (pictured), played more than 45 million times.
The most streamed artist in the UK overall during this same six-month period, however, was Ed Sheeran, whose various songs were streamed over 170 million times in total, ahead of Sam Smith, who also broke the 100 million barrier, and Irish artist Hozier.
Geoff Taylor, Chief Executive BPI and BRIT Awards, said: "It's remarkable that we now speak of billions of audio streams per month – it demonstrates vividly just how quickly streaming is being embraced by British music fans. 
"As more consumers explore the enhanced experience offered by premium quality subscriptions such as Apple Music and Spotify Premium, it will help our world-leading record labels invest even more into unearthing the next generation of British talent for fans here and around the world."  
Top 10 most streamed songs (audio): Jan – Jun 2015
Mark Ronson ft. Bruno Mars / Uptown Funk – Columbia Label Group ( Sony Music)
Omi / Cheerleader (Felix Jaehn Remix) – Syco Music (Sony Music)
Hozier / Take Me To The Church – Island (Universal Music)
Ed Sheeran / Thinking Out Loud – Atlantic Records UK (Warner Music)
Ellie Goulding / Love Me Like You Do – Polydor (Universal Music)
Wiz Khalifa ft. Charlie Puth / See You Again – Atlantic Records UK (Warner Music)
James Bay / Hold Back The River – Virgin EMI (Universal Music)
Maroon 5 / Sugar  – Polydor (Universal Music)
Years & Years / King – Polydor (Universal Music)
Major Lazer ft. Mo & DJ Snake / Lean On – Because Music
Source: Official Charts Company                  .                 
Top 10 most streamed artists (audio): Jan – Jun 2015
Ed Sheeran
Sam Smith
Hozier
Drake
Rihanna
Eminem
Chris Brown
Calvin Harris
David Guetta
Beyoncé
Source: Official Charts Company. Music Business Worldwide