Concert giant Live Nation Entertainment has published its financial results for Q4 (ended December 31) and full year 2021.
Within the filing, the company reports quarterly revenues of $2.7 billion across all divisions, including concerts, ticketing and advertising & sponsorship.
The firm's annual revenues topped $6.3 billion, with Live Nation President and CEO Michael Rapino telling investors this week that he believes that, "this is just the start of what will be the strongest multi-year period ever for the concert industry".
Live Nation's quarterly revenues of $2.7 billion eclipsed the $237.3 million reported in the same quarter in 2020, when very few shows were taking place globally due to the pandemic.
The firm's Q4 concerts revenues soared to $2.04 billion, up from $178.4 million in the prior year quarter.
Writing to investors, Rapino said that, "the year started in the midst of the pandemic, but by summer fans were returning to shows, and by the end of the year, we had a record pipeline of concerts, ticket sales and advertising commitments for 2022".
He added: "The past two years have only reinforced the power of live music, and it's been great to see artists and fans reconnecting at scale around the world."
Across the full year, Live Nation's total revenues saw growth of $4.5 billion YoY to reach $6.3 billion, versus $1.8 billion in FY 2020.
A closer look at the firm's full year results reveals that its Concerts business contributed $4.7 billion to that $6.3 billion total (see below).
Live Nation's Concerts revenue was up by $3.3 billion YoY, from $1.4 billion in FY 2020.
---

---
The firm's Ticketing business, meanwhile, generated $1.1 billion in 2021, versus £188.4 million in FY 2020.
Live Nation generated $411.9 million from Sponsorship and Advertising in 2021, an increase of $208.2 million YoY, compared to $203.7 million in 2020.
Live Nation reports that it put on over 17,000 concerts for 35 million fans in 2021, mainly in the US and UK.
In the final five months of the year, in the US and UK, Live Nation reports to have had over 15 million fans attend its outdoor events at festivals, stadiums, and amphitheaters, nearly 25% higher than during the same period in 2019 (the year before the pandemic).
Looking to the rest of 2022, Live Nation says that for concert ticket sales, through mid-February, it has already sold 45 million tickets for shows this year, up 45% (see below) from this point in 2019.
Additionally, Live Nation says that it already has eight artists who have sold over 500,000 tickets for their tours this year, including Bad Bunny, Dua Lipa and Billie Eilish.
---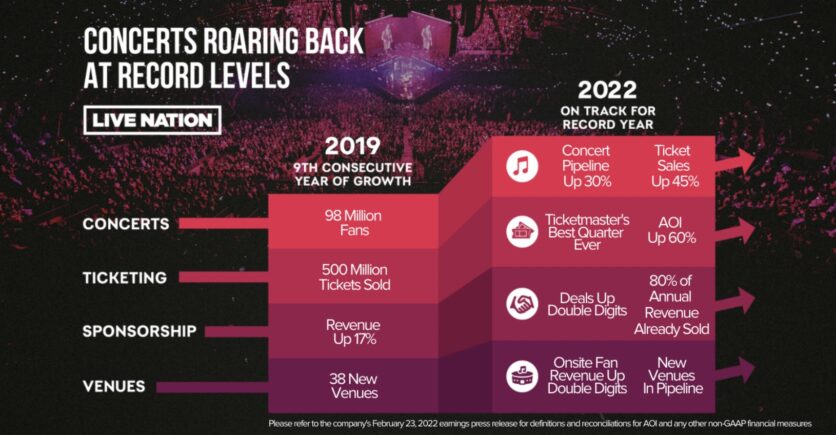 ---
Michael Rapino told investors that, "with the strength in ticket sales, not surprisingly, we are seeing every leading indicator for 2022 up relative to 2019, reinforcing our confidence that we will have a record year in 2022 that sets us up for growth over the next several years".
Rapino also noted that Live Nation's acquisition of its 51% stake in OCESA is helping to accelerate its growth this year and gives the firm "immediate scale in Mexico and establishes another path into the broader Latin American market".
"I believe this is just the start of what will be the strongest multi-year period ever for the concert industry."

Michael Rapino
Added Rapino: "Looking at the leading indicators, starting with confirmed show count through February, we are up 30% relative to 2019 across our large venue shows, for stadium, amphitheater, arena and festival events.
"And fans are coming to the shows – our most recent data over the past month indicates no-show rates at our concerts in the U.S. are back to 2019 levels, eliminating any lingering questions on the resiliency of fan demand.
"Taking this strong pipeline and combining it with our more efficient cost structure, I expect 2022 to deliver record financial performance overall and for each division.
"The two year wait for artists and fans is over.  Never have the tailwinds to our business been so strong, and I believe this is just the start of what will be the strongest multi-year period ever for the concert industry."
---
At the the end of Q4 (as of December 31, 2021), Live Nation had total cash and cash equivalents of $4.9 billion, which includes $1.3 billion in ticketing client cash and $1.5 billion in free cash.
This free cash, along with $569.9 million of available debt capacity, gives the company $2.1 billion of available liquidity.
The company says that it believes this level of liquidity will provide it with the runway it needs as more shows returns.
Music Business Worldwide