Over the last decade, The Orchard has evolved from a left-field proposition for artists who often didn't get much further than the bedroom, into a key player in a growing independent market now moving from the fringes into the mainstream.
Chief Operating Officer Colleen Theis joined The Orchard back in 2011, and has overseen its growth from 25 to 43 offices worldwide over the last five years, as well as its transformation into a fully owned subsidiary of Sony.
In the three years following Sony's acquisition in 2015 – which came with a reported price tag of $200m for the final 50% – the distribution/services company's EBITDA has nearly doubled, as revealed last year by Sony Music boss Rob Stringer.
That's partly thanks to rapid international growth, accelerated by a run of recent deals that have included the buyout of Germany's finetunes and Norway's Phonofile in 2017, and a merger with Red Essential (incorporating Essential Music & Marketing) in the same year.
Thanks to a myriad of deals with independent labels and artists worldwide, mainstream success stories to have released music through The Orchard include Ozuna, Kelsea Ballerini, Jorja Smith, T-Pain, BTS, 21 Savage and Flipp Dinero.
Theis started her career in New York, where a job programming events for the New York Public Library System led to an introduction to someone at Elektra, who was looking for a Spanish-speaking assistant. Thanks to a year studying abroad in Madrid, Theis fitted the bill. She took a pay cut to start at the bottom of the music business – an industry she'd long been trying to get into – aged 28.
The role gave her an education on how the industry worked, and she joined at an exciting time: Elektra's then-CEO, Sylvia Rhone, was taking the label from being a rock-centric institution to having success with urban and hip-hop acts like Missy Elliott and Busta Rhymes.
After two years at Elektra, Theis left to join independent label Rykodisc in Philadelphia where she had more freedom to get involved in every stage of an artist project.
Shortly after she relocated, Rykodisc was acquired by Island Records founder Chris Blackwell to provide music marketing and distribution expertise for his new venture, media company Palm Pictures.
Consequently, Theis was on the move again, this time heading to London where she was tasked with working on physical distribution deals across Europe. However, the new partnership was short-lived, and mere months after moving to London, Rykodisc and Palm parted ways.
Theis decided to stay with Rykodisc where she ultimately remained for 11 years, overseeing international marketing from the UK, and working with releases from Josh Rouse, Morphine, Steve Earle, Spanish Harlem Orchestra and the Frank Zappa catalogue.
When Rykodisc was acquired by Warner in 2006, Theis spent four years launching ADA's international arm as SVP of ADA Global. That was a challenge – the music business was contracting and the needs of independent labels were changing. So, after a while, Theis shifted, and joined The Orchard.
"At that time, The Orchard was pretty far outside of the standard industry so I definitely took a leap of faith," she says. "I had people asking me why, or saying, 'Oh, are you going to be okay? Can I take you to lunch? I'll pay, don't worry!'"
She adds: "I remember asking our CEO Brad Navin, 'So, who are [The Orchard's] top 10 artists?' He just laughed, and was like, you are not going to know any of these labels… it was all digital, they had next to no physical revenue whatsoever, and nothing that was high profile.
"But when I got my P&L [profit and loss statement] for a new territory, it was like, 'How is this possible?' The business was thriving. I was like okay, I came to the right place, and every year has been like that. The industry is evolving so fast and The Orchard has been right at the front of it – and now we are in the thick of it."
Here, we chat to New York-based Theis about the growing closeness of the DIY and major music business, her ambitions for The Orchard and what's most exciting about the evolution of the industry…
---
How has Sony's involvement and subsequent acquisition had an impact on what you do at The Orchard?
We always had resources because we were doing good before, but now we've got the support of one of the largest entertainment companies in the world, so we are able to scale at the rate that we need to, in order to be able to fulfil the vision that we have to best serve our labels and artists.
The Orchard is a totally unique proposition in the business now. There is nobody else that can offer our end-to-end solution; whether the 'end' is you just want to deliver some tracks out to the world and see if anyone bites, or if it's at the top end, having the global support of a company like Sony to come in and move the levers that take an artist to the next level – and everything in-between. Without having to say, 'Okay, you have to stop talking to this group of people, now go down the road and start all over with [a new label], which, as we know, is not a seamless process.
---
That variety of offering is perhaps a prime example of what a major label looks like in 2019. But does that flexibility bring a question mark over whether there's any incentive for artists to sign away their master rights? Jorja Smith is an interesting example of an artist who hasn't signed a major deal but is still building a great profile.
There is still very much a place for the major machine and the labels, particularly with the A&R and the creative focus, which is a part that most label/artist services companies don't offer.
In 99% of cases, an artist chooses this route because they want to control their own product.
Jorja is a good example: she came to us with a finished record and she wanted to put that record out and have the time and space for it to develop at the pace she was happy with.
It was a very sustained, grassroots and direct-to-fan approach that she wanted to take. If she'd come out in the previous decade, yes, her only option would have been to go to a major label. And then maybe they would have put out a single, it wouldn't have [hit their short-term commercial targets], and she'd have hadto figure that situation out. So she's come into the industry at a super exciting time because she can control her own pace.
Sony have collaborated with us in various markets to do radio promo or marketing for her, and Jorja is a great example of a case where ultimately, at some point, she could grow into an artist that wouldbe a [fully-fledged] Sony artist. The unique thing about Sony and The Orchard is we are all part of SME, so what's working for us works for them too.
---
So the setup is an example of how major labels are adapting to artists wanting more control…
Yes. You could also take the opposite view and look at 21 Savage, who was distributed by us and is now signed to Epic and is one of the biggest artists in the US. Same thing with Flipp Dinero.
There are artists that at some point are like, 'Okay, now we need the big guns to come in.' That's fine with us, because we don't have a radio staff in however many markets across America [like a frontline Sony label]. Also artists might need more cash flow, a deal that's structured differently, or more creative collaboration with other artists under the umbrella of Epic, or whatever label it might be. It's works really great here and, honestly, what [Sony] has is totally unique.
---
Thanks to a few high profile success stories, there appears to be a rise in artists having success independently, and signing deals with distributors over major labels. Is that what you see from where you're sitting?
[That's] happening with different levels of success, and in certain genres it's more prevalent than others. For example, Latin and hip-hop artists have really figured out how to engage in an authentic way with their audience and drive that audience in a manner that maybe some of the other genres haven't navigated as well.
But for every Chance the Rapper there are hundreds of other artists that would be better served having a [more traditional label] deal. Because [staying independent] is not easy; the thing about distribution and label services is that it's a partnership, so the artist and that team they bring are responsible for their piece of the puzzle. If they don't deliver, or if they get bored with the mundane part of [a campaign], then it doesn't happen.
We are pretty choosy here about the artists we take on for that reason – you need to have a professional team that understands the process.
---
What's on the horizon for the distribution space?
For us it's about services and less about A to B, although that's the backbone and core of what we do — encoding, storing,delivering files and retrieving analytical data on an hourly basis. That's never going to change, but people are doing different types of arrangements regarding how they get their music out, so it's about being able to work side-by-side with the labels, artists, clients, a range of producers and what have you, and guiding them on the best strategies towards really making sure than you are capturing every penny.
Whether that's how you manage your YouTube presence, doing performance collections or on-sale, on-air. It's being a strategic advisor and also making sure than people are prepared for what we haven't even thought about next.
Voice, for example, and the metadata that goes along with that, to make sure you have an accurate experience when you ask Alexa or any other voice-enabled service to play something for you. You want to be discovered and it's very difficult at the moment to find what you're looking for.
In the next couple of years, voice is going to be everywhere so the repertoire owners need to be organized and really methodical about how they are preparing, delivering and updating all of their information to all these services, so that they are at the top of the heap. That is the boring underbelly of a very exciting industry.
---
The Orchard has made a few acquisitions – do you have any more on the cards?
Not right now, I need to breathe for a minute. I've clocked up a lot of frequent flyer miles! That said, we are always open to strategic acquisitions that make sense.
---
Spotify is a tech company that the majors now own very little stake in — do you have any concerns about its power?
Nope, I don't because in different parts of the world different [streaming] services are working so our playing field is really level. I think it's more level than it's ever been — when The Orchard started, all of our sales were on iTunes. Now there are all kinds of services that are important regionally, and then there is a handful that are important globally.
---
The industry is banking on there being a lot more growth in streaming. How much more potential is there?
From where The Orchard is sitting, I think there is a lot of growth. We put a lot of analysis and math into our projections and we have facts to back it up from the past.
We know what markets we are looking to develop in and are really confident and positive about where the streaming ecosystem is going. I still feel like we've only scratched the surface.
---
Which markets are you particularly earmarking for growth?
The ones with the biggest populations and least penetration, so Asia, China, Africa – and we are still growing like crazy in South America as well. Business is great, globally. Just because some markets may be richer than others, doesn't mean that we won't continue to see growth because it's an issue of share, too.
[In those developing markets] you've got infinitely more people, so it's a volume game, and you have also got the advertising and branding piece that comes into it.
The numbers you see now on some [tracks]… we work with artists who are able to get to 10 million streams in a couple of days, it's crazy. If you have that global groundswell it lifts the boat for everybody.
---
What would you change about the music industry and why?
I think the music industry is changing fast enough on its own – I don't need to contribute any more! The best thing about that change for me is the influx of really strong and amazing women that are nowsprinkled throughout the business.
In our company we've got women that lead our companies in Italy, Spain, Mexico, south east Asia, Sweden, Denmark, the pan-LATAM team out of Argentina and in Miami, so the female approach is really ingrained in our culture and has made The Orchard a really wonderful place to work.
In America right now, Amy Dietz is running INgrooves [with Bob Roback] and Jacqueline Saturn is running Caroline, which is really cool to see and is something that is very new.
I'm all about that change and looking forward to seeing what happens over the next few years because women are becoming empowered like they never were before.
---
You've risen to the top of your profession with a 'c-suite' role at a large music company. What's the key to a successful career in the music business?
Being passionate and happy about what you are doing. You'll start to feel the creep if you're not and then you know it's time to do a lift-and-shift because life is too short.
Success is defined in a lot of different ways; it's not always about having the top job somewhere or making money, it's about a mix of feeling proud of what you are doing and who you are doing it with, and having a work/life balance that is manageable, where you're not only [working] 24/7 – you're able to keep a roof over your head while having some fun.
---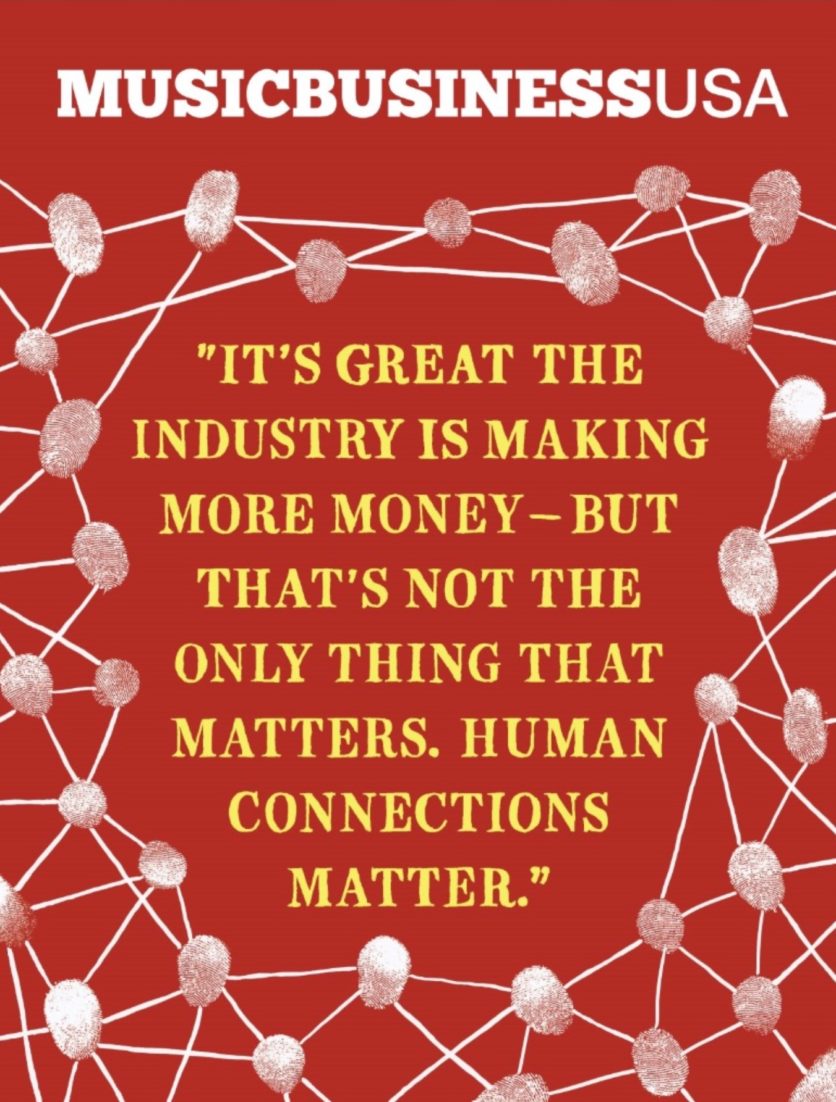 The above interview originally appeared in Music Business USA – MBW's new annual magazine featuring some of the smartest people, with the best stories, in the Stateside music industry.
Subscribe to MBW's premium bundle to ensure you never miss one our physical magazines in future. Click through here to find out how.Music Business Worldwide