Has the Official UK Singles Chart ever looked quite so stagnant?
If you'd listened to the weekly Top 40 countdown in Blighty during the past couple of months, you could be forgiven for picking up an overwhelming sense of Groundhog Day.
That's not just because of Drake's One Dance, which has now sat atop the UK rankings for 13 weeks – the third longest consecutive UK No. 1 of all time, behind Wet Wet Wet's Love Is All Around (15 weeks) and Bryan Adams' (Everything I Do) I Do It For You (16 weeks).
MBW has checked back through the last six weeks of the Official Singles Chart and discovered that just 14 songs have embraced the Top 10 during this time.
In other words, in the five weeks following June 3 there have been just four new releases in the Top 10 – from Cheat Codes / Kris Kross, Adele, Calum Scott and Chainsmokers.
And over the past month-and-a-half, there's been only one fresh chart entry which has ventured into the UK market's weekly Top 5 – Adele's Send My Love (To Your New Lover).
In fact, for three weeks in a row (June 17 – July 1), the UK's Top 5 tracks were comprised of the same songs in slightly different orders.
Some other observations:
The Top 3 singles for the past six weeks have been made up of just five tracks: Drake's One Dance, Justin Timberlake's Can't Stop The Feeling, Calvin Harris's This Is What You Came For, Drake's Too Good; and This Girl by Kungs vs. Cookin' On 3 Burners;
Of The Top 10 tracks from June 3, only one – Mike Posner's I Took A Pill In Ibiza – doesn't remain in the Top 13 tracks this week (08/07/2016);
The current Top 10 tracks have spend a combined total of 110 weeks on the Official Singles chart. That's an average of 11 weeks per track.
Those label execs wishing the Official Singles Chart to spark vibrancy and excitement in the UK market must be getting worried, as tiresome predictability begins defining their flagship music popularity rankings.
Some may point to a typically quiet summer release schedule… but others will blame the effect of streaming platforms.
---

Since 2014, the Official Singles Chart has counted 100 streams as equivalent to one paid download or physical sale.
Fresh stats out of the US tell us much about the blockbuster economy of these streaming services.
Nielsen reported last week that in the first half of 2016, there were 113.6m audio streams played in the US market, up 97.4% on H1 2015.
The company also provided its 'overall' Top ten artist albums chart – based on streams and sales.
As you can see below, these albums clocked up 4.81bn streams between them (including Prince's The Very Best Of… which was only available on Tidal).
That equates to a 4.2% share of all audio streams in the period. In other words, one in every 24 tracks played on a streaming service in H1 2016 appears on these albums.
Drake's Views had 1.47bn streams in the period alone – taking a 1.3% share of all US streams all by itself.

---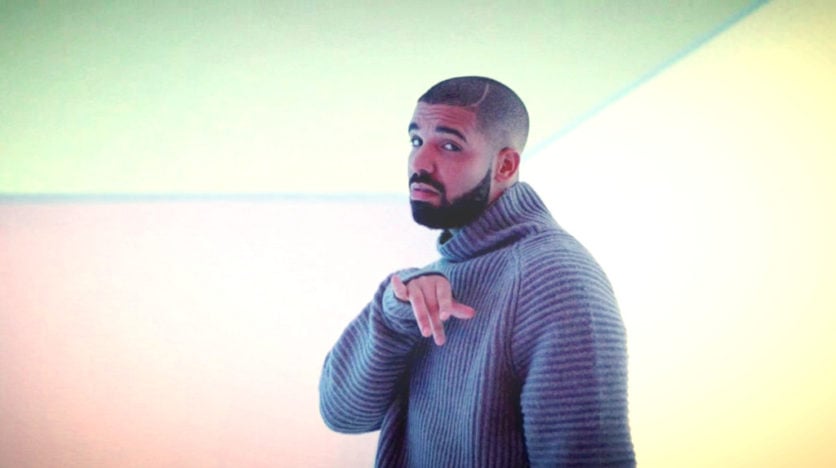 Back to the UK's Official Singles Chart.
Below is the top echelon of the rankings for the past six weeks, with new entries into the Top 10 bolded.
Certain people like to criticise today's music for being too repetitive. Wait till they get a load of today's pop charts…
---
June 3, 2016
One Dance – Drake ft. Wizkid & Kyla (Cash Money/Island)
Can't Stop The Feeling  – Justin Timberlake (RCA)
This Is What You Came For – Calvin Harris Ft. Rihanna (Columbia)
No Money – Galantis (Atlantic)
Cheap Thrills – Sia (Monkey Puzzle / RCA)
Tears – Clean Bandit ft Louisa Johnson (Atlantic)
Too Good – Drake ft. Rihanna (Cash Money/Island)
I Hate U I Love U – Gnash ft. Olivia O'Brien (Atlantic)
I Took A Pill In Ibiza – Mike Posner (Island)
This Girl – Kungs vs. Cookin' On 3 Burners (3Beat)
Panda – Desiigner (Def Jam/Island)


---
June 10, 2016
One Dance – Drake ft. Wizkid & Kyla (Cash Money/Island)
Can't Stop The Feeling  – Justin Timberlake (RCA)
This Is What You Came For – Calvin Harris Ft. Rihanna (Columbia)
This Girl – Kungs vs. Cookin' On 3 Burners (3Beat)
Tears – Clean Bandit ft Louisa Johnson (Atlantic)
Too Good – Drake ft. Rihanna (Cash Money/Island)
Cheap Thrills – Sia (Monkey Puzzle / RCA)
I Hate U I Love U – Gnash ft. Olivia O'Brien (Atlantic)
No Money – Galantis (Atlantic)
I Took A Pill In Ibiza – Mike Posner (Island)
Sex – Cheat Codes / Kris Kross (Spinnin')
Panda – Desiigner (Def Jam/Island)
---
June 17, 2016
One Dance – Drake ft. Wizkid & Kyla (Cash Money/Island)
This Girl – Kungs vs. Cookin' On 3 Burners (3Beat)
Can't Stop The Feeling  – Justin Timberlake (RCA)
This Is What You Came For – Calvin Harris Ft. Rihanna (Columbia)
Too Good – Drake ft. Rihanna (Cash Money/Island)
Tears – Clean Bandit ft Louisa Johnson (Atlantic)
I Hate U I Love U – Gnash ft. Olivia O'Brien (Atlantic)
Cheap Thrills – Sia (Monkey Puzzle / RCA)
Sex – Cheat Codes / Kris Kross (Spinnin')
No Money – Galantis (Atlantic)
I Took A Pill In Ibiza – Mike Posner (Island)
Panda – Desiigner (Def Jam/Island)
---
June 24, 2016
One Dance – Drake ft. Wizkid & Kyla (Cash Money/Island)
This Girl – Kungs vs. Cookin' On 3 Burners (3Beat)
Can't Stop The Feeling  – Justin Timberlake (RCA)
This Is What You Came For – Calvin Harris Ft. Rihanna (Columbia)
Too Good – Drake ft. Rihanna (Cash Money/Island)
Tears – Clean Bandit ft Louisa Johnson (Atlantic)
I Hate U I Love U – Gnash ft. Olivia O'Brien (Atlantic)
Cheap Thrills – Sia (Monkey Puzzle / RCA)
Give Me Your Love – Sigala ft. Newman/Rodgers (Ministry)
No Money – Galantis (Atlantic)
Sex – Cheat Codes / Kris Kross (Spinnin')
I Took A Pill In Ibiza – Mike Posner (Island)
Panda – Desiigner (Def Jam/Island)
---
July 1, 2016
One Dance – Drake ft. Wizkid & Kyla (Cash Money/Island)
This Girl – Kungs vs. Cookin' On 3 Burners (3Beat)
Too Good – Drake ft. Rihanna (Cash Money/Island)
This Is What You Came For – Calvin Harris Ft. Rihanna (Columbia)
Can't Stop The Feeling  – Justin Timberlake (RCA)
Send My Love (To Your New Lover) – Adele (XL)
Tears – Clean Bandit ft Louisa Johnson (Atlantic)
I Hate U I Love U – Gnash ft. Olivia O'Brien (Atlantic)
Cheap Thrills – Sia (Monkey Puzzle / RCA)
No Money – Galantis (Atlantic)
Sex – Cheat Codes / Kris Kross (Spinnin')
Dancing On My Own – Calum Scott (Instrumental)
Panda – Desiigner (Def Jam/Island)
I Took A Pill In Ibiza – Mike Posner (Island)
---
July 8, 2016
One Dance – Drake ft. Wizkid & Kyla (Cash Money/Island)
This Girl – Kungs vs. Cookin' On 3 Burners (3Beat)
Too Good – Drake ft. Rihanna (Cash Money/Island)
This Is What You Came For – Calvin Harris Ft. Rihanna (Columbia)
Send My Love To Your New Lover – Adele (XL)
Can't Stop The Feeling  – Justin Timberlake (RCA)
Don't Let Me Down – Chainsmokers ft. Daya (Disruptor)
Tears – Clean Bandit ft Louisa Johnson (Atlantic)
Cheap Thrills – Sia (Monkey Puzzle / RCA)
Dancing On My Own – Calum Scott (Instrumental)
I Hate U I Love U – Gnash ft. Olivia O'Brien (Atlantic)
Don't Mind – Kent Jones (Black Butter / Epic)
No Money – Galantis (Atlantic)
Music Business Worldwide