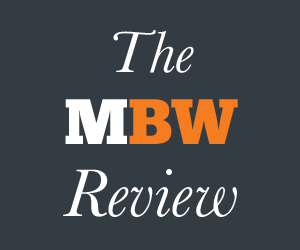 The MBW Review offers our take on some of the music biz's biggest recent goings-on. This time, we sit with our abacus – and all the major record companies' quarterly figures from the first half of this year – to work out who's king of the jungle in 2018 so far. The MBW Review is supported by Instrumental.
---
The first half of 2018 was another grin-inducing six months for the major record companies.
According to MBW's calculations, based on publicly-stated financial results, Universal, Sony and Warner's labels jointly turned over just above $6bn – approximately $1bn a month – between them in H1 2018 on a global basis.
Streaming made up over half of this money, contributing $3.24bn in the period. This was more than double the $1.21bn generated by physical products in the same timeframe.
Below, we discover how each major record company fared… with some surprises in store.
But before all of that, you get a slightly dull disclaimer about our methodology. When the arguments begin ("we were actually biggest if you discount Japan!"), this is the bit you'll need to come back to…
---

---
MBW has used a currency conversion for both Sony Music Entertainment and Universal Music Group which sees both company's global revenues – reported by Sony in Japanese Yen and Universal/Vivendi in Euros – reversed into US Dollars.
In each of its quarterly financial updates, Sony Corp gives a recommended Yen-USD average three-month conversion rate. We have used this on a prevailing quarterly basis for Sony Music in each of our half-year dollar calculations. 
For Universal, we have used prevailing currency rates for the first half of each year, calculated using exchange platform OANDA.
Warner Music Group reports its results in the 'root currency' of USD, which we have left unchanged for 2016, 2017 and 2018.
You can see all conversion rates used for Sony and Universal at the end of this analysis. All converted figures have been rounded to the nearest million USD.
---
Streaming
It's the word on everyone's lips, so we may as well start with streaming.
According to MBW's calculations, on a global basis the three major labels turned over $3.24bn from streaming platforms in the first half of 2018 – which works out to around $18m per day.
This number was up 36.4% on the $2.38bn posted in the same period of 2017.
Surprisingly, 2018 is proving to be a bigger year of growth than its predecessor: streaming contributed $865m more to major label coffers in H1 2018 than it did in the same period of the prior year.
In H1 2017, this number grew by a smaller margin – up $655m from the $1.72bn posted in H1 2016.
Here's a serious fact: all the majors have nearly doubled their half-year streaming revenues since H1 2016. Warner is the closest to achieving the feat, with its mid-year figure growing 99% in the 24 months period.
Below, you can see how the major labels' global streaming revenues have compared over the past few years.
Warner lost 1.1% of major label share to its rivals in H1 2018 – perhaps expected after the barnstorming performance of Ed Sheeran's Divide in 2017 – while both Sony and Universal gained more than half a percent each.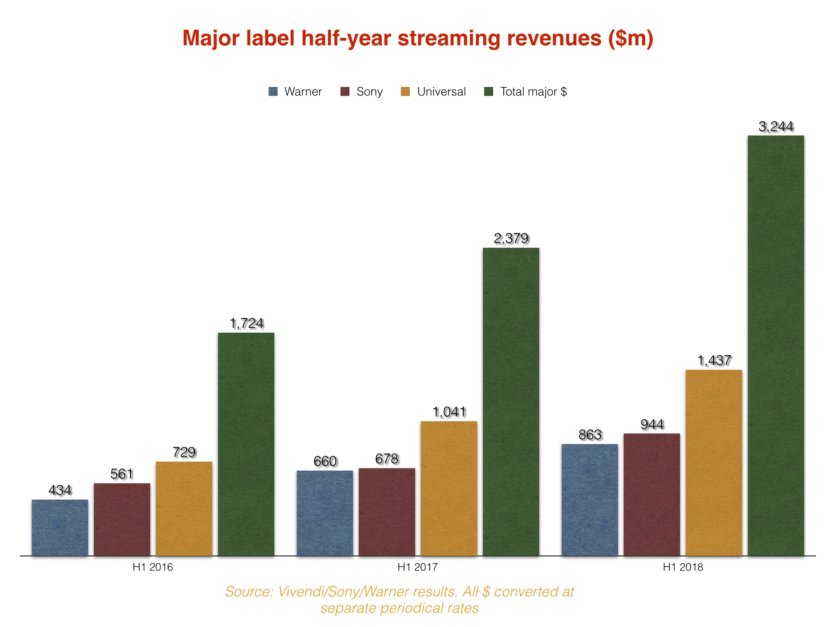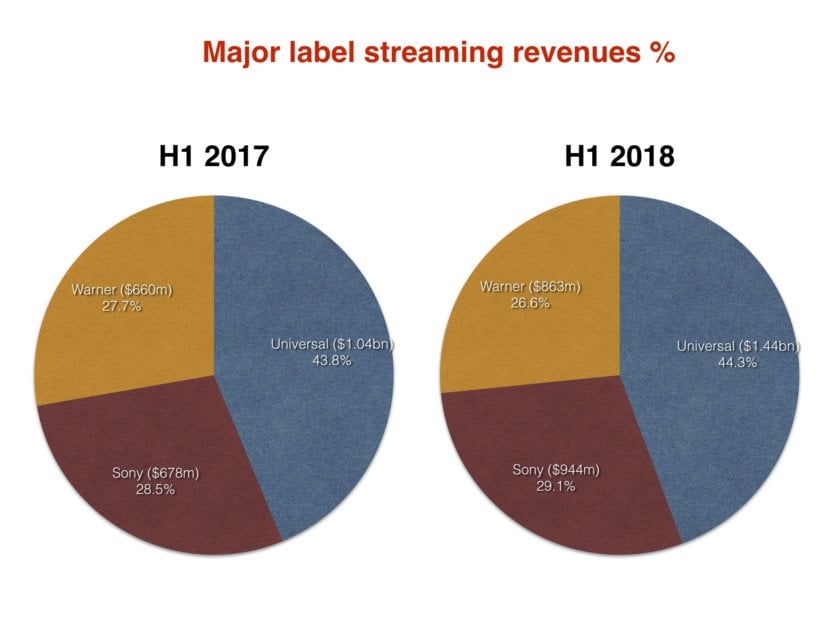 ---
Total recorded music revenues
Between them, the major labels turned over a full $1bn more from all formats than they did in 2016 – despite serious declines in physical and download revenues (see further down).
This was made possible by that huge gain in global streaming revenues (+$865m) in addition to growth in non-streaming/sales revenue streams (for example, licensing and ancillary live income).
Universal, Sony and Warner now jointly look on course to turn over $12bn+ from recorded music in 2018.
Universal's labels cleared more than $2.5bn in the first half of this year, up by over quarter of a billion dollars on the equivalent 2017 period.
Vivendi shareholders will be pleased to note that, with Universal Music Publishing Group on course to land circa-$1bn in revenues this year, UMG is in contention to become a $7bn company in 2018. (Last year, UMG income streams reported outside of recorded music and publishing, such as merchandise, amounted to €283m / $320m).
Overall, global major label market shares didn't move too much in H1 2017 compared to the prior year, with Warner handing over 0.3%, shared between its rivals.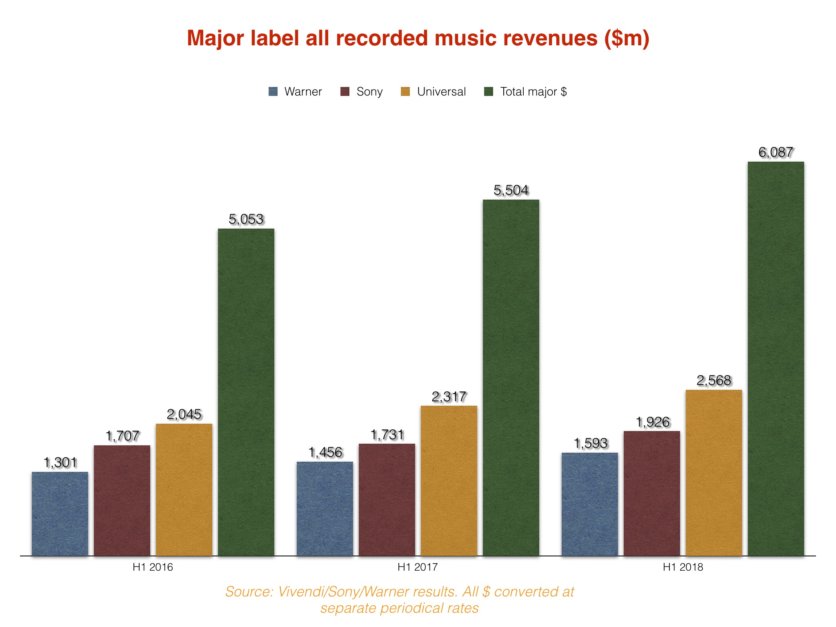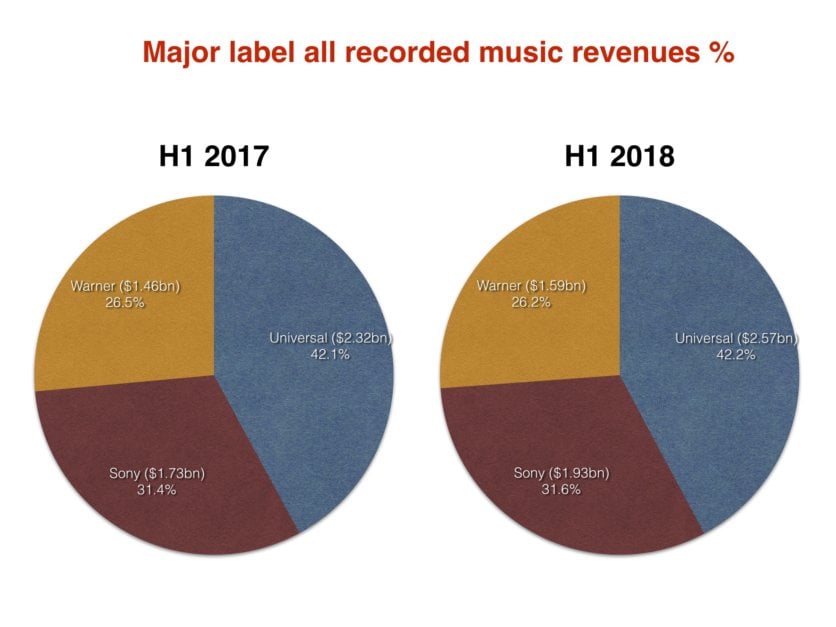 ---
Physical
This is a turn up for the books: did you know that, last year, Sony Music overtook Universal to become the world's biggest physical record company?
The firm grew this lead in the first half of 2018 – almost certainly because of its strength in Japan, whose market continues to be dominated by the CD. (Sony Music Japan's numbers are included in these global figures.)
Universal has lost over $100m in half-year physical revenues over the past two years, show MBW's calculations.
Not that Sir Lucian Grainge will be sweating: Universal's recorded music turnover in the first half of 2018 (including licensing etc. as well as sales/streams) was 56% streaming, with physical on just 17%.
As for physical music's global health, the format declined 11.2% across the majors year-on-year in H1 2018, according to our figures.
Once again, this number would have been buoyed by Japan.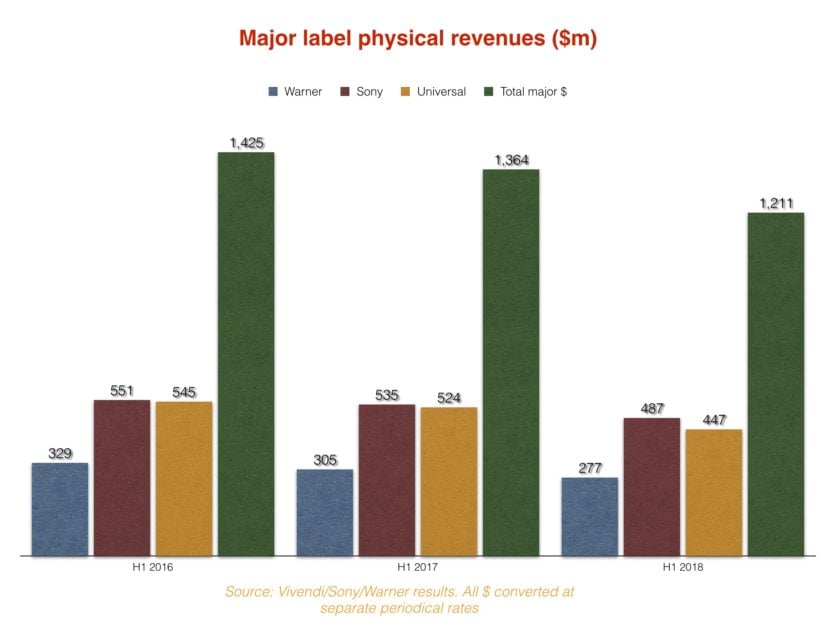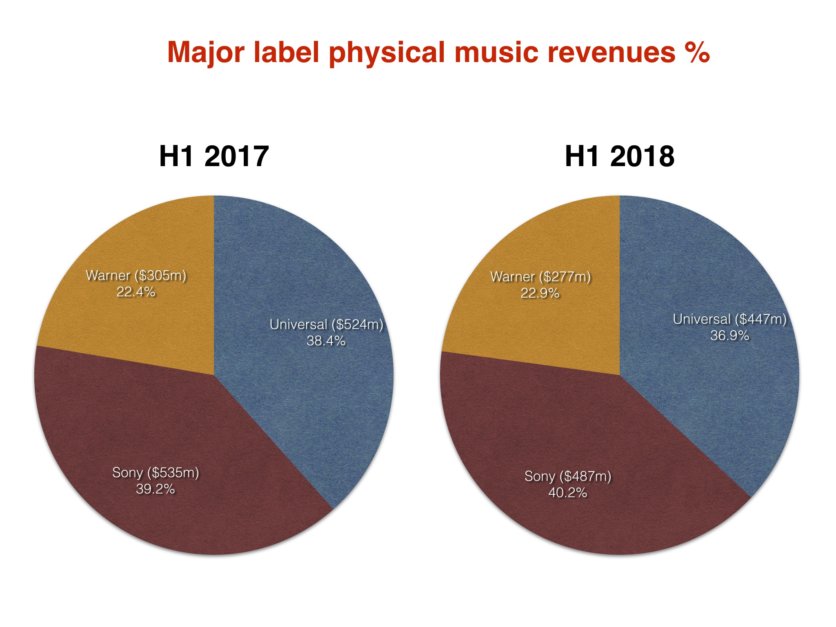 ---
Downloads
This is the section which may as well be titled: So when is Apple going to shut down the iTunes store?
Looking at the total streams-plus-sales number for all major labels in H1 2018 ($6.087bn), downloads made up just 10.5% of all sales.
As recently as H1 2016, that percentage share was as high as 19.8%.
Sony gained market share on downloads in H1 2018, taking points off both Warner and Sony.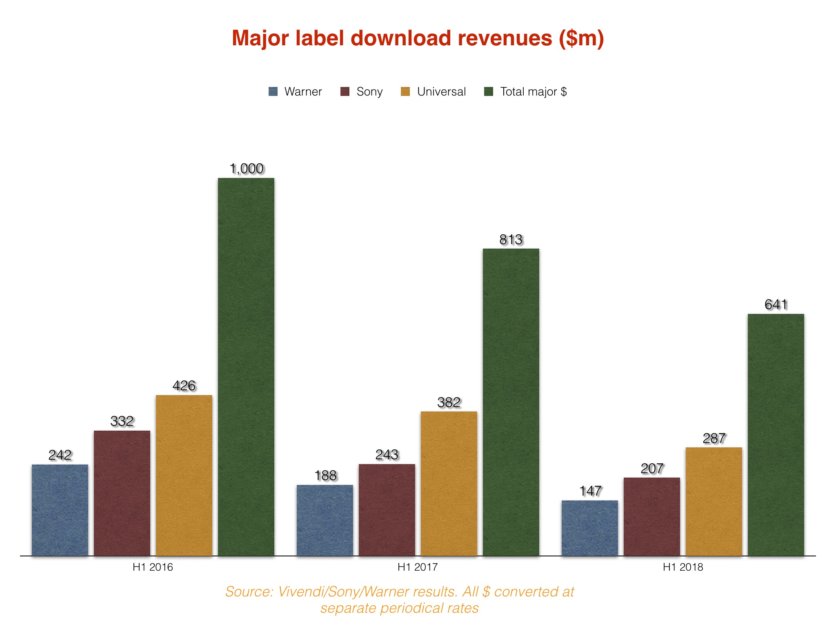 ---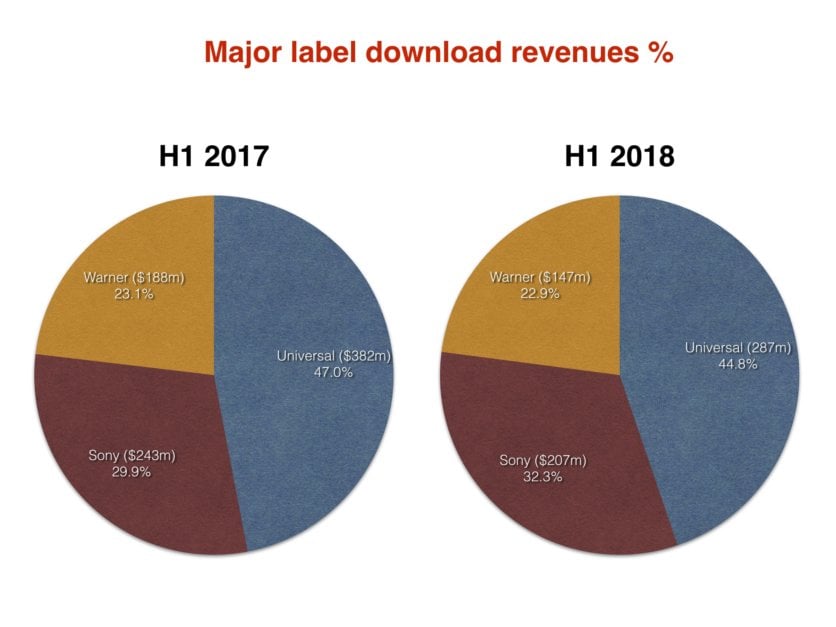 ---
Sony currency exchange rates:
Calendar Q1 2016: 115.4 Yen = USD $1
Calendar Q2 2016: 108.1 Yen = USD $1
Calendar Q1 2017: 113.7 Yen = USD $1
Calendar Q2 2017: 111.1 Yen = USD $1
Calendar Q1 2018: 108.4 Yen = USD $1
Calendar Q2 2018: 109.1 Yen = USD $1
Universal currency exchange rates:
H1 2016: €0.896 = USD $1
H1 2017: €0.924 = USD $1
H1 2018: €0.826 = USD $1
Pictured: Universal's biggest-selling artist in H1 2018, Post Malone.
---

The MBW Review is supported by Instrumental, which powers online scouting for A&R and talent teams within the music industry. Their leading scouting platform applies AI processes to Spotify and social data to unearth the fastest growing artists and tracks each day. Get in touch with the Instrumental team to find out how they can help power your scouting efforts.Music Business Worldwide