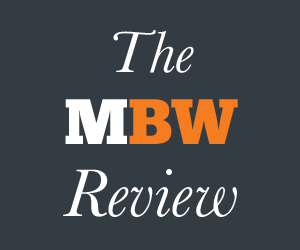 The MBW Review offers our take on some of the music biz's biggest recent goings-on. This time, we sift back through the recent Q2 results of Universal, Sony and Warner to detect a trend which may come to define the global record business in the years ahead. The MBW Review is supported by Instrumental.
---
Streaming revenues continue to shoot upwards at the three major record companies: Universal, Sony and Warner are now jointly turning over nearly $1m every hour from the format, according to MBW's calculations.
Yet there is a fly in the ointment: monetary growth in streaming revenues across these three companies actually declined year-on-year in both calendar Q2 and the first half of 2019.
First, the good news: according to data pertaining to calendar Q2 provided by Universal owner Vivendi, plus Sony Corp and Warner Music Group over the past few weeks, the three majors generated $2.08bn from recorded music streaming consumption in the three months to end of June.
This works out at $23.13m each day in the period – on the verge of a million-dollars-an-hour rate the music industry could once only have dreamed of.
---

---
However, that $2.08bn figure also harbors a less positive story under its hood.
This Q2 2019 major label streaming revenue haul is up $390m on the Big Three's equivalent cumulative streaming tally in Q2 2018 ($1.69bn).
Yet this is actually a smaller figure than the growth in cumulative Q2 streaming revenues the trio enjoyed in the prior 12 months (Q2 2017 – Q2 2018), which weighed in at $443m.
---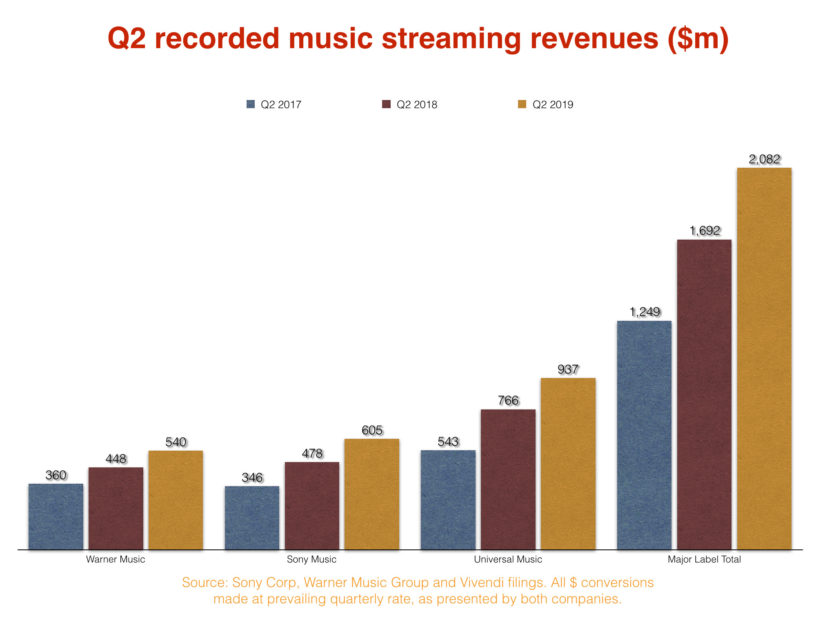 ---
This, it emerges, isn't an anomaly, because the same holds for the first half of this year, too.
According to financial data converted into USD at the prevailing rate in each period, Universal, Sony and Warner's recorded music divisions generated $3.96bn from streaming in the six months to end of June 2019.
That figure was up by a robust $709m on the same number from H1 2018. Yet in that same period (Jan-June 2018), the major's cumulative streaming haul was again up by a bigger number year-on-year, increasing $877m on the $2.38bn recorded in H1 2017.
The difference – between $877m (H1 2017 – H1 2018) and $709m (H1 2018 – H1 2019) – means that global major label midyear streaming revenue growth slowed by 19.1% YoY in the first six months of this year.
---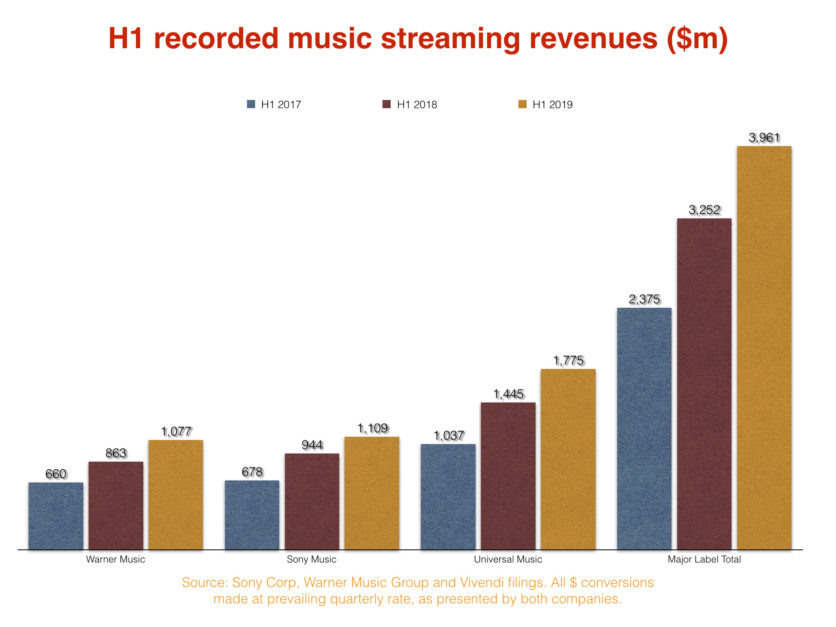 ---
Looking at the individual major labels, an annual streaming growth slowdown was apparent at both Sony Music and Universal Music across Q2 and H1 this year.
(Worth remembering: both Sony and Universal just posted record quarterly results for Q2, thanks to the likes of Lil Nas X and Ariana Grande, respectively.)
Warner Music Group, however, the third biggest global recorded music company, is still just about managing to increase its streaming velocity.
According to the firm's dollar-level quarterly results, its YoY recorded music streaming growth margin was up by $4m in calendar Q2 2019 vs. calendar Q2 2018 (+$92m vs. +$88m).
And in H1 2019, WMG's recorded music streaming growth margin was up by $11m on the prior year (+$214m vs. +$203m).
(Warner reports in a root currency of US dollars, meaning its USD-level results do not demand the same currency exchange processes as UMG and Sony's.)
---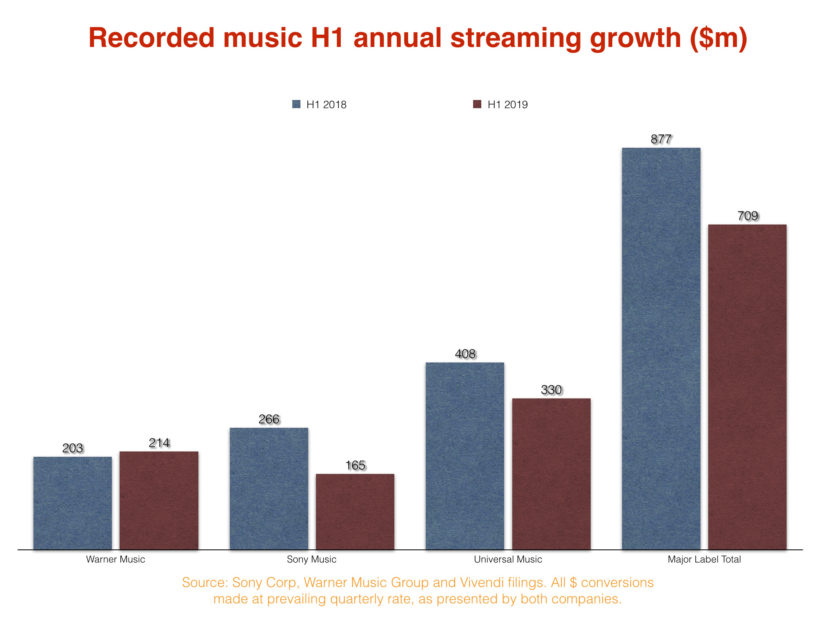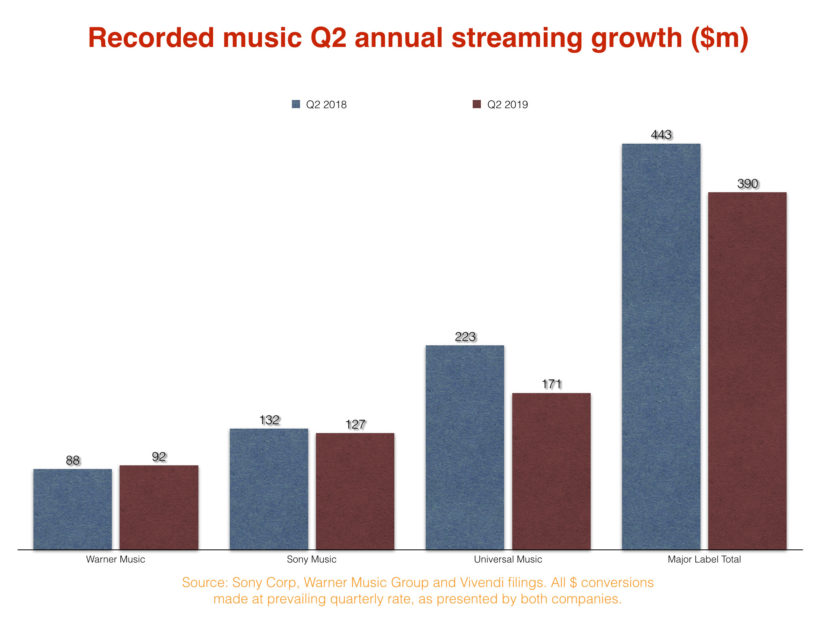 ---
What simple conclusions can we glean from all of this?
Well, the major labels – and those looking to buy their way into the major labels – won't be too panicked by a relatively gentle decline in year-on-year streaming growth.
After all, the $23.13m the Big Three are now sharing every day from streaming (wait for it…) works out at approximately $16,000 every single second that goes by.
Plus, some senior figures at the major labels have already publicly predicted a deceleration in global recorded music revenue growth as streaming's increases calm down.
Yet it's also fair to suggest that we might soon see the majors turning up the heat on certain global streaming services – including Spotify, but also Apple Music, Amazon Music, YouTube Music, JioSaavn and QQ/Tencent Music – in an attempt to ensure that 2019's slowdown in growth doesn't become a perennial problem.
---
One may have detected a morsel of such major label vigilance today (August 6) from Warner Music Group CEO, Steve Cooper, in the company's calendar Q2 (fiscal Q3) earnings call.
Cooper, who has long raised the alarm about Spotify's declining Average Revenue Per User (ARPU) rates, said today: "We value our relationships with streaming services, and there's no question that they provide strong distribution platforms which help music travel around the world faster than ever. But I often hear that streaming is responsible for the industry's growth – and that's an oversimplification.
"The sheer volume of music being released on these platforms is actually making it harder for great artists and songwriters to get noticed. In the streaming era, consumers have 50 million tracks at their fingertips, growing at a rate of over 40,000 tracks per day.
"That's why our recording and publishing businesses are more relevant than ever.  We cut through the noise. Our A&R skills and marketing strategies are critical ingredients for any artist or songwriter who wants to build a successful global career.
"Without the talent and creativity of our artists and songwriters, and all of the investment and expertise that we put behind them, there'd be no [streaming] growth."

Steve Cooper, WMG
"Bottom line: it's the music that's delighting fans and driving the business forward. Without the talent and creativity of our artists and songwriters, and all of the investment and expertise that we put behind them, there'd be no growth."
He added: "We provide the streaming services with a steady flow of great new music, while helping to empower startups, new business models, and entrepreneurs that benefit the creative community. At the same time, we must ensure that music is appropriately valued to protect our artists' and songwriters' livelihoods.
"Getting that balance and compromise right with our global distributors is never easy – and it sometimes means making strategic decisions that don't necessarily align with the choices our competitors are making."
---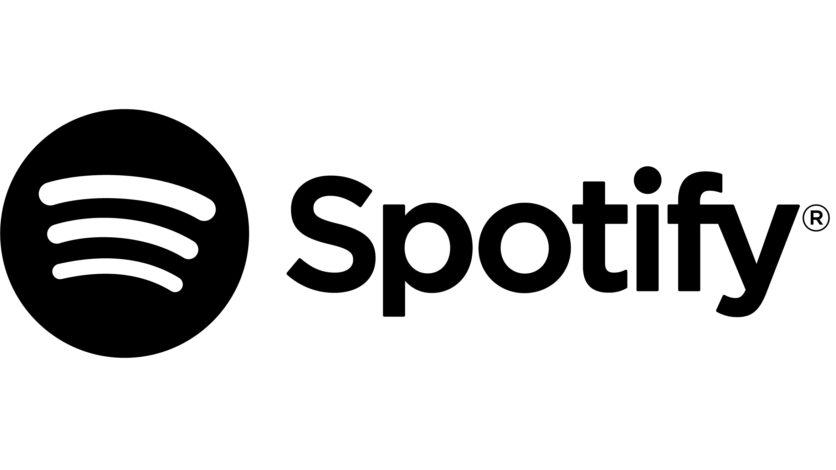 A postscript on all of this: Spotify's revenues in the first half of this year stood at $3.59bn (€3.18bn), up $890m on the $2.70bn (€2,41bn) the company posted in H1 2018.
In turn, those H1 2018 revenues, according to MBW's calculations, were up by $630m YoY on H1 2017 ($2.07bn / €1.91bn) – a smaller amount than the growth seen at the midpoint this year.
---

---
Yep: Spotify's revenues are climbing faster than ever right now – just as the major labels' monetary streaming growth is starting to slow down.
One wonders if Warner Music Group and Universal Music Group, both still locked in negotiations with Spotify over new global licensing deals, might be inclined to bring up this fact behind closed doors in the weeks ahead.
---

The MBW Review is supported by Instrumental, which powers online scouting for A&R and talent teams within the music industry. Their leading scouting platform applies AI processes to Spotify and social data to unearth the fastest growing artists and tracks each day. Get in touch with the Instrumental team to find out how they can help power your scouting efforts.
---
A note on currency exchange:
MBW has converted Sony Corp's Yen-level quarterly results into USD at the prevailing rate in each quarter, adding together Q1 and Q2 in each case to create half-year numbers. Those rates are:
Calendar Q1 2017: 113.7 Yen per USD
Calendar Q2 2017: 111.1 Yen per USD
Calendar Q1 2018: 108.4 Yen per USD
Calendar Q2 2018: 109.1 Yen per USD
Calendar Q1 2019: 110.3 Yen per USD
Calendar Q2 2019: 109.9 Yen per USD
---
For Universal Music Group, MBW has converted the firm's quarterly and half-year EUR financial results into USD at the rates supplied by Vivendi: 
Calendar H1 2017: 1.078 USD per EUR
Calendar Q2 2017: 1.096 USD per EUR
Calendar H1 2018: 1.217 USD per EUR
Calendar Q2 2018: 1.215 USD per EUR
Calendar H1 2019: 1.133 USD per EUR
Calendar Q2 2019: 1.129 USD per EUR
---
Warner Music Group, as discussed above, presents its financial results in the root currency of USD, requiring no currency conversion.
For the Spotify dollar-level results calculated above, we used the average monthly EUR-USD conversion rate for the first six months of 2017, 2018 and 2019 as presented by OFX. They were:
H1 2017: 1.083 USD per EUR
H1 2018: 1.211 USD per EUR
H1 2019: 1.129 USD per EUR
Music Business Worldwide