It's fair to suggest that Hipgnosis Songs Fund (HSF), the UK-listed entity that owns song rights (and income streams) worth over $2 billion, has been more harshly scrutinized by one investment bank than any other these past couple of years.
US-headquartered Stifel hasn't been shy in expressing its pessimism over HSF ever since the financial firm downgraded its view of the music company's stock in early 2021 – via a report which led the Financial Times to surmise: "Stifel is worried that Hipgnosis Songs Fund is slipping out of tune."
Since then, Stifel analysts have appeared in financial media a number of times to call into question, amongst other things, HSF's cash flow profile, its stated valuation, and its decision to buy back stock last year using a debt raise.
Now, though, the narrative has changed a little.
Stifel has today (January 19) issued a report in which it waves a not-insignificant amount of optimism in Hipgnosis Songs Fund's direction – and even encourages investors to consider buying stock in the company.
The HSF-themed report, titled 'Revenues show signs of stability: Time to dip your toe', sees Stifel upgrade Hipgnosis Songs Fund stock to 'Positive'.
The report suggests that Hipgnosis' recently agreed Revolving Credit Facility – which brought the firm an additional ≈$100 million in spending power in late 2022, and was secured at a fixed interest rate – looks like a smart move by Merck Mercuriadis' company.
The increased size of that RCF, combined with the fixing of interest costs on the debt, plus the proactive "hedging [of] the cost of dividends through the Q4 sterling turmoil", says Stifel, means that HSF's "near-term dividend payments are secure".
Stifel notes "signs of revenue growth" and stabilization at Hipgnosis, as reflected in the music firm's latest financial figures covering the six months to end of September 2022.
Stifel draws particular attention to improvement in HSF's 'pro-forma revenue' or PFAR (see below).
---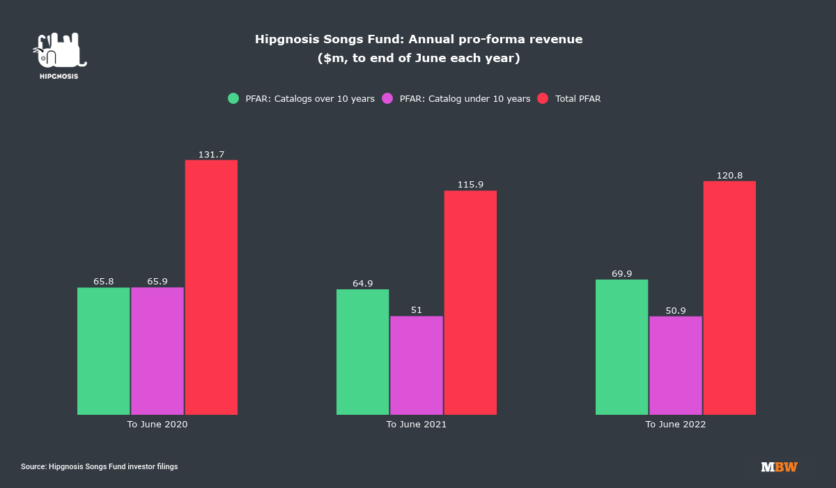 ---
When these improved revenues are combined with the expectation that general interest rates will peak (and then fall) this year, Stifel suggests market sentiment may now improve on HSF's stock (i.e. uplifting its share price).
Stifel does continue to question HSF's stated NAV (Net Asset Value), noting its belief that if this were to fall by 10%, Hipgnosis wouldn't have enough free funds left from its recent RCF to cover dividend payments, meaning that "pressure on [Hipgnosis finding the money for] dividends could occur as working capital remains tight".
Crucially though, Stifel suggests that this outcome "appears unlikely at this stage".
In encouraging investors to consider buying Hipgnosis Songs Fund stock, Stifel says that "while downside risks remain, they have subsided". Stifel now expects that a share price of GBP 1.00 to GBP 1.10 for HSF could be justified. (HSF's current share price stands at GBP £0.8677 on the London Stock Exchange, down from a peak of £1.292 in November 2021.)
Hipgnosis Songs Fund is one of two capital funds that are deployed by an investment manager – Hipgnosis Song Management – to acquire music rights.
The second of those funds is a private vehicle funded by Blackstone: Hipgnosis Songs Capital (HSC).
Following the acquisition of catalogs created by music icons such as Leonard Cohen and Justin Timberlake, reports towards the end of last year suggested that HSC was getting close to acquiring a song catalog from Justin Bieber for a price in the region of $200 million.Music Business Worldwide