What is the global value of music copyright? This intriguing question was addressed by Music Business Worldwide for calendar years 2014, 2015 and 2016; and we can now reveal the grand total, the key components and significant changes for 2017.
MBW sat down with the author of these figures, Will Page, Chief Economist at Spotify (pictured), to get the lowdown on what happened in 2017 and let our readers contemplate what this might mean for 2018 given last week's publication of the IFPI's Global Music Report.
Above all, what was already a big number has become even bigger: in 2017, the global value of music copyright increased by $2bn to reach $28bn; growth of 7.6%.
Where did this growth come from?
The chart below shows that while all components of revenue grew, it was the record labels, with 9.0% growth, that for the first time outpaced other rightsholders (publishers and songwriter Collective Management Organisations (CMOs)).
---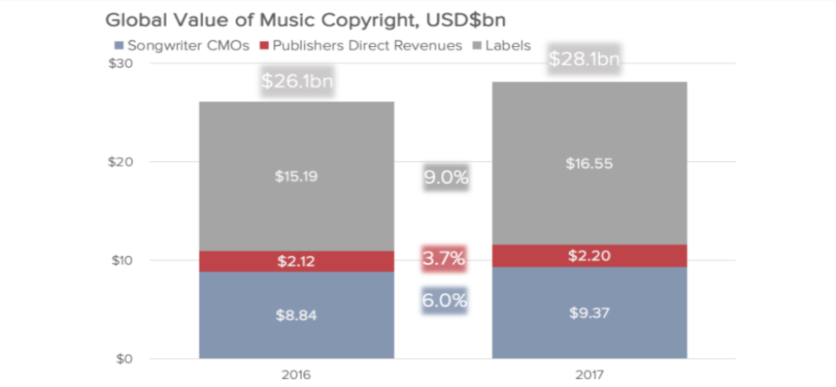 ---
Historically, Page's numbers have confirmed that 'a rising tide lifts all boats' – since the revenue of labels, CMOs and publishers grew at about the same rate from very different baselines.
The latest figures are very encouraging for CMOs and publishers, (growth of 4% and 6% respectively, broadly similar to what was reported in 2016), and of course for the labels (9.0% growth) – reporting their third consecutive year of growth, and a recovery that continues to accelerate after fifteen years of decline.
Given that labels saw their business halved between 2002 and 2014, while CMOs frequently distributed record-breaking revenues to their publishers and songwriters, one could argue that the labels are now clawing back the revenues lost over that decade of disruption.
Labels' share of the global value of music copyright has increased from 57% to 59% – but without reducing the absolute value paid to other rightsholders.
---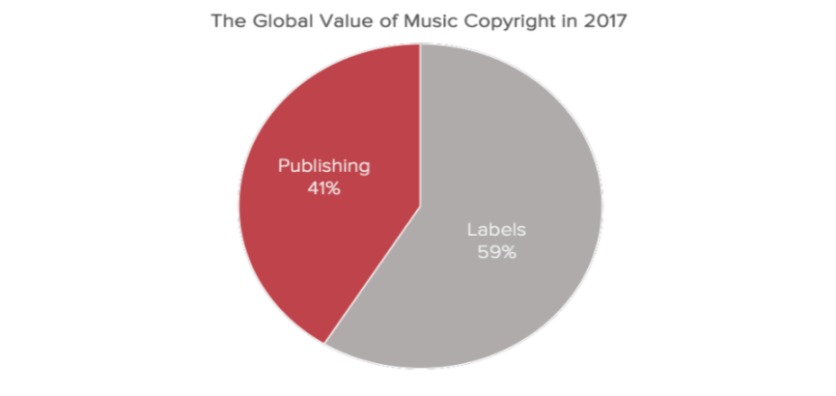 ---
This exercise yet again gives the industry the key authentic and authoritative figures it needs to frame its message to the wider world; the methodology ensures that all of music copyright's value is identified, captured and correctly allocated.
Below, MBW checks in with Will Page to understand more about this work, how to interpret it and what it means for all of music's rightsholders.
---
MBW: Can you explain what's involved in getting to this figure?
The quick answer is that we take three well known pieces of the copyright jigsaw – recorded music, CMOs and direct publishing – add their revenues together, and then strip out all the double counting to get to that $28bn figure.
Of course, there's more to it than that. You have to get all the revenues into the same constant currency, account for initiatives like Pan European Licensing and adjust for 'pass through,' where one party passes revenues on to another. There are other twists and turns, and I'm indebted to analysts like Media Insights Consulting, MIDIA and Music & Copyright along with many industry experts for helping me join all the dots.
---
MBW: What caveats exist with this type of analysis?
Measuring the music business is never straight forward, but the main hurdle is striving for a consistent time period for each component. For example, money that was paid into one part of the puzzle during a calendar year may have reached another part in a different year.
Similarly, we can only look at a year-on-year snapshot because the analysis produced last year in MBW was set at 2016 constant currency rates. Finally, to reiterate the recent observations made about the US and Germany in the latest  IFPI Global Music Report, we need to factor in how one-off payments can arguably distort a trend.
---
MBW: One of the key takeaways from last week's IFPI report is that the music industry is finally making more than it was in 2007, a time when CDs and downloads dominated the picture. What can labels, publishers and CMOs learn from this work as consumers have shifted from ownership to access so dramatically?
For me, the turning point is 2012; that's when revenues from ownership – be it CDs or downloads – reached their combined peak in markets like the UK and US. In the UK, where ownership still makes up close to 40% of the business, you've seen label revenues grow by around 20% since 2012.
Back then, the UK songwriter CMO, PRS for Music, was reporting digital collections of around £50m, now they're passing the £120m mark. In the US, ownership now makes up much less – closer to 20% of the business – and the market has grown by 40%. That's twice that of the UK.
Ownership has shed half its value since 2012, whereas streaming (or access) has grown by five times the amount. Similarly, US publishers and Performing Right Organisations (PROs) have seen revenues generated by the access model in 2018 almost double what ownership produced in 2012. An intuitive conclusion is that the less reliant a region is on ownership, the less of a drag on the recovery.
---
MBW: Based on your analysis of 2017, combined with what we learned last week, how should the industry think about its own outlook?
The value of this work is to show that music copyright is a lot bigger than we often describe. There are labels – whose revenues will all too often dominate the debate – but there are publishers and CMO's whose role in the industry is too often overlooked. The added value this time round is the growth rate. In 2015 we calculated growth of $1bn, that ramped up to $1.5bn in 2016 and now we're reflecting at $2bn for 2017. Bigger numbers, faster rates.
---
What were the sources for the information in your calculations this year?
"I am indebted to the published work of the IFPI and CISAC as well as analytics companies like Media Insight Consulting, MIDIA and Music and Copyright and many industry experts for helping me put together all the pieces of this puzzle".Music Business Worldwide