The global record industry was up by $2.2 billion to generate $18.8 billion in 2018 – and 31% of it went to Universal Music Group.
That's according to the latest analysis by MIDiA Research, which comes after projected figures of $18.9 billion were reported at the end of 2018.
Of the three majors, Universal Music was the biggest winner over the course of the year, pocketing 31% – or $5.82bn of the total $18.8 billion earned by the recorded music industry, seeing its market share increase by 0.6 points to 30.3%.
Warner Music also gained 0.6 points and ended the year with a market share of 18.3%, while Sony Music lost 1.5 points to end 2018 with a 21% share of the recorded music market.
MIDiA notes however that Sony's reduced revenues in 2018 were owed in part by a new revenue recognition method implemented by the company.
MIDiA numbers represent distribution market share. That means the money paid out to indie label partners of Universal, Sony and  Warner is accounted for here under the revenue of the major labels.
---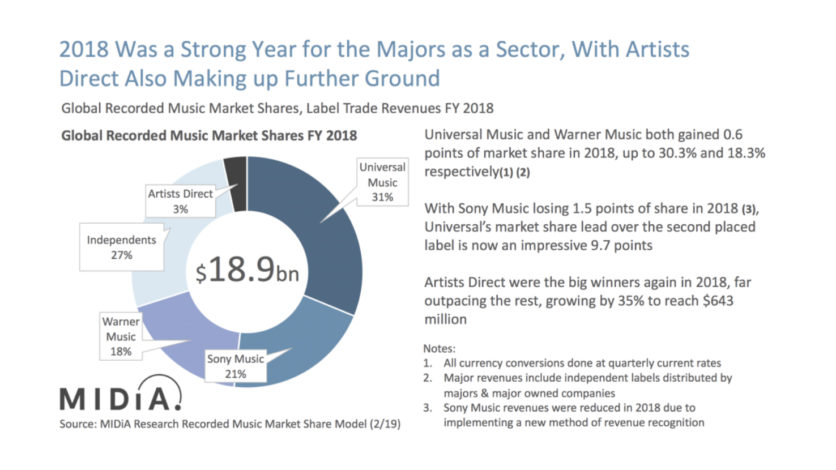 ---
One of the biggest takeaways from the research was that, in spite of the major recorded companies enjoying a combined 69.2% share of the market in 2018, the Artists Direct segment, (artists not releasing music through record label) grew by 35% and earned $643 million at year-end.
Combined, Artists Direct and Independents accounted for 30.8% of the market.
Other highlights from the MIDiA Research show that streaming was up 30% year-on-year to reach $9.6bn with the format becoming the majority of label revenue (51%) for the first time.
"The market will always need labels, but what constitutes a label is becoming a fluid concept. And in so becoming, it may put us on the verge of the biggest shift in record label business models since, well, ever."

Mark Mulligan, Midia
Writing in a blog post announcing the figures, MIDiA Managing Director Mark Mulligan said: "In many respects 2018 was a re-run of 2017: total revenues grew in high single-digit percentage terms; streaming was the engine room of growth and added more revenue than the prior year; Warner Music gained most major market share; Universal Music added more revenue than any other label; Artists Direct gained most market share.
"But it is this latter point that may say most about where the overall market is heading. The range of tools now available to an artist are more comprehensive than ever before, while deal types that labels are offering (e.g. label services, joint ventures) are changing too. Artists are effectively able to custom-build the right model for them.
"The market will always need labels, but what constitutes a label is becoming a fluid concept. And in so becoming, it may put us on the verge of the biggest shift in record label business models since, well, ever."Music Business Worldwide