The MBW Review gives our take on some of the music biz's biggest recent goings-on. This time, we dive into the half-year streaming results of the world's three biggest recorded music companies. The MBW Review is supported by FUGA.
---
Sir Lucian Grainge brushes his teeth. He puts on his Pj's, tucks himself in and settles down for an uninterrupted eight hours.
By the time he wakes up, Universal Music Group has generated close to $2m from streaming services like Spotify.
Welcome to the never-ending money fountain of streaming music services in 2017 – where even when you're off the clock, you're making bank.
If you, like Sir Lucian, run a major company with a vast music catalogue – one which retains the lion's share of royalties – there's no real risk of becoming a 'loser' in this marketplace.
When it comes to major label rivalry on streaming platforms, it's simply a case of who's winning the hardest.
And so far this year, studying the numbers as MBW has, you have to say that accolade jointly goes to UMG and Warner Music Group.
---
Universal announced its half-year numbers yesterday – posting more than $1bn (€962m) in recorded music streaming revenues alone across the six months.
As MBW pointed out, that's the equivalent of around $6m a day, or nearly $250,000 every single hour.
When you study the half-year form of Universal alongside its major rivals, Sony Music Entertainment and Warner Music Group, things only get more lucrative.
In the six months to end of June, the three major labels generated just under $2.4bn in revenues from streaming platforms; over $90m a week between them.
Of that, UMG took a 44% share, with both Sony and Warner on 28%. (Digging down one more decimal, Sony nudged Warner out of the No.2 spot with a 28.5% share, while Len Blavatnik's company scored 27.7%.)
As the likes of Spotify and Apple Music continue to grow, the smart money is definitely now on the majors sharing a bounty of $5bn+ in global recorded music streaming revenues for the full year of 2017.
Ka-ching!
(Publishing revenue isn't even counted here; you'll doubtless be pleased to read that it will make Universal, Warner and Sony's 2017 even richer.)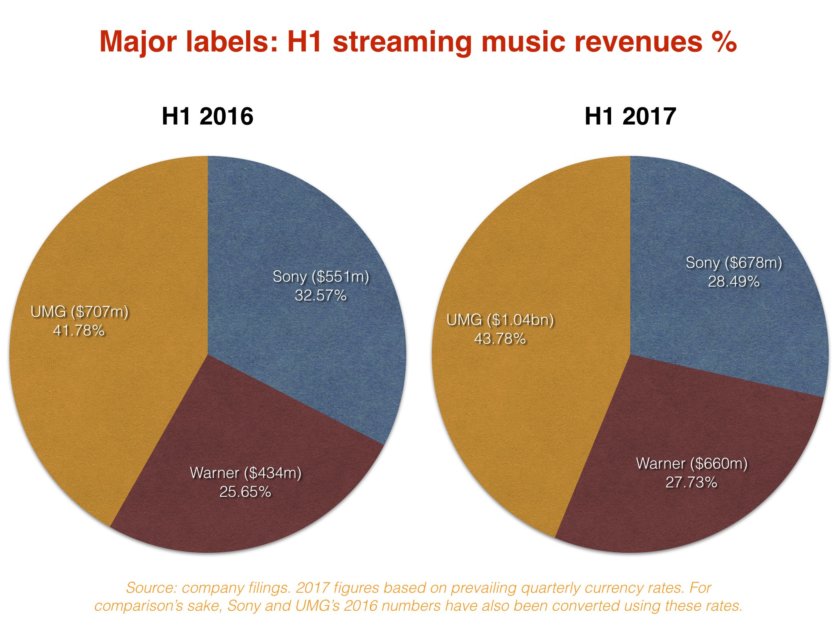 ---

'Wait a minute!', we hear you cry.
Sony and Warner are neck-and-neck in terms of global streaming revenue in 2017? Isn't one of those companies significantly bigger than the other?
Welcome to the other big rule of music streaming today: when you have a massive hit, it changes everything… for a while, anyway.
There is no doubt that Ed Sheeran's record-breaking Divide has had a huge impact on a banner year for Warner after its release on March 3.
So much so, that in the three months of Q2 – helped by other records from the likes of Gorillaz, Bruno Mars and Clean Bandit – Warner actually beat Sony in terms of global streaming market share.
Sony's labels turned over $346m from streaming in the quarter, with Warner slightly ahead on $360m.
Sony, it won't surprise you to hear, was lacking a comparative new global smash. (Worth noting: in Q2 2016, Sony released Beyonce's Lemonade – which went on to become the year's biggest-selling album worldwide.)
UMG was the only major label group to surpass $500m in streaming revenue in Q2 2017, claiming a 44% market share.
Universal had its own streaming smashes in the quarter, of course – including the ubiquitous Despacito and continuing success with the latest albums from Drake and Kendrick Lamar.
Between all three majors, the total streaming revenue pot in Q2 2017 alone stood at $1.25bn.
(UMG and Sony's numbers – originally reported in Euros and Japanese Yen respectively – have been converted here at the prevailing 2017 quarterly rate into US $, which is Warner's root currency. Things get more complex with historical comparisons, which is where we're about to go… so buckle up.)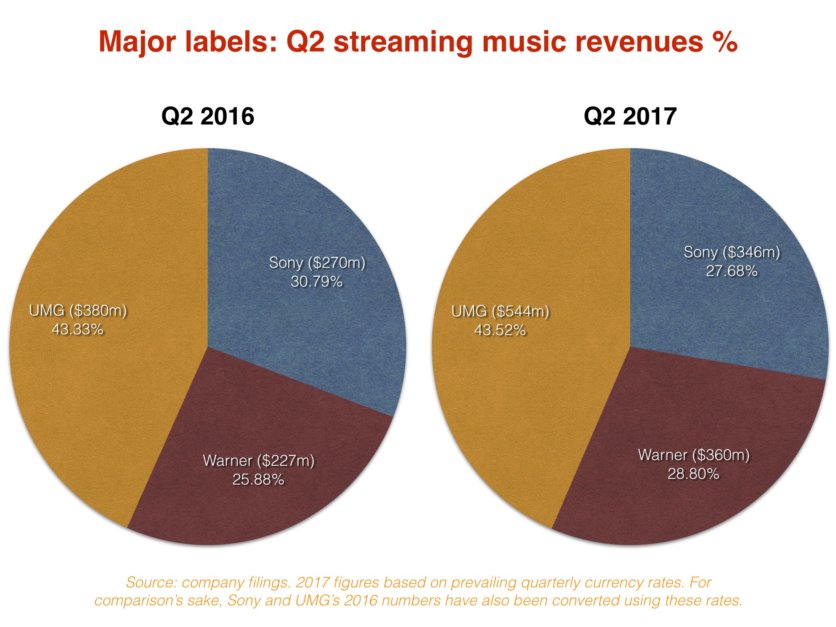 ---
So if that's the story of 2017, how does each major label group's streaming performance compare to what they achieved in 2016?
Pay attention: the US $ numbers you see in those '2016' pie charts are a bit of a cheat. In reality, they represent the US $ revenue you get for Universal (Euro) and Sony (Yen) when retrospectively using the prevailing currency rates for 2017.
This is the only way to get close to an accurate snapshot of the growth of both businesses on a constant currency basis. Warner reports its quarterly performance in US $, so escapes this mathematical process.
Okay, back to the pretty pictures.
---

As you can see below, Universal grew its H1 recorded music streaming revenues by an impressive $335m in H1 2017 compared to the same period of 2016 – up 47% in percentage terms.
In Q2 alone, UMG saw a streaming revenue increase of $164m year-on-year, up 43%.
Warner was the biggest gainer of H1 2017 in streaming revenue percentage terms, however.
Its six-month 2017 streaming revenues were up $226m, or 52%, year-on-year.
In Q2 alone, Warner's streaming money grew by $133m – up 59% compared to the same three months in 2016.
Sony, which obviously suffered from seasonality of releases, saw its recorded music streaming revenues grow by $127m (+23%) in the first six months of this year – almost a third of the size of UMG's equivalent monetary gain.
In Q2, Sony saw streaming revenues climb $76m (+28%) in comparison to the same period of 2016.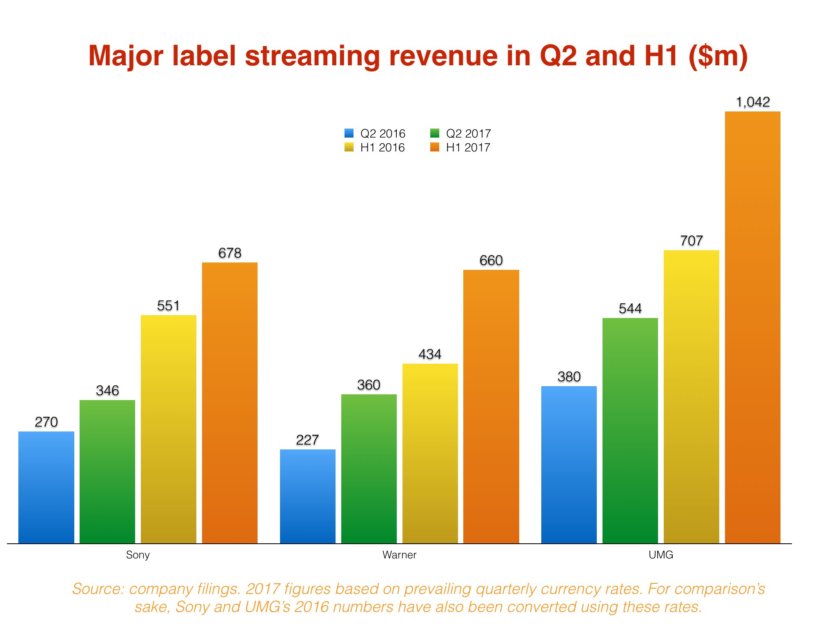 ---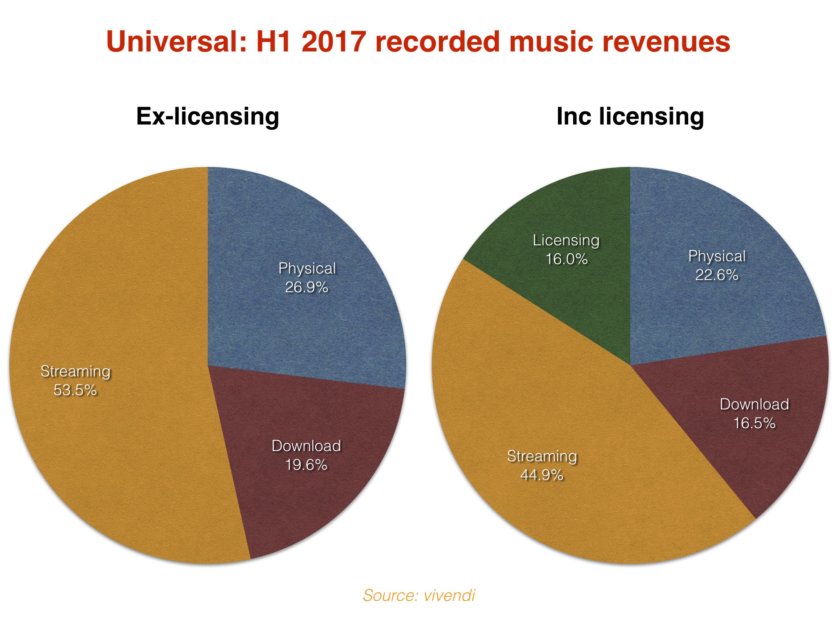 Of course, these streaming revenue figures don't tell us the full picture of these company's finances.
As demonstrated by UMG's results yesterday, physical and download sales still have a very big role to play; they jointly made up 47% ($900m+) of Universal's sales/streaming income in the first half of the year.
There's also the small matter of how much of these major label streaming revenues go back out of the door – especially to independent label partners. (MBW estimates suggest this will be a nine-figure sum for UMG alone in 2017.)
We'll be taking an in-depth look at the profitability of the three major companies – and their rivals – separately soon.
But for now, know this: in the time it's taken you to read this article (15 mins), the majors will have generated comfortably above $125,000 from streaming.
Remember when people said the record business was over?
---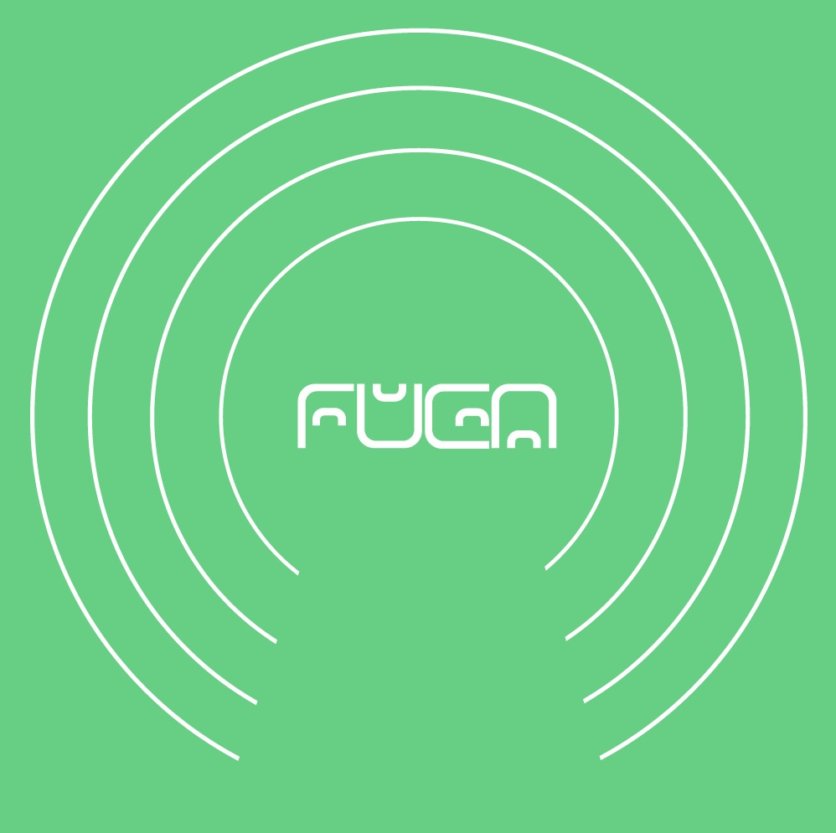 The MBW Review is supported by FUGA, the high-end technology partner for content owners and distributors. FUGA is the number one choice for some of the largest labels, management companies and distributors worldwide. With a broad array of services, its adaptable and flexible platform has been built, in conjunction with leading music partners, to provide seamless integration and meet rapidly evolving industry requirements. Learn more at www.fuga.comMusic Business Worldwide