British band The 1975 made a big bet with the release of their second album last month – windowing the LP so it stayed off Spotify for two weeks but was available from day one on paid-for streaming services.
Of course, it's extremely hard to tell what difference allowing the record to appear on Spotify from launch may have had on its fortunes.
But one thing's for sure: the album, I Like It When You Sleep For You Are So Beautiful But Unaware Of It, has just become a key case study for those who argue that windowing new blockbuster releases on non-freemium services is the way to go.
The album debuted at No.1 in both the US and the UK on Friday (March 4).
According to Billboard/Nielsen stats, it sold 108,000 album equivalents in its first week in the States – and 98,000 in 'pure' album sales.
And according to the UK's Official Charts Company, the album scored a combined chart sale of 58,000 in the market.
It is the band's second UK No.1 album – their self-titled debut hit the top spot in 2013. That record peaked at No.28 on the Billboard 200.
"The dream is to have a No.1 album in America and the UK at the same time. Whether or not that's achievable, I don't know."

Jamie Oborne, All On Red/Dirty Hit (Speaking last month)
The 1975's records are released on the label of their management company – Dirty Hit – but licensed to Universal Music Group.
They are issued through UMG's Polydor in the UK and Interscope in the US.
The founder of Dirty Hit / All On Red, Jamie Oborne, told MBW in an interview last month: "The dream of having a No.1 album in America and the UK at the same time is what I've been working on for the last four years. Whether or not that's achievable, I don't know."
It most certainly was. Congratulations Jamie.
So, chart-wise, The 1975's controversial Spotify decision definitely doesn't appear to have hurt them.
But how did their 6m+ fans on Spotify react?
The Google chart below, depicting the popularity of the search for 'The 1975 Spotify' over two years, probably tells you all you need to know.
However, it's worth saying that today (March 7) The 1975's new album is nowhere to be seen in the upper echelons of The Pirate Bay's latest most popular charts.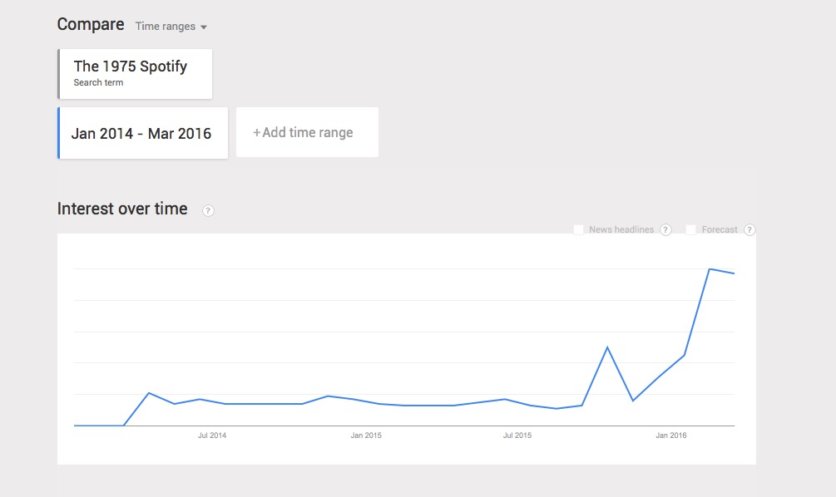 [Pictured: The 1975 with their UK Official Charts Company No.1 Award]Music Business Worldwide