Tencent Music Entertainment, which operates China's biggest music streaming platforms, ended the second quarter of 2022 with 82.7 million paying music users.
Online music streaming subscribers paid RMB 2.11 billion (USD $315 million) for TME's music streaming services including QQ Music, Kugou Music and Kuwo Music in the quarter to end of June.
That was up 17.6% from RMB 1.79 billion in the year-ago period, TME said in its Q2 results released Monday (August 15).
---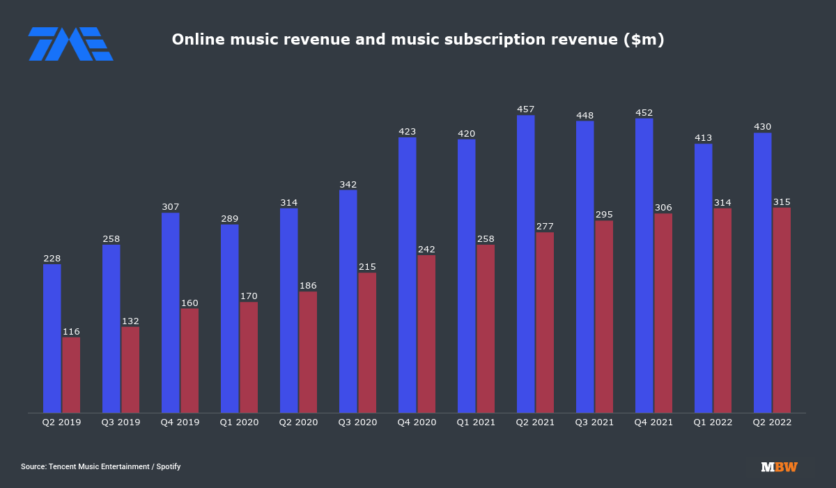 ---
Overall revenues from online music services for Q2 (including subscriptions) decreased by 2.4% to RMB 2.88 billion (USD $430 million) from RMB 2.95 billion in the same period of 2021.
TME attributed the increase in its music subscriptions revenue to the 24.9% YoY jump in the number of its paying music users to 82.7 million.
A total of 2.5 million paying music users were added by TME in Q2 versus the end of Q1 2022.
In comparison, Spotify added 6 million net Premium subscribers in Q2, bringing its global subscriber count to 188 million.
TME's Executive Chairman Cussion Pang said the company managed to grow its subscriber base despite macro-economic headwinds.
---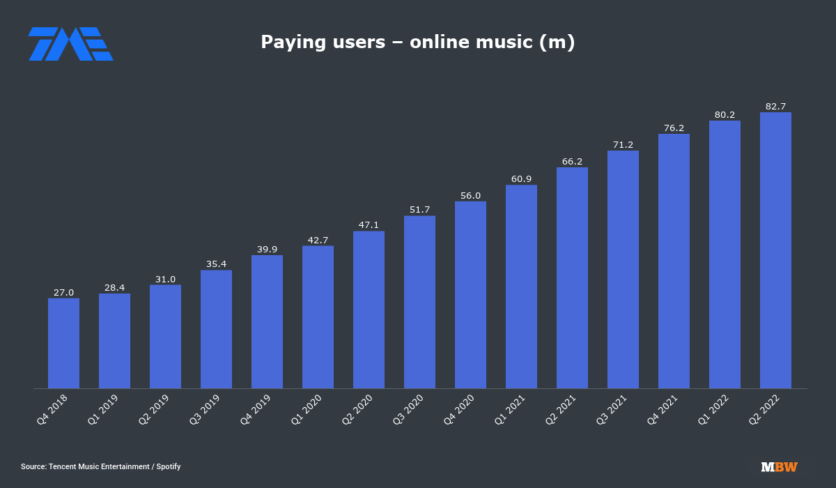 ---
Online music monthly ARPPU (Average Revenue Per Paying User) during the quarter, however, fell 5.6% to RMB 8.5 million.
This was "due to the fact that we offered more promotions to attract users in the past several quarters since 2021 and we are more focused on the quality growth of our subscription revenue while maintaining a healthy ARPPU since last quarter", said TME.
The company said it suffered a 2.4% YoY decline in revenue from online music services — which combines revenues from music subscriptions and advertising — in Q2 to RMB 2.88 billion, weighed down by subdued appetite for ads.
TME is not the only company to suffer from lower ad revenue as market watchers anticipate a further slowdown in ad spending due to fears of a looming global recession and concerns around the impact of soaring inflation on the cost of living.
Global marketing firm Dentsu had earlier downgraded its forecast for global ad spending this year, now expecting it to grow by 8.7%, weaker than its previously anticipated 9.2% increase.
TME blamed the drop in its ad revenues to the impact from industry adjustments on splash ads and the COVID-19 pandemic in some major cities in China.
For the most part of Q2, many cities in China were under lockdown to prevent the spread of new COVID-19 cases, including Shanghai, which only emerged from a two-month lockdown in early June.
Another key take away from TME's latest earnings report was a YoY drop in its music sublicensing revenues, which the company said was due to the restructuring of agreements with certain music labels.
In July 2021, China's State Administration for Market Regulation, which oversees anti-competitive behavior, asked TME to give up its exclusive rights to music labels amid an industry-wide anti-monopoly crackdown.
Bowing to regulatory pressure at the time, TME ended all its exclusive music copyright agreements, saying it had sent out letters to all upstream copyright parties that it had reached exclusive agreements with, letting them know about the termination of contracts.
Still, the tighter regulatory environment in China did not prevent TME from striking new deals to enhance its offerings.
About two months ago, TME entered a deal with Chinese music company TF Entertainment (Time Fengjun Entertainment), allowing the firm access to its catalog. TME was given a 30-day exclusivity window for TF Entertainment releases, in a win against its biggest rival, NetEase Cloud Music.
TME also recently became China's first domestic streaming service to support Dolby Atmos Sound following an agreement last month.
---
Tencent Music Entertainment's non-music-streaming/downloads-based business centers around social entertainment services, including its karaoke app WeSing.
This segment of its business ('social entertainment services') continued to generate the lion's share of TME's revenue in Q2.
However, the unit's revenue plunged 20.4% YoY to RMB 4.03 billion (USD $601 million) amid increased competition from other platforms and due to the evolving macro environment, the company said.
Overall revenue at TME – across music and 'social entertainment' combined – in Q2 shrank 13.8% from last year to RMB 6.91 billion ($1.03bn), but was well above the consensus estimate of 6.62bn yuan, according to a poll by Refinitiv.
"Our cost optimization and operating efficiency enhancements continued to bear fruit, resulting in margin improvements during the quarter."

Cussion Pang, TME
TME's net profit in the April-June period narrowed 8.3% YoY to $133 million, and down 13.4% from Q1.
The drop in the company's earnings came despite a 15.5% reduction in its operating expenses in Q2 on a YoY basis to USD $212 million. Cost of revenues in Q2 also decreased 13.1% to $723 million.
"Our cost optimization and operating efficiency enhancements continued to bear fruit, resulting in margin improvements during the quarter," Pang said.
---
Some of TME's highlights in Q2 include the first anniversary of its dual engine content-and-platform strategy, which continued to empower TME's increasingly vibrant music ecosystem, Pang said.
"Through original content production and our Tencent Musician Platform, we are not only enhancing the scale, quality and market appeal of our content, but also nurturing creators and connecting them with music lovers," the executive added.
TME CEO Ross Liang said the company strengthened its partnership with Tencent's ecosystem in key areas, including content production, promotion and monetization.
"As we move forward, we will continue to leverage our business and product innovations to grow the digital music ecosystem and support the sustained, healthy development of China's music industry," Liang said.Music Business Worldwide