Tencent Music Entertainment (TME), owner of the biggest digital music platforms in China, has announced its financial results for the three months to end of March.
TME, which trades on the New York Stock Exchange, saw total revenues rise 39.4% year-on-year in Q1, to RMB 5.74bn (US $855m).
Of that figure, RMB 1.61bn ($239m) were derived from TME's online music services, covering subscriptions, album sales and sub-licensing music to competitors' platforms.
That was up 28% year-on-year, and also equivalent to 28% of TME's total revenue amount.
The majority of TME's Q1 revenues came from 'social entertainment services' – including online karaoke and live streaming platforms – rather than its online music offerings.
These 'social entertainment services' revenues were up 44.3% year-on-year to RMB 4.13bn (US $616m) in the quarter.
---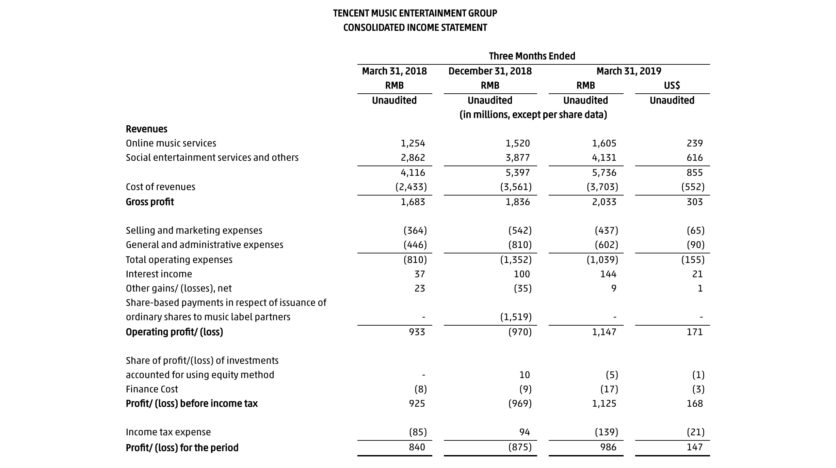 ---
Perhaps the most interesting stat from TME – which owns QQ Music, Kugou Music, and Kuwo Music – was that its paying online music subscriber base in Q1 grew to 28.4m, up 27.4% YoY. (To remind you – that's about 12.4m more subscribers than Google and YouTube's music streaming services jointly counted at the same juncture.)
These paying music users generated RMB 710m ($106m) in Q1, up 25.7% on the same period of 2018.
Slightly less exciting news about those 28.4m music subscribers: TME's monthly online music ARPPU (Average Revenue Per Paying User) in Q1 was RMB 8.3 – the equivalent of approximately $1.21.
---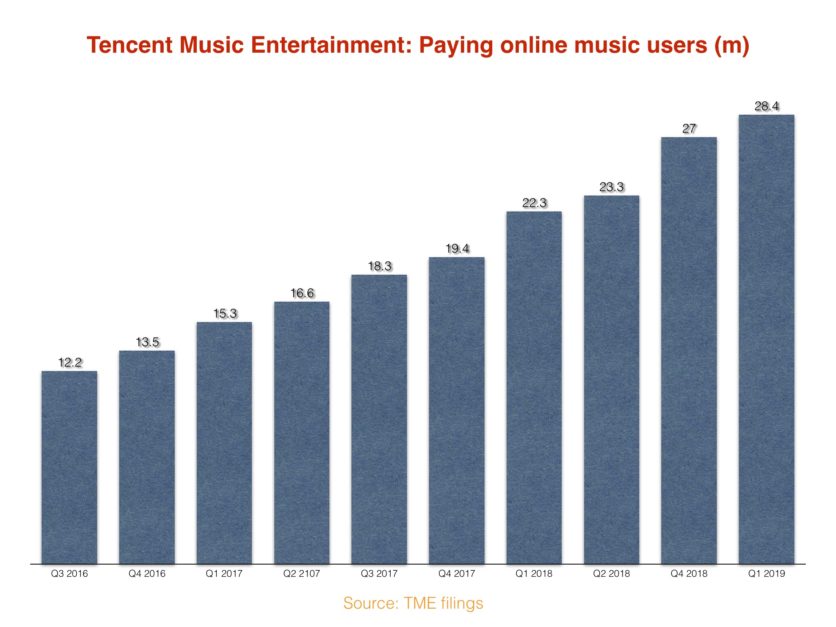 ---
How is Tencent going to drive more paying subscriber growth in the future?
By placing premium music content behind a paywall on its services – a strategy which it says is already successfully encouraging free users of its platforms to upgrade to paid-for accounts.
As an example, music from Taiwanese pop singer Jay Chou (pictured) is being 'windowed' by TME in this manner, meaning that free users of its services cannot access this content until they pay for access.
"We are seeing encouraging results [from the paywall strategy] so far, which gives us the confidence that this is the right strategy that can generate significant value for the company over the long-term."

Tony Yip, TME
The likes of Spotify have previously tried 'windowing' music on streaming services, but with limited industry uptake. The last major album to be 'windowed' on Spotify was Jason Aldean's Rearview Town, which appeared on paid-only tiers during its first two weeks 'on sale' after being released in April last year.
According to Tencent Music Entertainment CEO, Cussion Pang, TME is pleased with the early results from its 'windowing' strategy.
"As our users increasingly consume music content through streaming services, we are riding on this trend to gradually transition into a pay-for-streaming model over the coming years," he said in a statement.
TME's Chief Strategy Officer, Tony Yip, further expanded on the paywall's success in a post-earnings conference call yesterday (May 13).
"[We] started implementation of [the] pay-for-stream transition model with a small selection of content in Q1," said Yip. "While the amount of content being put behind the paywall accounts for only a very small percentage of our total [revenues], this is just the beginning and we'll continue to gradually add more content over time."
He added: "The current focus is on making sure the user experience remains good despite [the paywall] transition, and it will take some time for us to promote a broader user adoption [of paid accounts].
"We are seeing encouraging results so far, which gives us the confidence that this is the right strategy that can generate significant value for the company over the long-term."
As of March 31, 2019, TME says that its music library included over 35 million tracks from domestic and international music labels.Music Business Worldwide