MBW's Stat Of The Week is a series in which we highlight a data point that deserves the attention of the global music industry. Stat Of the Week is supported by Cinq Music Group, a technology-driven record label, distribution, and rights management company.
---
---
Tencent Music Entertainment (TME), China's largest operator of music streaming services, has reported yet another massive jump in paying subscribers and paying-subscriber revenue.
The Shenzhen-headquartered company, which operates music services QQ Music, Kugo and Kuwou, came within a hair of 100 million paying subscribers in Q2 2023, the company said in its latest earnings report, released on Tuesday (August 15).
Specifically, the company reported 99.4 million subscribers for the quarter ended June 30. That represents an increase of 20.2% from the same quarter a year earlier, when the company reported 82.7 million paid subscribers (see below).
TME adds in the footnotes of its report that it actually reached 100 million paying users during June 2023, "whereas the 99.4 million paying users [reported] for the second quarter of 2023 refers to the average number of paying users as of the last day of each month during this quarter".
Revenue from paying subscribers grew even more strongly – up 37.2% YoY, to RMB 2.89 billion (USD $399 million, at the exchange rate on the last day of the quarter, June 30).
This means ARPPU (average revenue per paying subscriber) jumped to RMB 9.70 per month, the fifth consecutive quarter of growth and the highest TME has ever recorded. The company attributed the increase to "refined operation strategies, more appealing member privileges, attractive music content and disciplined promotions."
---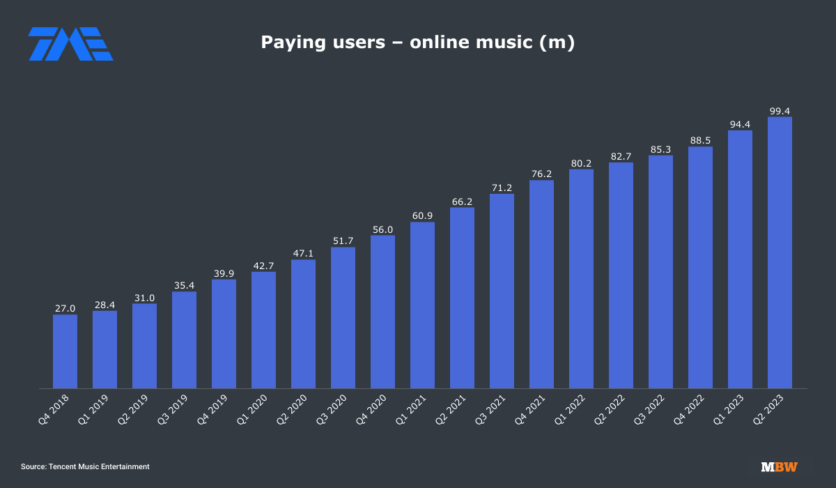 ---
Paying subscribers accounted for a record high of 16.7% of all subscribers in Q2, TME reported. However, that number was boosted not only by increased paid subscriptions, but by a decrease in overall users of TME's online music services.
Total online music monthly active users (MAUs) fell by 4.7% YoY, to 594 million from 623 million in the same quarter a year earlier.
However, thanks to strong growth in advertising revenue, TME's online music services division overall reported a 47.6% YoY increase in revenue, to RMB 4.25 billion ($586m).
That represents 58.3% of TME's total revenue of RMB 7.29 billion ($1.00 billion) for the quarter – the first time that music services revenue outstripped revenue from the company's social entertainment division.
---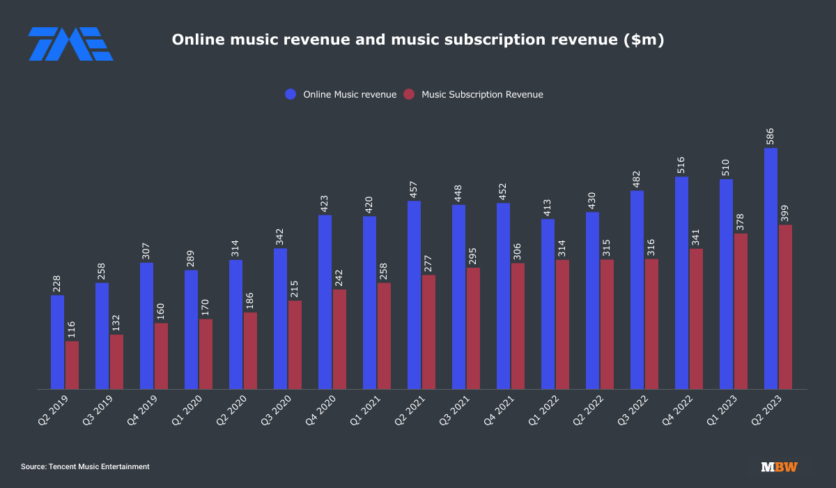 ---
The social entertainment division, which includes services such as karaoke apps and platforms for streaming concerts, was traditionally TME's biggest revenue driver, and continues to have a much higher monthly ARPPU – RMB 135.0 in Q2 2023.
However, that ARPPU number is down 20.5% YoY, helping to drive revenues from social entertainment and other services down by 24.6% YoY, to RMB 3.04 billion (US$419 million) for the quarter.
Mobile MAUs for social entertainment also fell, down 18.1% YoY to 136 million.
---
"Starting from the latter part of the second quarter of 2023, we have proactively implemented several service enhancement and risk control measures to ensure a more music-centric live streaming atmosphere," TME Executive Chairman Cussion Pang explained in a statement.
"Although these measures are expected to put pressure on revenues from social entertainment services throughout the second half of 2023, and thus adversely impact our total revenues for this year, we believe such measures can provide users with an optimized user experience while paving the way for our healthier and more resilient business development in the long run."
In its earnings release, TME cautioned that social entertainment services revenue will continue to face pressure throughout the second half of 2023. The company expects a low- to mid-teens percentage YoY decrease in revenue for Q2 2023, and a low- to mid-single-digit decrease in Q4.
However, the company "remains confident" that it will deliver YoY net profit growth for the full year, thanks to growth in its online music services division.
For Q2 the company posted an operating profit of RMB 1.54 billion ($212 million), a 47.3% YoY increase.
Diluted earnings per share came in at RMB 0.82 ($0.11), below analysts' expectations of $0.14 per share, as cited by Benzinga.
That EPS miss, combined with the weak numbers in the social entertainment division, sent TME shares falling in pre-market trading on the New York Stock Exchange on Wednesday (August 15). As of 8:00 am ET, TME shares were down 8.1% from Monday's close, trading at $5.65.
"As we continue driving the healthy development of China's online music industry, we have seen users become increasingly accustomed and willing to pay for copyrighted music, whether for songs they want to listen to or for premium listening features they enjoy."

Cussion Pang, Tencent Music Entertainment
In its earnings release, TME focused on the strength in its online music services division.
"As we continue driving the healthy development of China's online music industry, we have seen users become increasingly accustomed and willing to pay for copyrighted music, whether for songs they want to listen to or for premium listening features they enjoy," Pang said.
"This trend is evidenced by the all-time high paying ratio and ARPPU recorded by our online music services in the reported quarter. Such achievements led to revenues from online music services exceeding that of social entertainment services for the first time in our company's history. This marks a significant step along TME's growth trajectory."
TME CEO Ross Liang added that the 100-million-paying-subscriber milestone "demonstrates our strength as China's leading online music platform and reflects our growing appeal to music lovers. As we see greater growth potential materializ[ing] from users' evolving music consumption mindset, we continually elevate the music experience to meet users' higher standards and preferences for quality."
Liang said the company "refined numerous listening features and recommendation functions to create a personalized, fun music journey accompanied by optimal sound quality and effects. We also expanded our music services to more use cases, such as various IoT [internet of things] scenarios that are geared toward serving a larger audience in a more immersive way."
Additionally, Liang said that TME's efforts in developing Ai-generated content led to "a highly individualized and differentiated music entertainment experience for users."
"Our dedication to copyrighted music places us in a better position to ride the waves of users' changing music consumption habits, where we can promote greater prosperity across the music industry while creating long-term value for our shareholders."

Ross Liang, Tencent Music Entertainment
The company had previously telegraphed its efforts on AI during its Q1 earnings call.
"We'll be looking into developing a chatbot, where users can chat… about the kind of music they like to listen to, and to discover new content," Liang said at the time.
"We'll be cooperating closely with [parent company] Tencent to develop applications based on their LLMs [large language models], as well as to work with open source LLMs to develop other applications such as those around image creation," he added.
In the company's latest earnings statement, Liang said TME's "deepening ties with iconic labels and artists, as well as our growing ability to nurture potential musicians and assist in music production, strengthened our industry influence and content appeal. In turn, this has energized our platform and enabled us to more effectively satisfy users' music consumption needs.
"As we continue exploring opportunities and possibilities in China's online music arena, our dedication to copyrighted music places us in a better position to ride the waves of users' changing music consumption habits, where we can promote greater prosperity across the music industry while creating long-term value for our shareholders."
---

Cinq Music Group's repertoire has won Grammy awards, dozens of Gold and Platinum RIAA certifications, and numerous No.1 chart positions on a variety of Billboard charts. Its repertoire includes heavyweights such as Bad Bunny, Janet Jackson, Daddy Yankee, T.I., Sean Kingston, Anuel, and hundreds more.Music Business Worldwide