Tencent Music Entertainment Group has published its financial results for Q1 2023 (the three months to end of March).
By the end of March, the China-based music streaming giant, which operates music services QQ Music, Kugou and Kuwo, grew its paying users of online music by 14.2 million YoY to reach 94.4 million, representing growth of 17.7% YoY.
However, in spite of its paid user growth, TME saw a 6.9% YoY decline in its online music mobile Monthly Active Users in Q1, from 636 million in Q1 2022, to 592 million in Q1 2023.
---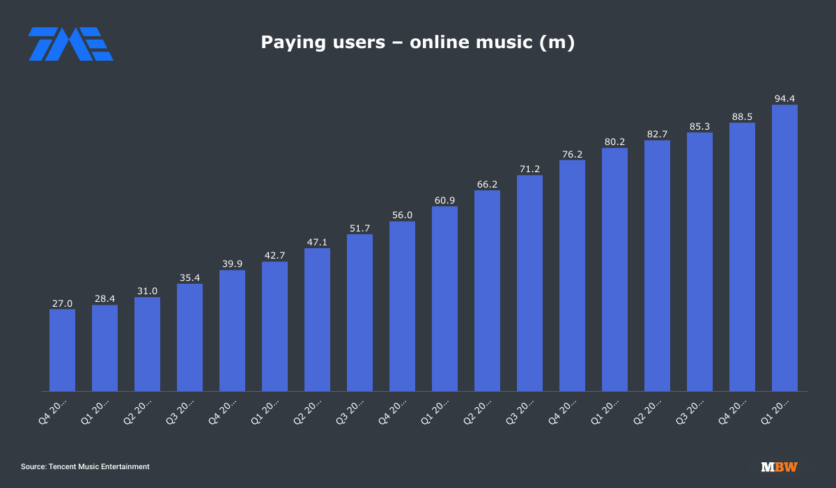 ---
In terms of finances, TME's revenues from online music services increased by 33.8% year-over-year to reach RMB3.50 billion (USD $510 million) in Q1.
---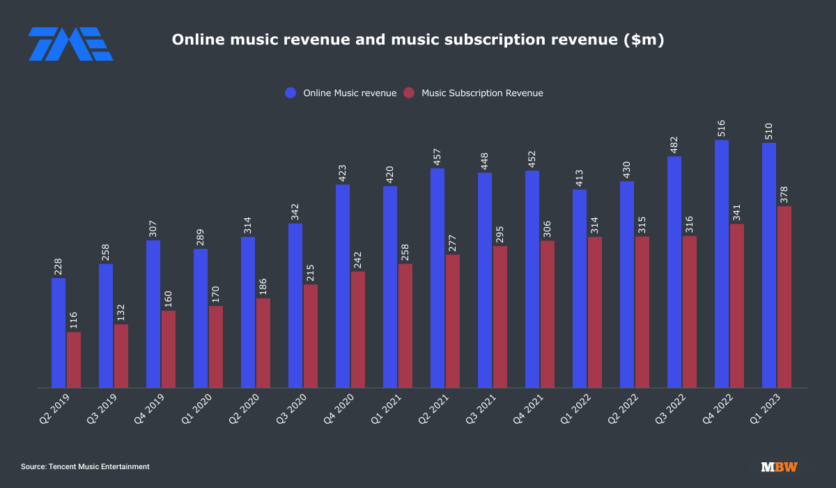 ---
Revenues from music subscriptions for the first quarter grew by 30.4% year-over-year to RMB2.60 billion (USD $378 million), "propelled by the rapid expansion of both online music paying user base and ARPPU", according to TME.
TME's Monthly ARPPU (Average Revenue per paying user) for its online music services grew 10.8% YoY to reach (RMB) 9.2 in Q1,  marking TME's fourth consecutive quarter of ARPPU growth.
According to TME, the increases in both paying users and ARPPU were, "primarily attributable to [its] optimized content operations, increased user willingness to pay for premium features such as sound quality and effects, and more effective promotions".
Elsewhere, TME notes that, during Q1, it established strategic collaboration with Rock Records "to provide users with iconic Chinese songs and original soundtracks of popular TV dramas", including the works of Chenyue Chang, Emil Chau, Jonathan Lee, Wu Bai and Mayday.
The company says that it also "strengthened" a strategic partnership with South Korea-based entertainment giant, HYBE, which it notes, counts artists such as BTS and SEVENTEEN on its roster.
---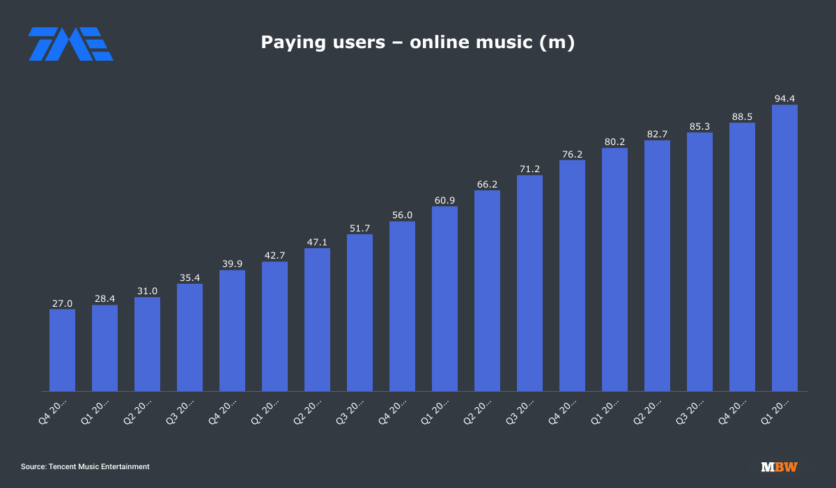 ---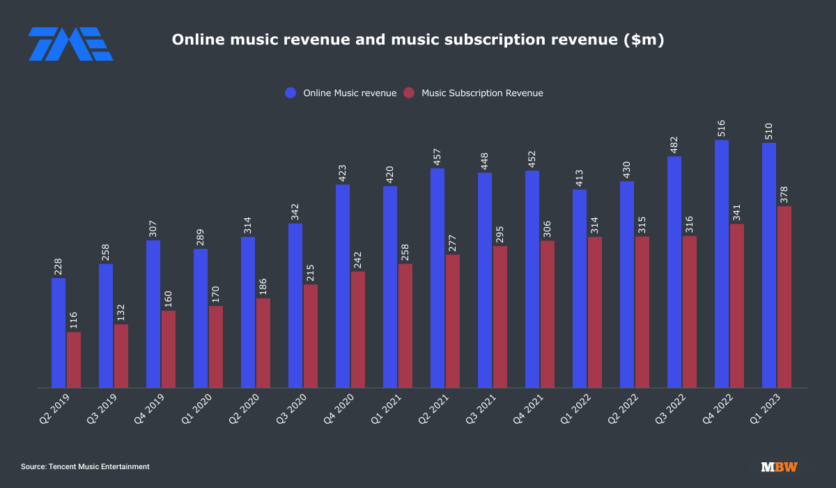 ---
TME also revealed that it has unveiled a new initiative on its Tencent Musician Platform in Q1, called the "Emerging Force Program."
TME says that the program offers a wide range of artist services, "including traffic support, revenue sharing and on- and off-line performance opportunities".
"Our goal is to increase the exposure and popularity of quality songs, while amplifying artists' influence, and thereby improving the vitality of the musician ecosystem on our platform," said TME in its announcement.
As of Q1, TME says it assisted 260 up-and-coming musicians to reach their first million streams and "helped multiple aspiring artists make their debut performances on stage".
TME revealed in its 2022 annual report that it ended the year with a total of 390,000 registered indie artists on the Tencent Musician Platform.
"We started 2023 with great momentum as our strategic emphasis on quality growth propelled a strong increase in our online music revenues."

Cussion Pang, TME
Cussion Pang, Executive Chairman of TME, said: 'We started 2023 with great momentum as our strategic emphasis on quality growth propelled a strong increase in our online music revenues.
"We are pleased to see that the revenue size of our online music services has now caught up with social entertainment services for the first time. This signifies that our long-term commitment to developing a sustainable online music business model is bearing fruit. Our total revenues experienced healthy growth in the first quarter, while our focus on efficiency optimization also drove robust net profit growth.
Added Pang: "We are glad to achieve record-high online music paying ratio and expand ARPPU for the fourth consecutive quarter. The broad appeal of our innovative advertising formats and expanded monetization toolbox have been driving our performance. During the quarter, we deepened partnerships with top music labels and artists to further enrich both our iconic music catalogs and vertical content offerings.
"We continued to foster creativity and nurture artists through a rich variety of support programs, stage performances and monetization opportunities, all of which are dedicated to amplifying the influence of musicians and their works.
"Furthermore, to capitalize on the public's growing demand for in-person activities, we kept exploring innovative means of interaction and monetization, while broadening our presence in the offline entertainment realm via TME Live, our online-merge-offline performance brand. Looking ahead, we will continue to prioritize high-quality growth and business development that create long-term value for our stakeholders and promote the healthy, vibrant advancement of the music industry."Music Business Worldwide