Taylor Swift has been crowned as IFPI's 2022 Global Recording Artist Of The Year.
That's nice, not least because it comes with a fancy trophy (pictured). But understanding what it actually means in business terms puts an important spin on things. Allow us to explain.
IFPI, the global recorded music trade body, has today (February 22) named 20 artists, in order, that make up its Global Recording Artist Chart for 2022 – with Swift at the top.
This chart, according to IFPI, is "the only [global] ranking to accurately measure consumption across all formats (including streaming formats, digital and physical album and singles sales) and all countries".
And then the crucial bit: "It is weighted based on the relative value of each method of consumption."
What that means in practice: the IFPI's Top 20 list (which you can see in full below) reveals, in order, the artists who generated the most money last year globally across streaming, download, and physical record sales (combined) in 2022.
Here it is:
---
Taylor Swift
BTS
Drake
Bad Bunny
The Weeknd
SEVENTEEN
Stray Kids
Harry Styles
Jay Chou
Ed Sheeran
Eminem
Kanye West
YoungBoy Never Broke Again
Kendrick Lamar
Lil Baby
Billie Eilish
Post Malone
Juice WRLD
The Beatles
Imagine Dragons
---
Taylor Swift certainly had a huge year.
According to a Universal Music Group press release issued on December 22nd, her Midnights sold over 6 million album equivalents globally across just three months in 2022, after its release on October 21.
Midnights didn't, however, out-stream 2022's other biggest albums in the world's largest market.
Midnights' US on-demand audio streams in 2022, per Luminate data, sat at 1.791 billion plays, behind the likes of Harry Styles' Harry's House (1.836 billion), Morgan Wallen's Dangerous: The Double Album (2.915 billion), and The Weeknd's The Highlights (2.366 billion).
Far out in front, in terms of streams in the US last year, was Bad Bunny's Un Verano Sin Ti, with a whopping 4.266 billion on-demand audio streams – more than double the equivalent play-count of Midnights (see below).
---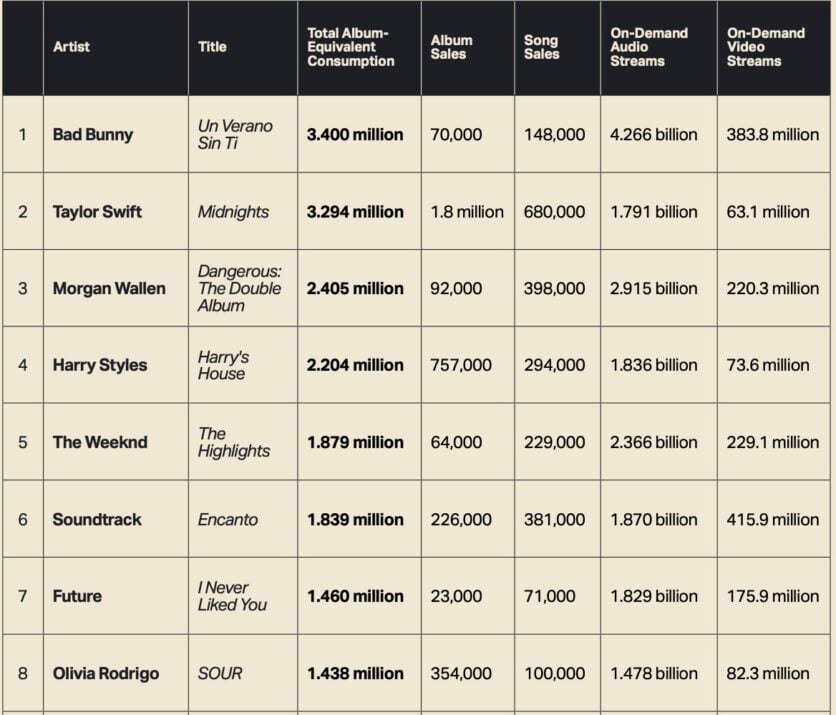 ---
So how come Bad Bunny is down at No.4 on the IFPI's money-generating list of global artists, behind Swift (No.1), BTS (No.2), and Drake (No.3)?
There are a few obvious factors:
The aforementioned Top 3 artists all have significant catalog history on mainstream pop charts around the world (especially, in the US) over the past decade. This means they all have a vast volume of catalog (and catalog listening) on streaming services that would have only been uplifted by their most recent releases. Midnights is Swift's tenth studio album to date, for example, and her ninth US No.1 album. Bad Bunny's Un Verano Sin Ti, by contrast, is only the Puerto Rican artist's second Billboard 200 No.1 album, and his third Top 3. One killer stat: According to that Universal Music Group announcement issued on December 22 last year, combined global calendar-year streams of Taylor Swift's catalog, at that point in 2022, stood at a massive 36.6 billion plays;
Remember: the IFPI list is based specifically on "value" i.e. revenue generated both at retail and on streaming services… and Taylor Swift did exceptionally well with Midnights when it came to physical album sales. The record sold over 1.8 million copies (i.e. real sales across download and physical) in the US last year, says Luminate – including 640,000 from CD sales, 219,000 from download sales, and a stunning 945,000 from vinyl sales. It was the first album to sell over 1 million physical albums in the US since 2015;
Taylor Swift had bigger and better success than ever before in one specific, huge global market that has traditionally been hard to penetrate for non-domestic artists: China. According to Universal, Midnights was the fastest-selling record by a 'western' artist in history in the territory.
Another very interesting trend revealed within IFPI's new artist chart: Four of the Top 10 biggest acts globally in 2022 were Asian artists.
Three of them were boy-bands hailing from South Korea – the country with more artists in the IFPI's Top 10 than any other.
Alongside BTS at No.2, Korean artists on the list include SEVENTEEN (a boy-band formed by Pledis Entertainment) at No.6, as well as Stray Kids (another boy-band, who were formed by JYP Entertainment via a televised competition in 2017).
The other Asia-based entry in IFPI's Top 10 for 2022 is Jay Chou (No.9), the Taiwanese pop star who enjoys enduring popularity across China and South-East Asia.
There were two British acts in the Top 10: Harry Styles at No.8, and Ed Sheeran at No.10.
(Going back to the importance of a voluminous and popular streaming catalog on this list… Ed Sheeran didn't release a new studio album in 2022, but still made the Top 10.)
Frances Moore, Chief Executive, IFPI, said: "It is a great pleasure to award the IFPI Global Recording Artist Award to Taylor Swift for an unprecedented third time in the chart's ten-year history.
"Taylor is a truly magnificent international star, who continues to grow and evolve as an artist whilst maintaining an incredibly strong connection with her fans around the world.
"It is exciting to see this year's Global Recording Artist Chart reflect the increasingly diverse spectrum of music available to music fans today, with superstars from Latin America, Taiwan and South Korea as well as the US, UK and Canada represented.
"Record companies continue to work diligently in every corner of the globe to find and develop global stars and build their successful careers for the long-term."Music Business Worldwide