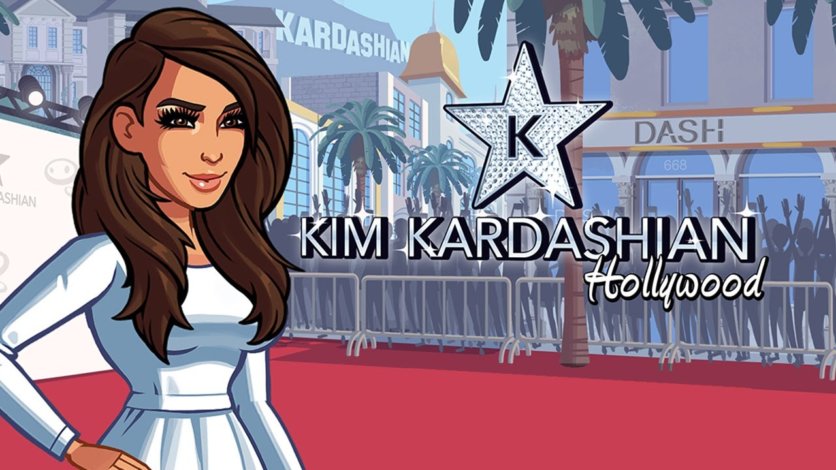 Parents, beware.
Taylor Swift is making her very own mobile video game in conjunction with the San Francisco-based mobile developer Glu Mobile.
So far, so exciting. Another pitch-perfect brand extension from Ms. Swift and her team at Big Machine.
But here's something you might not realise about Glu Mobile: the one they call Tay-Tay is not the first global megastar the firm has recruited for a video game.
And its controversial business model is (a) genius and (b) drives mums and dads mad.
Glu's landmark mobile game is Kim Kardashian: Hollywood (pictured inset).
In the first three months after its launch in June 2014, the title turned over $43m.
That's just over $14m a month. $3.6m a week. Go on, then: $511,000 a day.
To date, it's turned over nearly – gulp – $127m.
---
How does KK's video game rack up such ludicrous profits? Because of micro-transactions.
In short, people buying clothing, accessories, energy and other digital tat for 'K-coins' – which all cost small amounts of real life money.
You see, Kim Kardashian: Hollywood is actually completely free to install and play.
It draws you in, then encourages you spend in-game via a little commercial setup called… freemium.
This is the genius of Glu.
---
Okay, this bit is genuinely hilarious.
There is quite a lot of controversy over Glu's business model.
Obviously, in-app purchases by a committed player can rack up to extortionate amounts – particularly when their iOS or Android account is hooked up to their mum or dad's credit card.
In October last year, Kanye West spoke for all parentkind on this matter in a no-holds-barred Twitter rant. God bless him.
"Fuck any game company that puts in-app purchases on kids games!!!" he wrote.
"Fuck any game company that puts in-app purchases on kids games!"

Kanye West
And then: "That makes no sense!!! We give the iPad to our child and every 5 minutes there's a new purchase!!!"
And then: "If a game is made for a 2 year old, just allow them to have fun and give the parents a break for Christ sake."
Once again, the microtransaction-reliant game based on Kanye West's wife, Kim Kardashian: Hollywood, has turned over almost $127m to date.
---
Back to Taylor Swift.
The multi-platinum artist is now going to work exclusively with Glu as part of a multi-year partnership to develop and create a new, 'one-of-a-kind digital gaming experience' for iOS and Android.
Considering Glu defines itself as a 'leading publisher of free-to-play games', we can be pretty certain that Swift's title is going to work through a similar commercial mechanic as Kim Kardashian's hugely successful title.
Yes, those who work at Spotify, allow yourself a little chuckle: in a manner of speaking, Taylor Swift is finally going freemium.
---
Swift's game is slated for global release in late 2016.
"Bringing with her over 227 million social followers, I am thrilled to welcome Taylor Swift, an award-winning singer, musician and songwriter, to Glu's family," said Niccolo de Masi, Glu Chairman and CEO.
"We realize that Taylor and her global fan base expect a new and highly differentiated mobile gaming experience.
"We realize that taylor and her global fan base expect a new and highly differentiated mobile gaming experience."

Niccolo de masi, Glu Mobile
"Glu is equally committed to designing never before seen gameplay elements that utilize Taylor's unique creativity.
"Accordingly, we will spend the required development time to ensure this innovation is achieved."
---
Niccolo de Masi's last line there is important.
Taylor Swift isn't the first pop star to get the Glu treatment – and it's previous attempt is a bit of a flop.
Katy Perry signed up for her own title last February, which eventually arrived in December. But it hasn't hit Glu's expectations.
"In Katy Perry Pop, poor technical decisions coupled with the newly hired team led to all key metrics being below thresholds required for an ROI [return on investment] positive title," de Masi said on a recent Glu earnings call.
"Additional development time was not provided due to contractual restrictions as well as the team's mediocre trajectory."
He was also disappointed by the performance of James Bond: World Of Espionage.
Glu is currently working on mobile games based on Nicki Minaj, Britney Spears and Gordon Ramsey, amongst others.Music Business Worldwide