Sweden is one of the world's most mature streaming markets – but it's still finding growth.
The home of Spotify saw the amount spent on recorded music in 2016 rise 6.2%, according to new stats from the local IFPI – up to 1.13bn Krona ($126m).
Revenue from audio streaming music services like Spotify now account for 82.3% of total music sales, with subscription platforms generating 906.03m Krona ($100.74m).
Revenues from the streaming music video services, including the world's largest, YouTube, accounted for only 2% of total revenue.
Sales of CDs fell 9.4% (to 106.2m Krona; $11.4m) in the year, while vinyl sales rose by 38.7%.
With 45.4m Krona ($5m), vinyl generated more than double the revenues of downloads (18.5m Krona; $2m).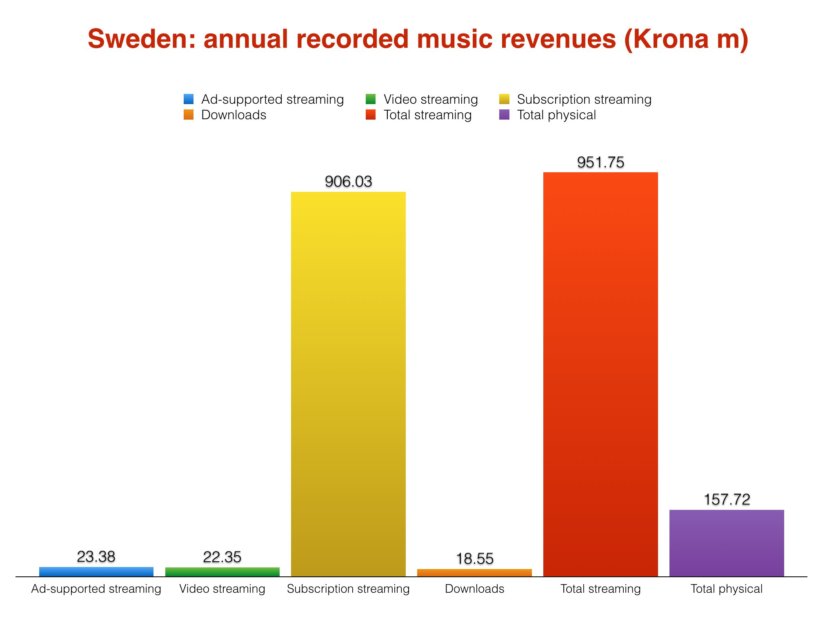 "We have become used to the streaming music services in recent years creating long-awaited growth in the Swedish market, but it is important not to forget how positive it is that even in 2016 we have increased by more than six percent," said Ludvig Werner, CEO of IFPI Sweden.
"With ten years of experience in streaming… we know how important it is for everyone in the food chain, from composers to performers and record labels, is subject to the same regulations.
"One service negotiating with rights holders [Spotify] pays 60-70% of revenues. Another service [YouTube]… paying 8-10% is simply not sustainable."
Jonas Siljemark, President, Warner Music Nordics, added: "The growth we are seeing in the Swedish market is positive for the music industry worldwide. Sweden is one of the world's most advanced premium subscription markets and it still saw growth of more than 6%.
"This is encouraging news for other markets that are becoming more driven by premium subscription revenue. Warner Music had a great year in Sweden, with two of the top three domestic albums and around 30 per cent of the annual Top 100 singles chart."
The biggest selling Swedish albums in the year were Kent's "Då som nu för alltid" (pictured), Miriam Bryant's "Hisingen och hem igen" and Lasse Stefanz's "Roadtrip".
(Below figures in thousands of Krona)

Music Business Worldwide