It's still the country that much of the the US and UK music business look to as a model of the future.
The IFPI in Sweden, where streaming claims 84% of all recorded music revenues, has just confirmed the country's Top 100 singles for 2015.
As you can see below, the list is led by Major Lazer (feat M0 and DJ Snake)'s Lean On, released via Mad Decent/Because and distributed through Warner.
Second was Ellie Goulding's Love Me Like You Do (Polydor/Universal), with Kygo (feat. Parson James)'s Stole The Show at No.3.
MBW analysis shows that Universal claimed 42% of the Top 100 by ownership and distribution, with Sony on 32% and Warner on 25%.
The sole 'pure' independent entry in the Top 100 was Adele's Hello – released on XL/Beggars and distribution via PlayGround Music.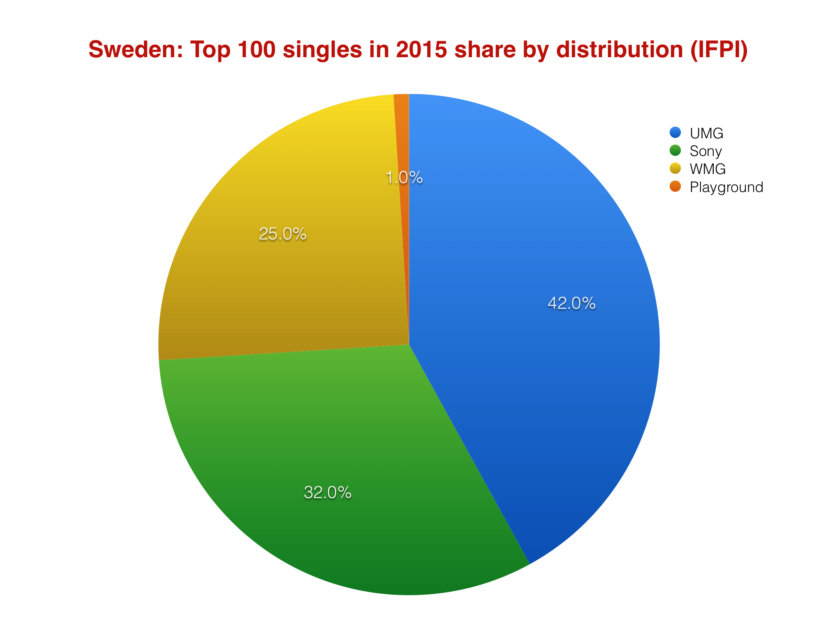 ---
Sweden's Top 100 Singles – 2015
MAJOR LAZER FEAT. MØ & DJ SNAKE, LEAN ON – MAD DECENT/BECAUSE MUSIC / WARNER
ELLIE GOULDING, LOVE ME LIKE YOU DO (FROM 'FIFTY SHADES OF GREY') – POLYDOR / UNIVERSAL
KYGO FEAT. PARSON JAMES, STOLE THE SHOW – KYGO / SONY MUSIC
WIZ KHALIFA FEAT. CHARLIE PUTH, SEE YOU AGAIN – ATLANTIC RECORDS / WARNER
LOST FREQUENCIES, ARE YOU WITH ME – ARMADA/DISCO:WAX / SONY MUSIC
OMI CHEERLEADER (FELIX JAEHN REMIX RADIO EDIT) – ULTRA RECORDS / SONY MUSIC
KYGO FEAT. CONRAD, FIRESTONE – KYGO / SONY MUSIC
AVICII, WAITING FOR LOVE – AVICII MUSIC / UNIVERSAL
NORLIE & KKV, INGEN ANNAN RÖR MIG SOM DU – UNIVERSAL MUSIC LTD / UNIVERSAL
JUSTIN BIEBER, WHAT DO YOU MEAN? – DEF JAM RECORDINGS / UNIVERSAL
ZARA LARSSON, LUSH LIFE – TEN RECORDS/RCA / SONY MUSIC
HOZIER, TAKE ME TO CHURCH – RUBYWORKS / UNIVERSAL
ED SHEERAN, THINKING OUT LOUD – ATLANTIC RECORDS UK / WARNER
SHAWN MENDES, STITCHES – ISLAND / UNIVERSAL
MÅNS ZELMERLÖW, HEROES – METRONOME / WARNER
WALK THE MOON, SHUT UP AND DANCE – RCA RECORDS / SONY MUSIC
ALFONS, GANJAMAN – SVENSKA INSPELNINGAR/UNIVERSAL / UNIVERSAL
MARK RONSON FEAT. BRUNO MARS, UPTOWN FUNK! – COLUMBIA / SONY MUSIC
RIHANNA AND KANYE WEST AND PAUL MCCARTNEY, FOURFIVESECONDS – WESTBURY ROAD ENTERTAINMENT / UNIVERSAL
SKRILLEX & DIPLO FEAT. JUSTIN BIEBER, WHERE ARE Ü NOW – WARNER MUSIC GROUP / WARNER
LUKAS GRAHAM, 7 YEARS – THEN WE TAKE THE WORLD/COPENHAGEN / UNIVERSAL
FELIX JAEHN, FEAT. JASMINE THOMPSON AIN'T NOBODY (LOVES ME BETTER) – POLYDOR/ISLAND / UNIVERSAL
VIGILAND FEAT. THAM SWAY, SHOTS & SQUATS – UNIVERSAL MUSIC LTD / UNIVERSAL
AXWELL^INGROSSO, SUN IS SHINING – AXWELL/REFUNE / UNIVERSAL
THE WEEKND, CAN'T FEEL MY FACE – UNIVERSAL MUSIC LTD / UNIVERSAL
NICKY JAM FEAT. ENRIQUE IGLESIAS, EL PERDÓN – SONY MUSIC LATIN / SONY MUSIC
JASON DERULO, WANT TO WANT ME – BELUGA HEIGHTS/WARNER BROS / WARNER
ADELE, HELLO – XL RECORDINGS / PLAYGROUND
DAVID GUETTA FEAT. NICKI MINAJ & AFROJACK, HEY MAMA – PARLOPHONE / WARNER
JAKOB KARLBERG, FAN VA BRA – EPIC / SONY MUSIC
AVICII, THE NIGHTS – PRMD/UNIVERSAL MUSIC LTD / UNIVERSAL
DARIN, TA MIG TILLBAKA – DEX MUSIC / SONY MUSIC
TUNGEVAAG & RAABAN FEAT. EMILA SAMSARA – TUNGEVAAG MUSIC / SONY MUSIC
DEORRO X CHRIS BROWN, FIVE MORE HOURS – ULTRA RECORDS / SONY MUSIC
VIGILAND, UFO – UNIVERSAL MUSIC LTD / UNIVERSAL
JUSTIN BIEBER, SORRY – DEF JAM RECORDINGS / UNIVERSAL
MATOMA & THE NOTORIOUS B.I.G,. OLD THING BACK (FEAT. JA RULE & RALPH TRESVANT) – BIG BEAT RECORDS / WARNER
OTTO KNOWS, NEXT TO ME – DISCONAP/WARNER / WARNER
BADPOJKEN, JOHNNY G (THE GUIDETTI SONG) – CARDIAC RECORDS/SONY / SONY MUSIC
ED SHEERAN, PHOTOGRAPH – ATLANTIC RECORDS UK / WARNER
THE WEEKND, EARNED IT (FIFTY SHADES OF GREY) – UNIVERSAL MUSIC LTD / UNIVERSAL
DANNY SAUCEDO, DÖR FÖR DIG – SONY MUSIC ENTERTAINMENT / SONY MUSIC
TIMMY TRUMPET AND SAVAGE, FREAKS – DISCO:WAX / SONY MUSIC
R.CITY FEAT. ADAM LEVINE, LOCKED AWAY – KEMOSABE RECORDS / SONY MUSIC
JAMES BAY, HOLD BACK THE RIVER – REPUBLIC / UNIVERSAL
EMIL BERG, DU SWIPA HÖGER – GIANT RECORDS/WM SWEDEN / WARNER
ZARA LARSSON & MNEK, NEVER FORGET YOU – RECORD COMPANY TEN / SONY MUSIC
TOVE LO, TALKING BODY – UNIVERSAL MUSIC AB / UNIVERSAL
SAMIR & VIKTOR, GROUPIE – STOCKHOUSE / WARNER
HASSE ANDERSSON, GULD OCH GRÖNA – SKOGAR MARIANN / WARNER
JUSTIN BIEBER, LOVE YOURSELF – DEF JAM RECORDINGS / UNIVERSAL
MIRIAM BRYANT, ETT SISTA GLAS – STEREOSCOPE MUSIC SCANDINAVIA/WM SWEDEN / WARNER
PITBULL & NE-YO, TIME OF OUR LIVES – RCA / SONY MUSIC
CALVIN HARRIS + DISCIPLES, HOW DEEP IS YOUR LOVE – COLUMBIA / SONY MUSIC
ROBIN SCHULZ FEAT. FRANCESCO YATES, SUGAR – WARNER MUSIC GROUP / WARNER
FETTY WAP, TRAP QUEEN – RGF PRODUCTIONS/300 ENTERTAINMENT / WARNER
JOHN LEGEND, ALL OF ME – GETTING OUT OUR DREAMS/COLUMBIA / SONY MUSIC
DANNY SAUCEDO FEAT. MALCOLM B, BRINNER I BRÖSTET – CHILIBOY/SONY MUSIC / SONY MUSIC
LOST FREQUENCIES FEAT. JANIECK DEVY, REALITY – THE BEARDED MAN (ARMADA) / SONY MUSIC
FLO RIDA FEAT. SAGE THE GEMINI & LOOKAS, GDFR – POE BOY/ATLANTIC / WARNER
SIA, ELASTIC HEART – MONKEY PUZZLE/RCA / SONY MUSIC
SAMIR & VIKTOR, SAXOFUCKINGFON – GIANT RECORDS / WARNER
THE WEEKND, THE HILLS – REPUBLIC RECORDS / UNIVERSAL
ALLYAWAN FEAT. NÄÄÄK JAG, HADE EN GÅNG EN BÅT – UNIVERSAL MUSIC LTD / UNIVERSAL
ROBIN SCHULZ FEAT. ILSEY, HEADLIGHTS – TONSPIEL / WARNER
SAM SMITH, I'M NOT THE ONLY ONE – CAPITOL / UNIVERSAL
OMI, HULA HOOP – ULTRA RECORDS / SONY MUSIC
MAROON 5, SUGAR – UNIVERSAL MUSIC AB / UNIVERSAL
ARIANA GRANDE, ONE LAST TIME – REPUBLIC / UNIVERSAL
ONE DIRECTION, DRAG ME DOWN – SONY MUSIC ENTERTAINMENT / SONY MUSIC
SAM SMITH, STAY WITH ME – UNIVERSAL MUSIC / UNIVERSAL
AVICII, GONNA LOVE YA – AVICII MUSIC AB / UNIVERSAL
SIA, CHANDELIER – MONKEY PUZZLE RECORDS / SONY MUSIC
AXEL WIKNER, DET DRAAAR – NINETONE RECORDS / UNIVERSAL
AXWELL^INGROSSO, ON MY WAY – AXWELL MUSIC/REFUNE MUSIC / UNIVERSAL
MIKE POSNER, I TOOK A PILL IN IBIZA – ISLAND / UNIVERSAL
CALVIN HARRIS FEAT. ELLIE GOULDING, OUTSIDE – SONY MUSIC / SONY MUSIC
YEARS & YEARS, KING – POLYDOR / UNIVERSAL
SELENA GOMEZ FEAT. A$AP ROCKY, GOOD FOR YOU – INTERSCOPE / UNIVERSAL
CARLY RAE JEPSEN, I REALLY LIKE YOU – SCHOOL BOY/INTERSCOPE / UNIVERSAL
ED SHEERAN, I SEE FIRE – WATERTOWER MUSIC INC / UNIVERSAL
GALANTIS, PEANUT BUTTER JELLY – ATLANTIC / WARNER
SIGALA, EASY LOVE – MIND THE FLOOR/DISCO:WAX / SONY MUSIC
AVICII, FOR A BETTER DAY – AVICII MUSIK AB / UNIVERSAL
MADCON FEAT. RAY DALTON, DON'T WORRY – COLUMBIA / SONY MUSIC
ICONA POP, EMERGENCY – RECORD COMPANY TEN / SONY MUSIC
MIRIAM BRYANT, ONE LAST TIME – STEREOSCOPE MUSIC SCANDINAVIA/WM SWEDEN / WARNER
AVICII, BROKEN ARROWS – AVICII MUSIC AB / UNIVERSAL
TOVE LO, HABITS (STAY HIGH) – UNIVERSAL MUSIC AB / UNIVERSAL
TIËSTO & KSHMR FEAT. VASSY, SECRETS – UNIVERSAL MUSIC LTD / UNIVERSAL
NICKI MINAJ, BED OF LIES – CASH MONEY RECORDS / UNIVERSAL
GALANTIS, RUNAWAY (U & I) – BIG BEAT RECORDS/ATLANTIC / WARNER
MR. PROBZ, NOTHING REALLY MATTERS – LEFT LANE RECORDINGS / SONY MUSIC
DE VET DU, FY FAN VA STEK – ONE BRAIN AB / UNIVERSAL
ERIC SAADE, STING – ROXY RECORDINGS / SONY MUSIC
CHARLIE PUTH FEAT. MEGHAN TRAINOR, MARVIN GAYE – ARTIST PARTNER GROUP / WARNER
ADAM LAMBERT, GHOST TOWN – WARNER MUSIC GROUP / WARNER
WYCLEF JEAN FEAT. AVICII, DIVINE – SORROW HEADS MUSIC / WARNER
ZEDD FEAT. SELENA GOMEZ, I WANT YOU TO KNOW – UNIVERSAL MUSIC LTD / UNIVERSAL
ALESSO, HEROES (WE COULD BE) – UNIVERSAL MUSIC AB / UNIVERSAL
Music Business Worldwide