The income of Sweden's recorded music market rose 4.2% in the first six months of 2015 – with streaming climbing once again to claim 83.9% of all revenues.
According to new data from IFPI Sweden analysed by MBW, the market's recorded music turnover in Jan-June this year stood at 507.5m SEK (€54.6m), up from 486.9m SEK in H1 2014 (€52.4m).
The news will bring labels optimism that Sweden's record industry still has growth left to find after its full-year income dipped by 0.4% in 2014.
That stumble followed a sustained period of resurgence for Sweden in the streaming era – once which has given hope to markets used to suffering declines over the past 15 years. (Read: Is Sweden still the future of the music industry?)
Revenue in Sweden from streaming music services alone grew by a healthy 7.4% in H1 2015 – up to 425.8m SEK (€45.8m).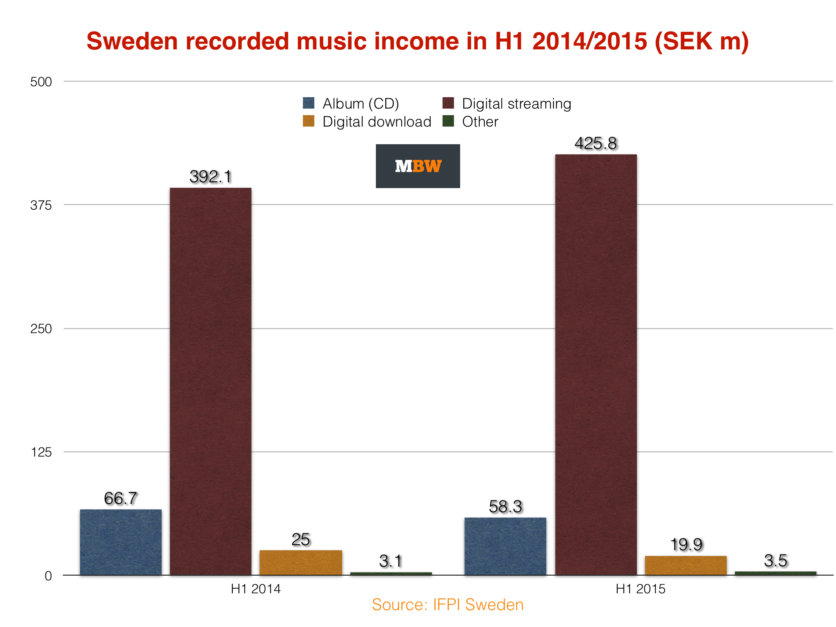 [Nb. In H1 2014, IFPI Sweden included 'digital other' – mainly ringtones – in the download tally. These have been removed in 2015 and recategorised as 'other', but only amounted to 682,000 SEK]
If you're wondering why that streaming growth can't match the likes of Germany (up 87% in H1), it's because the subscription market in Sweden is very mature – claiming almost 84% of total income this year so far.
Both downloads and CD album sales appear to have fallen compared to H1 2014, but not enough to dent the huge contribution to the music economy from Spotify et al.
CD albums fell 12.6% year-on-year in H1 2015, down from 66.7m SEK to 58.3m SEK.
Digital sales now account for 88 percent of total music sales in Sweden, while overall physical sales – which including vinyl make up the remaining 12% – continued to decline from 69.8m SEK to 61.1m SEK.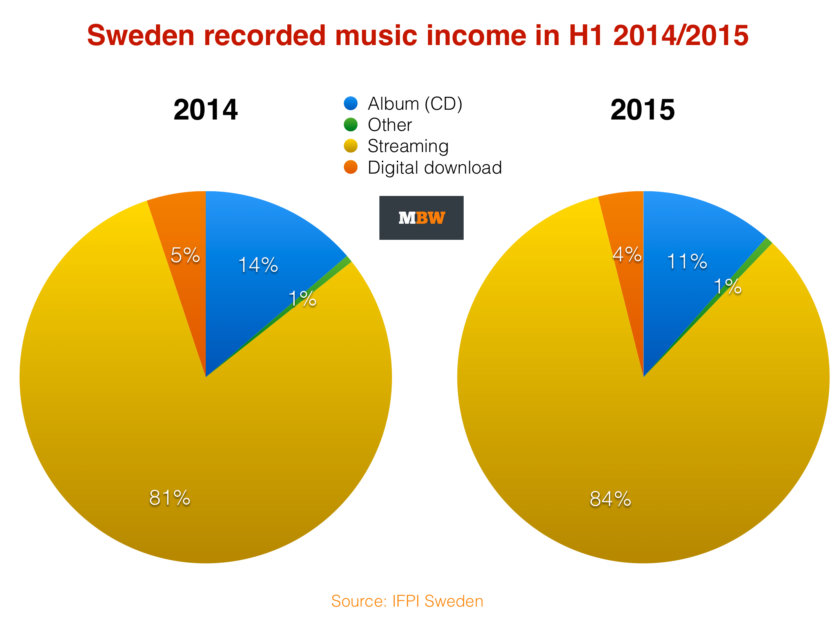 Ludvig Werner, CEO of IFPI Sweden, said: "After full-year 2014 ended at 0.4% down, this was a positive response and in line with our expectations.
"An increase of 7.4% on revenue from streaming shows that there is still considerable room for growth."
Traditional album sales accounted for just 11.5% of Sweden's income in H1.
30.2% came from local repertoire, and 69.8% from international repertoire.
Vinyl Sales increased year-on-year by 45.6% and now accounts for 2.2% of total music sales.
[Pictured: Ellie Goulding, whose Love Me Like You Do was No.1 in Sweden for five weeks in Jan/Feb this year]Music Business Worldwide