The strength of the US dollar hit Warner Music Group hard in the three months to the end of June.
The business posted $710m in revenues for its fiscal Q3, which dropped 10% or $78m on the prior year – but just 1%, or $5m, on a constant currency basis.
Total recorded music income also fell 10% to $592m, yet at constant currency this revenue decreased by $4 million, or 1%.
Physical sales contributed $161m in the quarter – down 20% on the $202m posted in Q3 2014.
Surprisingly, Warner's currency woes had enough impact to see its digital recorded music income fall 2%, or $6m, from $299m to $293m.
Revenue from streaming services grew by $22 million, or $32 million at constant currency, and was offset by digital download declines of $23 million, or $14 million at constant currency.
Music Publishing revenues decreased by $14 million, or 10%, to $123 million for the three months ended June 30, 2015 from $137 million for the three months ended June 30, 2014.
At constant currency, music publishing revenue decreased by $1 million, or 1%.
Excluding the unfavorable impact of foreign currency exchange rates, digital and licensing revenues increased, while physical and artist services and expanded-rights revenue decreased.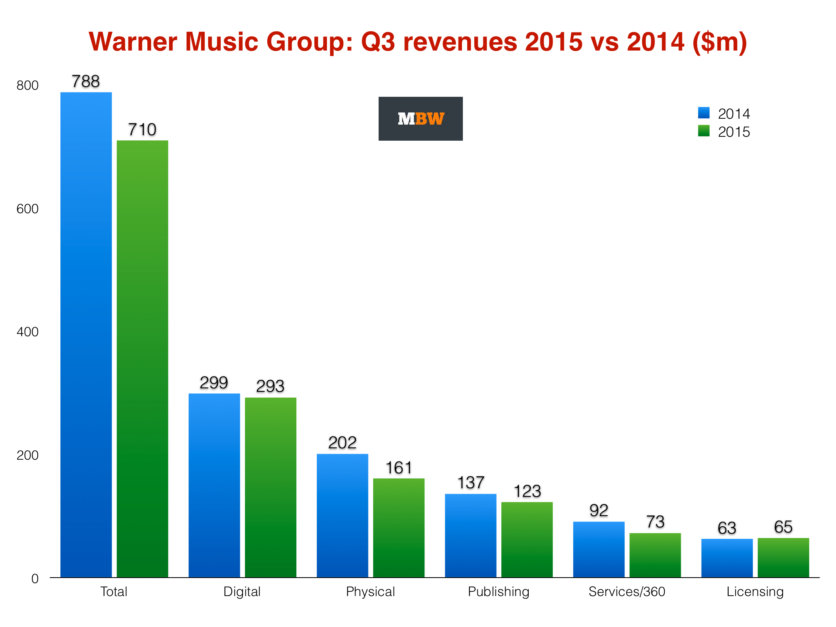 Music Business Worldwide