As recently reported on MBW, France's streaming market continued growing in H1 2015, with a +36% period-to-period increase in total on-demand streams.
According to IFPI figures, France was the 5th music market in the world in 2014, and ranked also 5th when it came, more specifically, to streaming revenues.
Streaming growth in 2014 was clearly a worldwide trend.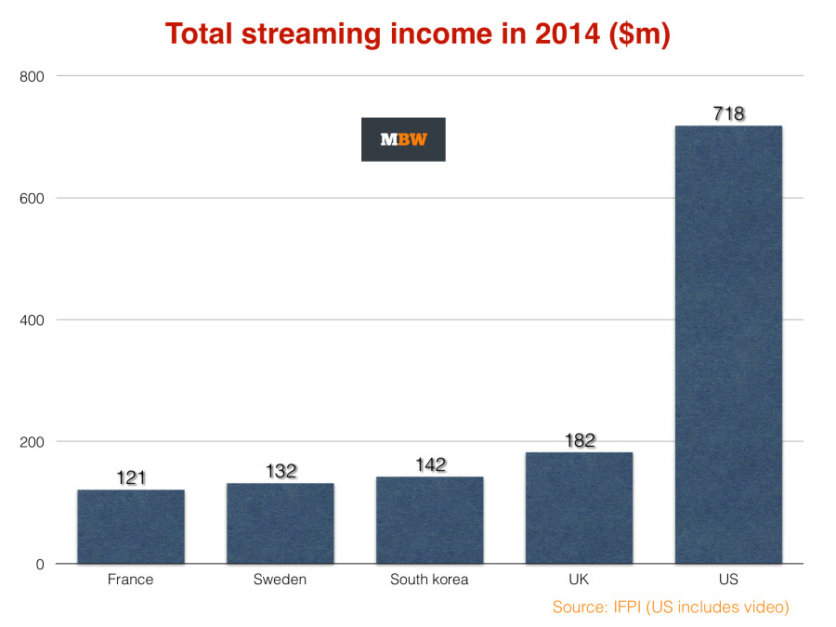 Yet, in France, it stirred up even bigger enthusiasm among music business players, officially voiced by SNEP, the French equivalent to the UK's BPI.
The reason why this optimism is particularly emphasized in France is twofold.
First, SNEP has been betting on streaming for several years now, as the way to rescue a dull French track download market.
The H1-2015 figures tell us they were right to do so.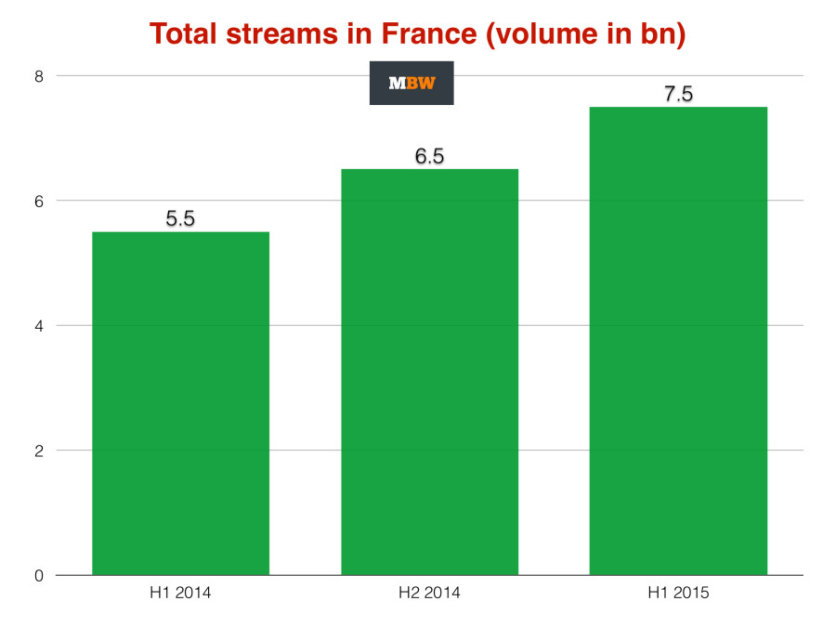 Second, our in-depth analysis reveals that streaming is now generating more revenues than the download business has ever  achieved in France – as shown in the following chart.
As you can see, the yearly digital revenues for digital music other than streaming (i.e. mobile and internet downloads) peaked in 2008 – four years after iTunes came to Europe – at roughly €73m.
This number includes digital albums and tracks.
Yet in 2014, annual streaming revenues, at €72.6m, were very close to surpassing 2008's download peak number.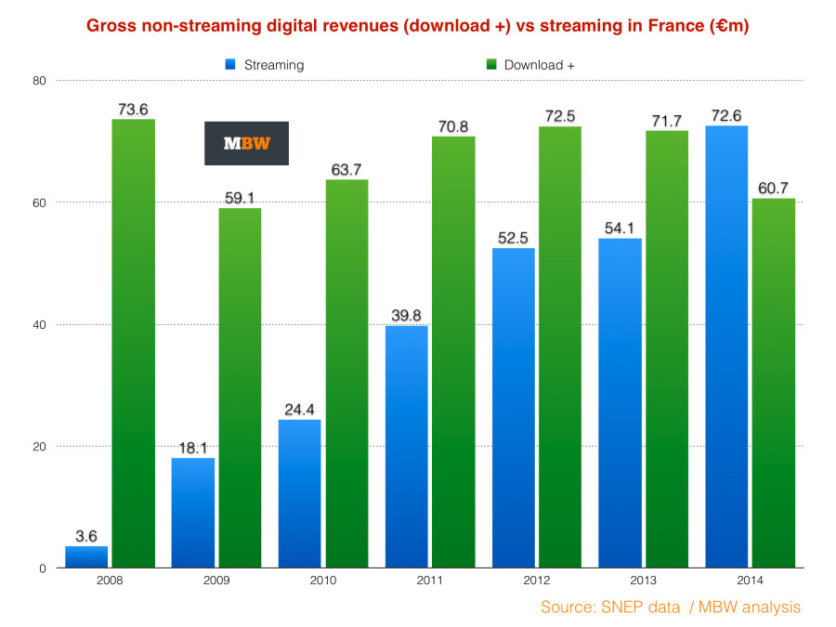 Although SNEP has not yet communicated H1-2015 revenue figures, it is very likely that the 36% year-on-year rise in the total number of streams (volume) will translate in full-year revenues going beyond this €73m level. (Especially when Apple Music, which launched in late June, is taken into consideration.)
For many months now, several indicators have suggested that France's streaming market is growing at a quicker pace than ever before.
First, David Guetta's 'Dangerous' smashed through the 1 million weekly streams barrier late 2014 for the first time ever.
Second, since April 2015, more and more tracks have surpassed this symbolic milestone in the same week timeframe.
Finally, Major Lazer's 'Lean On' recently broke through the 2m weekly streams barrier.
Streaming: France vs. UK
Recent figures communicated by BPI show an even more financially significant streaming boom in the UK.
The UK has always tracked well ahead of France, that's no secret, and it keeps the lead on the streaming market too.
In H1 2015, 59 tracks streamed beyond the 10m mark in the UK.
26 tracks did so in France in the same timeframe.
The most streamed track in the UK for the first half of 2015 was Mark Ronson's 'Uptown Funk!', clocking up 45m streams.
In France, this feat was achieved by Omi's 'Cheerleader' (pictured), at 26.5m streams.
11.5 billion streams were registered in the UK in that period; in France, that figure stands at 7.5bn.
Download: France vs. UK
Another big difference between the two markets lies in the fact that the UK still enjoys a very dynamic download market.
In France, CD singles stopped being released in 2013, after four years of extremely tiny sales.
As mentioned, the download market reached its peak in 2012 at 44m units sold, and never managed to go above this point.
In comparison, that same year, in the UK, 188m units were sold.
France has a population slightly bigger than that of the UK, yet its recent downloads figures look lifeless when compared to those of its neighbour.
In France, the record for the most downloads in a single week lies at 39k units and was achieved by Daft Punk's 'Get Lucky' in April 2013.
This represents – at most – half the weekly downloads of a typical Number One single on the UK's Official Singles Chart.
The track charts in France, still reliant on downloads, have become motionless, monochromatic and, to some extent, irrelevant – many of its Number Ones cannot be regarded as mainstream super-hits.
A combined singles and download chart is the next, long-awaited, step.
SNEP introduced a streaming chart in September 2014, and announced a combined download + streaming chart, initially due last October.
This, however, did not happen.
Asked about this delay, SNEP's head of communications, Patricia Sarrant, told MBW there were pending technical issues which SNEP hoped to resolve in the coming months.
As she puts it, "When I look at the BPI, I am like a child looking at a Ferrari."
This acknowledges one aspect of the situation: SNEP has neither the chart experience nor the same technical means that the BPI enjoys.
If a combined download + streaming chart should take too long to arrive, it would be a missed opportunity to bring back life to a chart that many music lovers value.
SNEP holds a Q3 press conference each September and this should shed some light on this matter.
This article was created for MBW by Elia Habib. Follow Elia on Twitter here and check out his blog all about the French music market through here.Music Business Worldwide