The popularity of the single track music download took a hammering in the UK in 2014 – but industry revenue generated by streaming platforms jumped 65%, going some way to making up for it.
According to new year-end stats from the Official Charts Company and BPI, the value of the annual 'Singles' sales market in the UK – more than 99% of which is comprised of digital downloads – fell 15.3% in 2014, down year-on-year from £168m to £142m.
In unit sales terms, the news was similarly bleak: the number of single tracks purchased by consumers on the likes of iTunes in 2014 amounted to 156m, down a scary 14.2% on 2013's 182m figure. (See graph below.)
But there was much more positive news in the audio streaming market – made up of data from the likes of Spotify, Deezer and Blinkbox, but not YouTube – which grew from £106m to £175m.
In unit terms, UK music fans streamed 14.8bn tracks in 2014, nearly double the 7.5bn they racked up in 2013.
That made streaming more valuable than the Official Singles market for the first time in history in 2014, by some £33m.
Overall, streaming contributed 17% of the UK recorded music market's worth in 2014, which stood at £1.03bn in total, down 1.6% on 2013's £1.047bn tally.
The singles market's £142m haul made up 14% of the market's total income. Albums were by far and away the most valuable format, turning over £713m in the year – or 69% of total market revenue.
However, the decline in popularity of the albums format was clear to see: its overall value dropped 7.8% – down from £773m year-on-year. In 2013, albums provided 74% of the total revenues of the recorded music market.

The most streamed song of 2014 in the UK was Rather Be by Clean Bandit and Jess Glynne (pictured) on Atlantic Records, followed by Pharrell Williams' Happy.
The UK Official Singles Charts, traditionally based on unit sales, has counted streams towards its metric since July 2013. Approximately 100 streams is counted as equivalent to 1 single (download or physical single) sale in the chart compilation process.
This helps explain why Rather Be and Happy were also at the top of the year's Official Singles Chart, albeit in reverse order.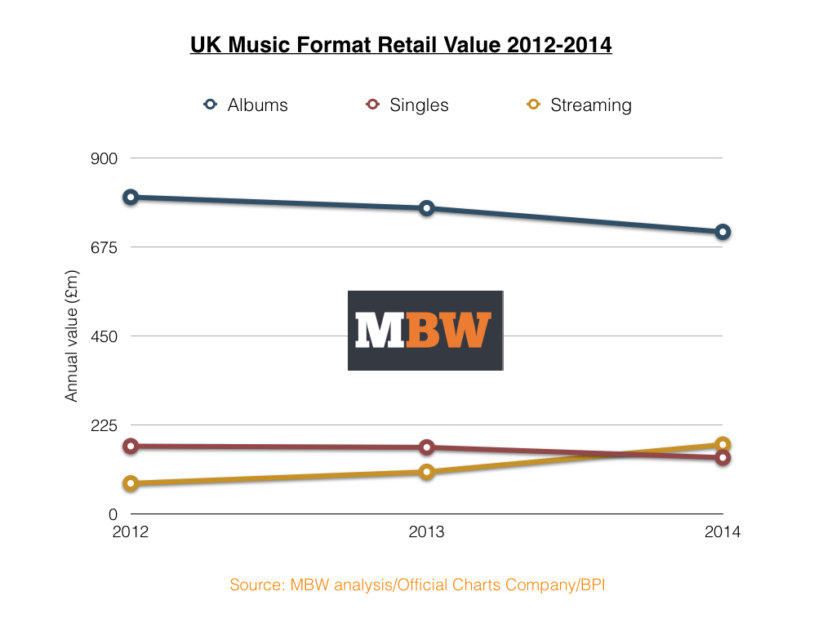 Kevin Brown, Spotify Head of Label Relations, Europe, said: "2014 has been a year in which streaming has truly become mainstream in the UK, as proven by the billions of streams by music fans on Spotify in the UK this year.
"Wonderful British artists such as Ed Sheeran have been responsible for both a huge year of music consumption in the UK, and also generated massive quantities of streams all over the world.
"We expect streaming to go from strength to strength in 2015, as more music fans discover how easy it is to enjoy a whole world of music on demand, and also as we support a new swathe of exciting young artists break through and build new audiences on Spotify in the months ahead."
Christian Harris, Deezer UK & Ireland Country Manager, said: "With streaming numbers doubling in 2014 to help take digital to just over half of all music consumption, this year really has shown that Brits are not only leading in the way in the charts, but are also playing their part building the new audio economy.
"From Deezer's perspective we've seen a big uptake in 'lean back' and discovery features… This tells us not only that our audience trust us to accurately recommend new music but that consumer taste is only growing stronger, and with labels, artists and management realising the potential of these platforms 2015 could not look brighter."
OFFICIAL UK SINGLES CHART 2014

 Pharrell Williams, Happy – Columbia/RCA Label Group (Sony Music Entertainment UK)
Clean Bandit/J.Glynne, Rather Be – Atlantic/Atlantic Records UK (Warner Music UK)
John Legend, All of Me – Columbia/Columbia Label Group (Sony Music Entertainment UK)
Mr. Probz, Waves – Left Lane Recordings/RCA Label Group (Sony Music Entertainment UK)
Ed Sheeran, Thinking Out Loud – Asylum/Atlantic Records UK (Warner Music UK)
Ella Henderson, Ghost – Syco Music/Syco Music Group (Sony Music Entertainment UK)
Sam Smith, Stay With Me – Capitol/Capitol (Universal Music UK)
Meghan Trainor, All About That Bass – Epic/RCA Label Group (Sony Music Entertainment UK)
Pitbull ft. Kesha, Timber – J-Mr 305-Polo Grounds/RCA Label Group (Sony Music Entertainment UK)
George Ezra, Budapest – Columbia/Columbia Label Group (Sony Music Entertainment UK)
© Official Charts Company
OFFICIAL UK MOST STREAMED SONGS 2014 (audio streams only)
Clean Bandit/J.Glynne, Rather Be – Atlantic/Atlantic Records UK (Warner Music UK)
Pharrell Williams, Happy – Columbia/RCA Label Group (Sony Music Entertainment UK)
John Legend, All of Me – Columbia/Columbia Label Group (Sony Music Entertainment UK)
Mr. Probz, Waves – Left Lane Recordings/RCA Label Group (Sony Music Entertainment UK)
Sam Smith, Stay With Me – Capitol/Capitol (Universal Music UK)
Ed Sheeran, Thinking Out Loud – Asylum/Atlantic Records UK (Warner Music UK)
George Ezra, Budapest – Columbia/Columbia Label Group (Sony Music Entertainment UK)
Ed Sheeran, Sing – Asylum/Atlantic Records UK (Warner Music UK)
Pitbull ft. Kesha, Timber – J-Mr 305-Polo Grounds/RCA Label Group (Sony Music Entertainment UK)
Magic, Rude – RCA / RCA Label Group (Sony Music Entertainment UK)
© Official Charts CompanyMusic Business Worldwide