Japan cemented its status as the world's second biggest recorded music market last year, generating $2.75bn for the industry across physical, digital, audio and video music products.
The big story in the country in 2019, aside from a slight dip in these overall revenues (to 299.76bn Yen) was the rise of streaming services.
According to new stats published by local trade body RIAJ and crunched by MBW, subscription and ad-funded audio streaming services like Spotify generated $385m (41.97bn Yen) for the industry in Japan in 2019, representing growth of 33.8% on the 31.37bn Yen generated by the format in 2018.
Indeed, audio streaming revenues in Japan nearly doubled just in the two years between 2017 (23.89bn Yen) and 2019 (41.97bn).
With both video and audio included, Japan's monetary streaming haul in 2019 rose to $426m (46.53bn Yen).
CD, though, very much remains king of the market.
The physical format saw its revenues fall by just 3.0% in Japan at the Yen level in 2019, generating a whopping $1.37bn (149.55bn Yen) in the year.
---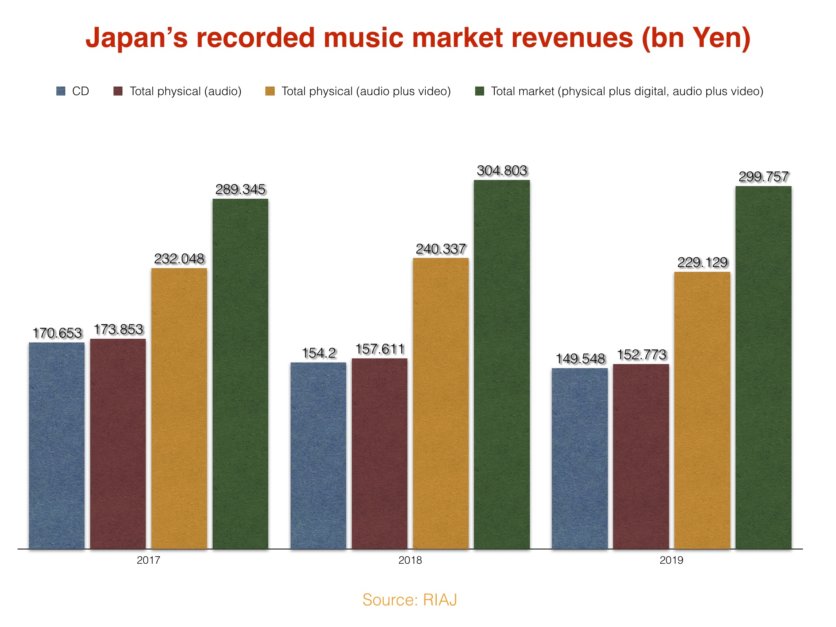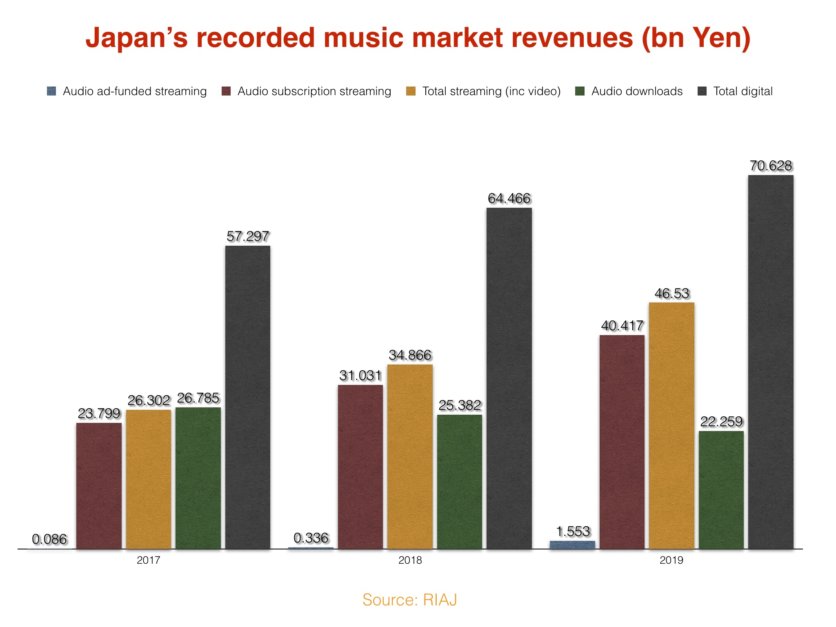 ---
What impact did this all have on the make-up of Japan's recorded music business?
In the pie charts below, MBW pits the annual (Yen-level) revenue of audio streaming in Japan (including subscription and ad-funded) against CD and download across both 2018 and 2019.
These charts are strictly audio only – the RIAJ offers a wealth of music video statistics that you can peruse at your leisure. These charts also do not include periphery digital formats (ringback tones, master ringtones, other non-streaming/download revenue).
---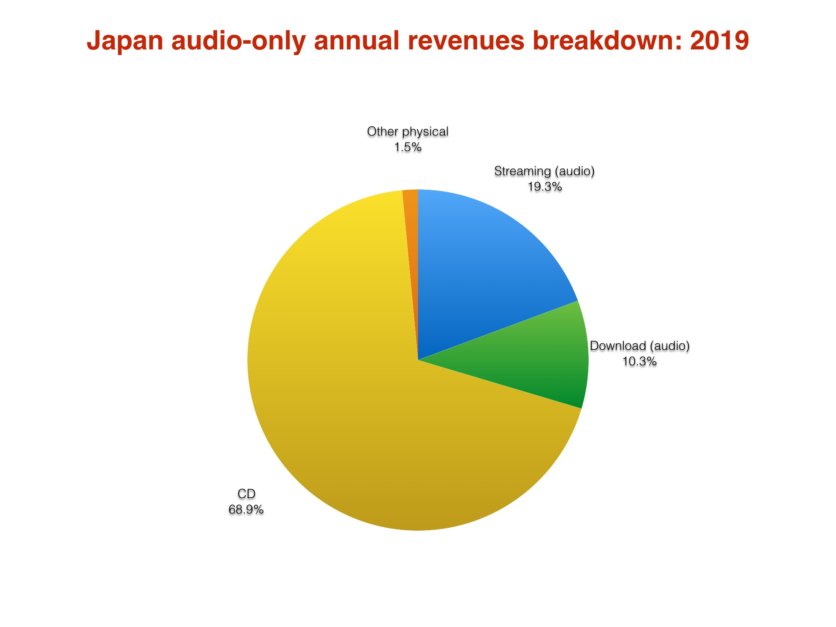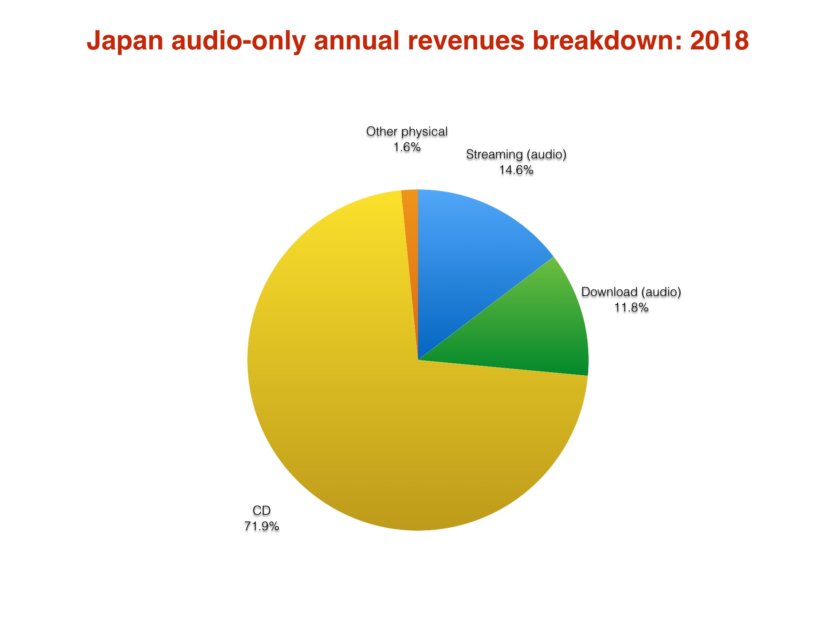 ---
As you can see, streaming claimed 19.3% of Japan's audio music market revenues in 2019, up from 14.6% in the prior year.
CD, though, continued to clearly dominate, with 68.9% of all audio-related music revenues in 2019 – though this was down slightly on the 71.9% the format claimed in 2018.
In a nutshell, then, streaming is definitely becoming a more significant part of the Japanese recorded music market as the years tick on… but it's still worth less than a third of the revenues being generated for the industry by Japan's favorite format, the CD.
---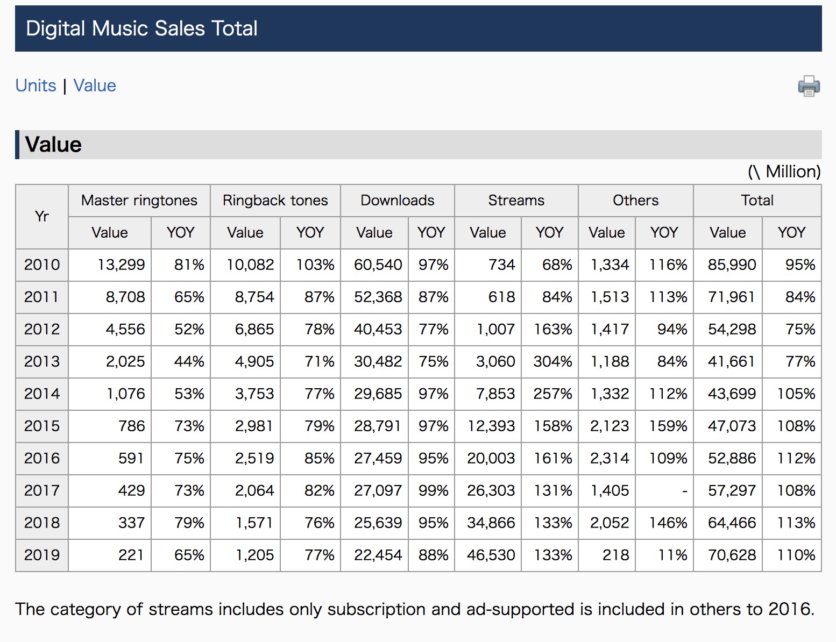 ---
To put into perspective the overall size of Japan as a recorded music market, the RIAJ's figures here are believed to be wholesale numbers.
This allows us to simply compare Japan's size ($2.75bn) to that of the USA, where the RIAA just confirmed that, on a wholesale basis, the market was worth $7.3bn in 2019.
[Pictured: A still from the video for Sonnakoto Naiyo by hinatazaka46, currently No.1 on the Billboard Hot 100 in Japan]
All currency conversion above based on an average annual Yen-to-USD conversion rate of 109.1, as indicated by Sony Corp's recent fiscal results.Music Business Worldwide