Reprtoir cheekily describes its online business management workspace as "One software to replace them all".
And whilst the Lord of the Rings reference there isn't an entirely serious reflection of the company's ambitions, it does encapsulate its belief that labels and music publishers need an integrated suite of software tools to track and manage catalog, rights and royalties.
Reprtoir started life as a side-project of French production, publishing, licensing and rights administration company, Rendez-Vous Digital (RVD).
RVD's management team tried multiple software solutions to manage its catalog of over 35,000 albums, but consistently found them "complex to use, horribly designed, usually slow and, ultimately, frustrating and counterproductive".
The company decided its in-house tools were not just superior technically, but conceptually, in order to address the real needs and issues of modern music companies.
So these tools were made commercially available, via Reprtoir. The firm's range of offerings, following the addition of Royalties Manager earlier in the year, covers content management, business operations, and finances & rights.
Reprtoir's co-founder and CEO, Dominique Rottet, talks MBW through his company's services, and explains how it's helping music rights-holders avoid inevitable "human error" in their calculations…
---
Can you start by giving us a brief introduction to Reprtoir and telling us about the tools you have launched so far?
Reprtoir is a SaaS solution, specifically designed for record labels and music publishers. It is a software suite made by music professionals for music professionals, with one goal in mind: helping music actors optimize and grow their businesses.
The basis of Reprtoir is Audio Manager, a music metadata CMS built to manage music catalogs in an online and secured workspace, accessible by all members of the team, from anywhere. We went on to develop Works Manager to help publishers deal with their works, publishing rights, etc.
We then created Playlists for Business to allow users to share private playlists with real-time tracking.The next step was releasing tracks to DSPs, so Releases Manager was launched last year for Reprtoir users to deliver their tracks to distributors and aggregators directly from their workspace.
In January, we completed Reprtoir software suite with Royalties Manager, our brand new royalty accounting component fully integrated with Audio Manager and Works Manager.
---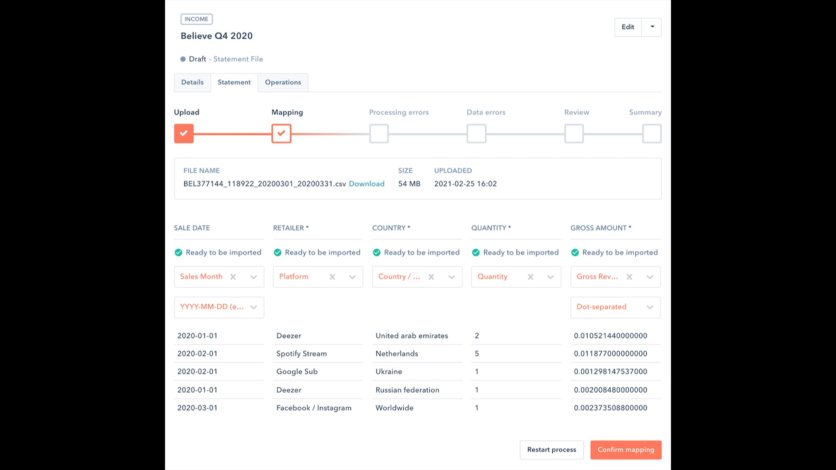 ---
What prompted you to create Royalties Manager? What problem or gap did you identify that Royalties Manager can fill or solve?
We clearly saw the need for record labels and music publishers to optimize some administrative tasks, to not only save substantial amounts of time, but also to reduce potential errors to a minimum when it comes to managing royalties.
For a record label and/or a music publisher, managing royalties and being able to follow their chains of rights is a primary need. The fact that no complete CMS integrating royalty accounting was available on the market pushed us to focus on developing Royalties Manager.
"We wanted to create a fully functioning workspace, one secured online platform to manage and backup all operations for music professionals."
We wanted to create a fully functioning workspace, one secured online platform to manage and backup all operations for music professionals.
Royalties Manager was developed in close collaboration with our users, to meet the exact needs of music businesses. All operations can be linked to tracks, works, videos, rights holders, contracts in our users' catalogs.
---
When you talk about potential errors, how widespread and costly do you think that problem might be for labels, publishers and, ultimately, artists, worldwide?
To develop Royalties Manager, we worked closely with a few dozen record labels and music publishers of various sizes. It allowed us to get a clear representation of how these professionals manage their royalty statements.
Most of them rely on filtering sales statements per artist, in an Excel or Google spreadsheet, reporting the total amount in another file and adding formulas to apply the splits between rights holders with a cross-multiplication.
Sure, this method is constraining, but it proved to be working. That is if the situation is simple enough. Because it can't work every time; there will be filtering errors, a mistake in rounding up or just a data formatting going wrong. Calculation errors will happen, and you might even not notice it.
"Calculation errors will happen, and you might even not notice it."
In a file with a few thousand lines [of data] divided between two rights-holders, it could work. There would be errors, but they might be relatively inconsequential. But picture for a second a bigger catalog, with many different distribution keys, on a hundred rights-holders. It's simply impossible to manage rights without making any mistakes.
During our beta test, we compared results from the companies using Royalties Manager and the ones without. It appeared that nine out of ten times, we got different amounts. Going back on the clients' process, every time, [these mistakes] were due to a human error.
This is only the beginning. Since the arrival of Facebook and Instagram streams' reports, it's almost impossible for the majority of music companies to keep using the same methods.
The files are getting bigger and bigger over the months, and are not manageable manually anymore. We just finished integrating more than 60 music services (distributors, aggregators, neighboring organizations, CMO, PRO, MRO…) such as The Orchard, Believe, BMI, PRS for Music or Kobalt to make sure to include all features our clients need.
For the record, we just did a test of managing 14 million lines [of data] involving more than a thousand rights holders in 14 minutes. Our system is fast, reliable and scalable. We are confident that it can answer any issue for record labels and music publishers when it comes to managing royalties.
---
Who is it for specifically? What sort of labels and publishers are your target audience?
Reprtoir's workspace, including Royalties Manager, is fit to be used by any professional record label and music publisher.
Our solution was built to support any amount of data. All our products are built the same way, meaning once you know how to use one, you know how to use them all.
Royalties Manager was developed with a clear idea: helping music professionals manage expenses and all kinds of incomes in the most efficient way possible. This should be within reach for all music businesses.
---
What does it actually do and how does it actually work ?
Put simply, Royalties Manager allows labels and publishers to divide their incomes and expenses amongst their rights holders and generate royalty statements for them. It is a complex piece of software that allows maximum flexibility when it comes to managing your royalty accounting flow.
Our software can ingest any kind of statement, upload any file from digital sales, mechanical rights or publishing rights, and Royalties Manager will guide you through the process of establishing the statement rules necessary to calculate all the amounts you owe your rights holders.
We also added a feature allowing you to quarantine statement verification flaws that you can't deal with right away, in order to keep your workflow seamless.
Finally, Royalties Manager breaks down everything in lists of operations, balances and statements from which you can manage accounting periods, generate statements, export sales data, access analytics, manage billing and much more.
"Our goal is for our users to be able to closely monitor their chain of rights, without skipping a beat"
All operations can be linked to contracts, musical works, DSPs, collective management organizations (CMO) and performance rights organizations (PRO).
Reprtoir solutions, including Royalties Manager, are already compatible with more than 60 integrations, including MCPS, PRS for Music, BMI, SACEM, Sony/ATV Publishing, Kobalt, and more.
In short, Royalties Manager is your personalized royalty accounting software, directly integrated in your catalog. Our goal is for our users to be able to closely monitor their chain of rights, without skipping a beat.
---
What are its major advantages over similar tools?
The main advantage of using Reprtoir and Royalties Manager is that everything is in the same online workspace, available for the whole team.
We encrypted our system to offer the best security to all our users, and are continuously upgrading capacity. It is a reliable SaaS solution for music businesses to optimize their administrative tasks and make sure they are as efficient and precise as possible.
In addition, we've built Royalties Manager to create a smooth workflow for your royalty accounting needs. Using the software, everything is made for you to be able to go through your workload and manage any new task that could come your way.
Everything remains stored in the same space. That way, you can make sure to keep a close look on your chain of rights.
---
Why do you think Royalties Manager is needed in the music industry as it is right now in particular?
Considering how the music industry is currently doing, we can pretty much assume that all digital revenues are not going away for a while.
Dealing with music rights and new ways to broadcast music and reach audiences leads to many more statements to deal with. And since artists are now relying on digital streams of revenues, it is even more important to have spotless accounting.
Royalties Manager can help record labels and music publishers to do just that; taking care of their artists' shares, their own revenues, and keeping a clear record of everything. The time saved on these tasks will quickly add up, we guarantee that.
Also, if we look at the bigger picture, we are witnessing an acceleration of the music industry's digitalization. It was the case before, and it is more pressing now: our work methods need to evolve as our work environment changes.
We can't keep working on internally developed software, incompatible with other systems. We need to upgrade our tools and stay ahead of the curve to keep the pace.
Reprtoir was originally built by a team of licensing professionals, in need of a performant software to manage all their administrative operations. This is how we know it can truly help optimize and grow a music business; we've created it for ourselves and now want to share it with other industry professionals.
---
How is it monetized?
For Royalties Manager, pricing starts at $49 per month with up to $5,000 of statement processing. All our prices are available on our website.
---
What's next for Reprtoir?
2021 will be an important year for Reprtoir filled with crucial updates. First of all, we are going to improve Royalties Manager on multiple fronts including right holder portals and analytics. During Q2 we will start implementing CWR imports and exports for publishers.
Then we move forward on improving Releases Manager by working on direct distribution feeds to DSPs.
We are also going to progress on building our API as we are fully aware of the importance of having an open system that our users can link to their proprietary and third-party applications.Music Business Worldwide