MBW's Stat Of The Week is a series in which we highlight a data point that deserves the attention of the global music industry. Stat Of the Week is supported by Cinq Music Group, a technology-driven record label, distribution, and rights management company.
---
Has there been a changing of the guard?
Bytedance, the China-headquartered owner of TikTok (and TikTok's equivalent app in Greater China, Douyin) generated more than $17bn in revenues in 2019, according to a revelatory new report by Bloomberg – in addition to over $3bn in annual net profit.
That $17bn+ revenue figure was more than double the $7.4bn that Bytedance turned over in 2018. More startlingly, it was also significantly more than the $15.15bn that Alphabet says YouTube generated in ad revenues last year.
Alphabet announced that $15.15bn YouTube ad revenue figure in February, when it also revealed that YT ended 2019 with a $3bn annual run rate in non-advertising revenues, including subscriptions (via YouTube Premium, YouTube Music etc.).
A run rate indicates what a company's next 12 months would look like if its current performance carried forward. In this case, YouTube's monthly performance as of December, 2019.
If YouTube's actual subscription/non-advertising performance across the whole of January-December in 2019 was somewhere closer to $2bn – a likely scenario – then it would have been level pegging with Bytedance in revenue terms last year.
Adding to the fun comparisons: Universal Music Group's annual revenues last year stood at €7.16bn ($8.04bn); Spotify's stood at €6.76bn ($7.59bn). Both of those figures are less than half the size of what Bytedance turned over.
Another important stat: Sensor Tower estimates that Douyin and TikTok jointly generated $78m in terms of in-app purchases in the month of April this year (users of both services can buy virtual currency).
That's an annual run rate of less than $1bn, suggesting that the vast majority of that $17bn+ generated by Bytedance in 2019 came from advertising.
---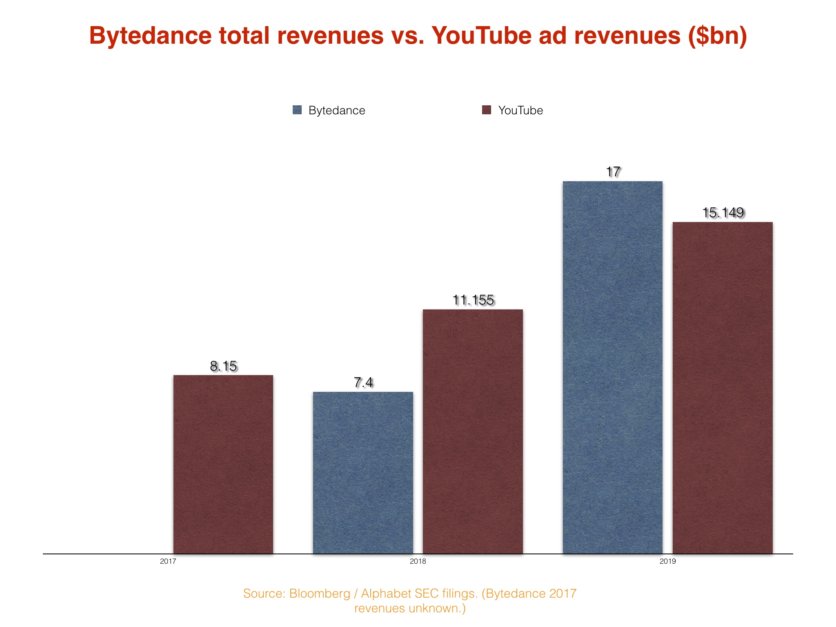 ---
Bytedance now attracts around 1.5bn monthly active users to a portfolio of apps that includes both TikTok and Douyin as well as the news service Toutiao.
YouTube, for comparison, attracts more than 2bn users every month, according to YouTube CEO Susan Wojcicki.
Analysts are now forecasting that Bytedance could fetch a public valuation through IPO of between $150bn and $180bn in the months ahead, reports Bloomberg.
Bytedance is also believed to be sitting on around $6bn in cash. Could acquisitions be on the cards?
Don't forget that Bytedance paid over $800m for karaoke app Musical.ly in 2017, a move which has gone on to fuel the rapid global growth of TikTok.
As of the end of April, TikTok has been downloaded more than 2bn times globally.
---

MBW's Stat Of The Week: TikTok owner Bytedance generated over $17bn in revenues last year – around $47m every day.
---
The music industry, of course, is finding itself increasingly entwined with Bytedance's business.
Not only has TikTok been famously responsible for driving global hits like Lil Nas X's Old Town Road and Drake's Toosie Slide. but, according to reports, the service's biggest 'influencer' talent is starting to command ever-chunkier fees for their commercial partnerships.
16-year old Charli D'Amelio is the world's biggest TikTok'er right now, with over 58.5m followers on the service and over 4bn 'Likes' in total. She is repped by United Talent Agency (UTA) and has recently played a key role in boosting the popularity of tracks such as Say So by Doja Cat and Savage by Megan Thee Stallion.
Despite this artist-breaking power, TikTok has some way to go to please certain corners of the music business.
The US-based National Music Publishers Association (NMPA) continues to rail against the Bytedance platform, threatening to sue TikTok while accusing it of having "consistently violated US copyright law and the rights of songwriters and music publishers".
"[Our] interests-based recommendations system helps our creators to be discovered with a new and global audience. This is key to nurture transboundary communities where our users can connect, share and inspire one another with creative ideas."

Paul Hourican, TikTok
TikTok is obviously making an effort to improve its ties in the industry: earlier this month, we learned that the company had inked an 'Associate Partnership' with the UK's Music Managers Forum which will see TikTok provide training, events and education to the MMF's 850 artist manager members.
Although TikTok has declined to confirm contractual details of its Associate Partnership, it's clearly committing resources to strengthening its relationship with the artist management community. It will be interesting to see how this music biz-charming strategy evolves under TikTok's new CEO, ex-Disney exec Kevin Mayer.
In the wake of that MMF announcement, Paul Hourican, Head of Music Operations UK at TikTok, said: "TikTok is an exciting platform for songs and emerging artists to gain exposure and breakthrough with a wide and varied audience. We work closely with rights holders to build and protect a library of sound on the platform which is available for users to infuse in their own short videos.
"[Our] interests-based recommendations system helps our creators to be discovered with a new and global audience. This is key to nurture transboundary communities where our users can connect, share and inspire one another with creative ideas."
---
That recommendations system could prove to be a game-changing element of another Bytedance product.
Subscription music streaming platform Resso launched in India in March – fully licensed by the likes of Sony Music, Warner Music, Beggars Group and Merlin, but without Universal Music's catalog. A fuller global roll-out is expected later this year.
Resso, which offers unique social-sharing features, arrived in India with two tiers: (i) a free-to-use tier which offers music streaming at 128kbps; and (ii) an ad-free, higher quality (up to 256kbps) paid tier available for Rs 99 ($1.35) per month on Android and Rs 119 ($1.62) per month on iOS.
---
---
Earlier this month, Bytedance confirmed that it is now testing a direct, one-click link from TikTok to Resso in India – meaning that when a TikTok user hears a snippet of a track on the former app, they are encouraged to listen to the full thing on the latter service.
A Bytedance spokesperson said: "As a platform built on innovation, our constant focus is to work towards enhancing the in-app experience of our users. We are currently in the beta testing phase and are early in the process to share any further details."
Raine Group partner Fred Davis, who advised Daniel Ek during the early years of Spotify, recently told MBW: "The single most exciting company I deal with today is Bytedance. I have seen Resso – it's the best new platform I have seen since Spotify. I hope the music industry embraces it, and I hope Bytedance doesn't get turned off by the complexities of getting licenses.
"The music industry needs another platform to succeed, to me this is absolutely the best one that's out there and they should embrace it as quickly as they could."
---
It's also worth mentioning Douyin here – Bytedance's sister product to TikTok in China – which hit 400m Monthly Active Users in January, up from 250m in the same period of 2019.
Reports out of China in Q1 suggested that Tencent Music Entertainment, a key rival to Bytedance, had agreed a deal to sub-license the catalogs of the three major record companies to Douyin in the region.
Universal, Sony and Warner's catalogs continue to be exclusively sub-licensed to other services by TME in China, but the company's rivals have suggested that this setup will expire over the next year or two – leaving the majors more likely to directly negotiate licensing deals in China with services like Douyin.
---
Today, though, the big news is that TikTok (and Douyin) has put itself on the map as truly rivalling YouTube; potentially, as the fastest-growing video service in the world.
As Fred Davis told MBW in January: "The most exciting new company that's come around in the past two or three years is TikTok. I still don't think the music industry really understands the power of 15 seconds.
"[The future is about] understanding how those clips are being made, how the songs are becoming broken on TikTok, what the audience is looking for… and what's next."Music Business Worldwide