MBW's Stat Of The Week is a new series in which we show why a single data point deserves the attention of the global music industry, and explain what it tells us about the future economics of the business.
---
"The audience that Spotify reaches is in many cases the 18-24 year olds – the same audience that doesn't buy music."
Daniel Ek, there, speaking in 2009, laying out the target demographic for the launch phase of his now world-famous music service.
Ever since Spotify arrived in Europe in 2008 – then in the US in 2011 – the predominant audience for most music streaming brands (and the focus of their advertising) has been people under 35.
Indeed, Spotify's own data in Q1 2018 showed that 62% of its audience were 'Millennials', defined as those aged between 25 and 34 – a stat which didn't even include those aged 24 or younger.
---

---
Millennials, in Spotify's words, "stream on repeat more than they stream on random", which helps explain why the record business itself continues to obsess over this demographic. (Repeat plays are obviously a valuable commodity for labels whose goal is market share gain and/or chart success.)
Yet the music business has some serious thinking to do about its youth-fixated strategy.
Official industry data, released this week by IFPI, showed that annual growth in global streaming income at labels started slowing last year – down from $2.7bn in 2018 to $2.2bn in 2019.
Now, a $2.2bn yearly gain in any format is hardly cause for major concern. But it does beg the question: as fiscal increases from mature streaming markets begin to slow, where is the bulk of the industry's monetary growth in the future going to come from?
Some would argue it will mainly happen in so-called 'emerging markets', like India or China – and, despite some clear challenges for the industry on this mission, the potential of these and other key non Anglo-American territories remains exciting.
But perhaps, in already 'developed' music markets like the United States and the United Kingdom, the record industry is at risk of missing out on a golden opportunity… if it doesn't start making a play for the boomers.
---
MBW's Stat Of The Week: 60% of new UK music streaming subscribers in the year to end of February 2020 were over 45 years old.
---
New research from the Entertainment Retailers Association (ERA) published this week has revealed that over 55-year-olds are the fastest growing group of music streaming subscribers in the UK. Widen that group to those over 45 years old and the trend gets even more pronounced.
According to ERA – whose members include the likes of Spotify, SoundCloud, Amazon, Deezer and YouTube – there were approximately 18.15m paying UK subscribers to music streaming services at the end of February 2020.
This figure was up by 2.835m on the equivalent number from the same period of the prior year (February 2019).
---
For the past six-and-a-half years, ERA has conducted a consumer tracking study, in which it has quizzes a panel of approximately 2,000 UK consumers about their entertainment consumption habits every quarter.
The org has overlaid its latest findings from this study with its wider market estimates to suggest what the age breakdown of Britain's streaming consumer base looks like today.
Here's that picture.
---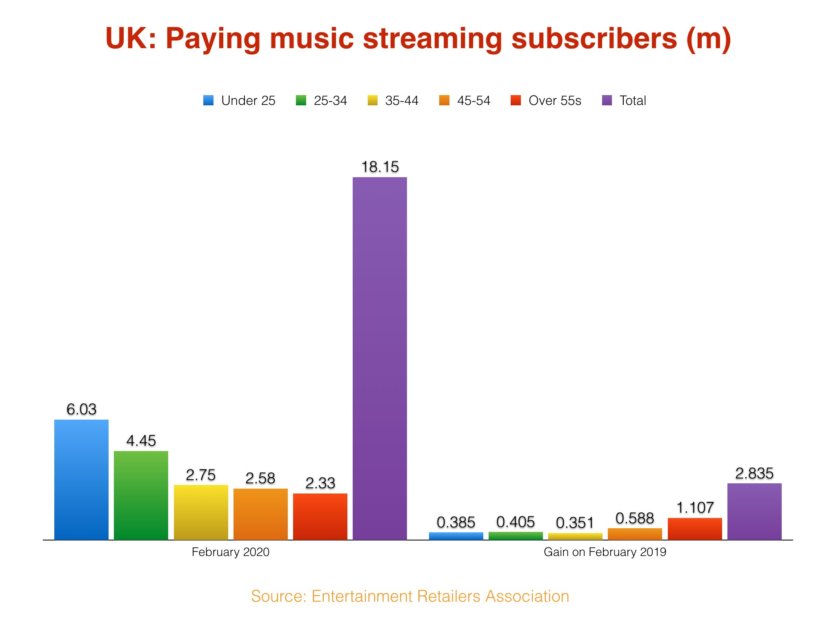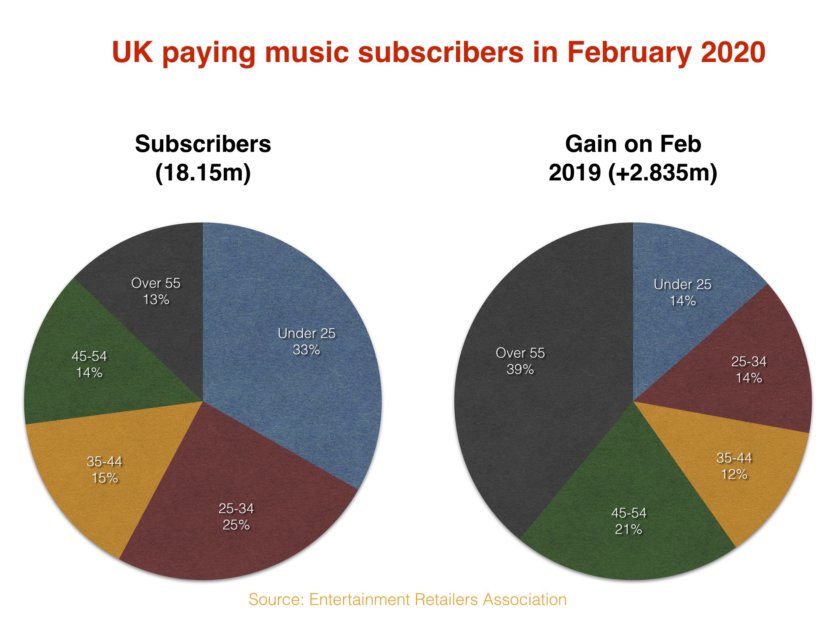 ---
A few things immediately jump out here:
Between them, people aged 45 and above (inc over 55s) comfortably added more music subscriptions to the UK industry's tally (+1.695m) in the past year than everyone 44 and under combined (+1.14m);
According to previously published ERA stats, UK calendar year spending on music streaming subscriptions in 2019 reached £1.003bn ($1.28bn), up £190.9m on the prior year (£812m). ERA's latest data suggests that 60% of this growth came from people 45 or over, and that 72% came from people 35 or over;
The 18.15m subscribers counted in February 2020 make up around 27% of the total UK population. This suggests, streaming market-wise, the UK is a little more mature than the USA: the latest RIAA data shows that the average number of paid subscriptions in the States across the 12 months of last year was 60.4m, which works out at approximately 18% of the total US population. Will the States therefore see a similar demographic shift on streaming in the years to come? (The RIAA number, it should be said, does not necessarily reflect the total number of individual subscribers, which will be higher due to family plans etc.)
---
Right now, with 58% of all UK subscriptions, Millennials and Gen Z (people 34 and younger) remain the most lucrative age group for the UK music business in streaming terms. Everyone else (people 35 and older) claimed a 42% share of subscriptions in February 2020.
This will all change, however, if the trend seen in the past year continues into the future.
Look what would happen to the UK streaming subscriptions market if the exact same growth seen in ERA's February 2020 stats (i.e. a 2.835m annual subs gain, with the majority amongst older consumers) plays out again over the next two years:
---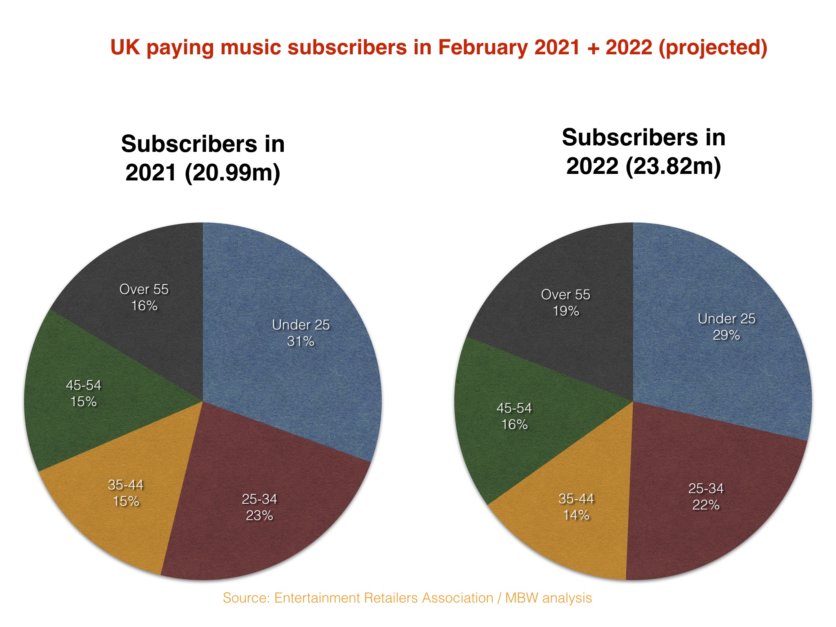 ---
In this projection, by Q1 2022, there would almost be as many UK people over 35 paying for music streaming subscriptions (49%) as there were under 35 (51%).
There's no certainty that this outcome will happen in 2021 and 2022, of course, although ERA itself concludes from its recent research that "as [UK streaming] penetration begins to plateau in the younger age groups, the growth rate is accelerating in the older age groups".
ERA CEO Kim Bayley adds: "Over-55 year olds are the new battleground in the streaming market. Previously streaming services have very much been regarded as something for music's traditional younger fanbase. These numbers show that 24/7 access to all the music you could wish for is also attractive to older music fans."
---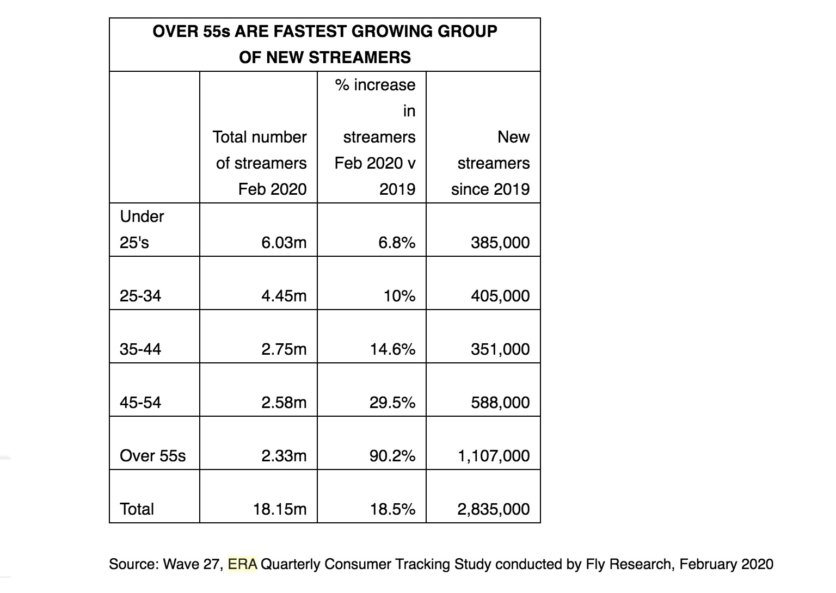 ---
Question is, if over 35s do start to become the dominant age segment on streaming services – aka the people paying the most money each month to the record business – how will the blockbuster music industry, now so accustomed to directing its marketing firepower towards the youth vote, respond?
Will catalog acts like The Beatles and Queen (pictured) – already the world's No.10 and No.5 biggest revenue-generating artists of last year, respectively – earn a heavier presence on services such as Spotify? And will the value of their catalogs (and the possibility of big money exclusive deals being struck for them) therefore increase exponentially?
Will certain streaming platforms, arguably better attuned to a non-Millennial/Gen Z audience – like Amazon Music – quickly gain market share in their pursuit of older customers?
And, if paid streams are more heavily weighted than free streams, how will the weekly charts evolve when the majority of people shelling out for streaming accounts are old enough to remember Nirvana on MTV Unplugged?Music Business Worldwide