MBW's Stat Of The Week is a series in which we highlight a data point that deserves the attention of the global music industry. Stat Of the Week is supported by Cinq Music Group, a technology-driven record label, distribution, and rights management company.
---
We're used to seeing annual music industry statistics emerging from the record label side of the business – but not so much from the business's streaming giants.
That imbalance was somewhat righted this week with publication of the 2020 Streaming Forward report from the US-based Digital Media Association, whose members include Amazon, Apple, Pandora, Spotify and YouTube.
Created in conjunction with Midia Research, the report reveals that in 2019, digital services saw US consumer spend on music streaming subscriptions hit $6.93bn, up 25.2% year-on-year.
This figure was generated via 87.5m paid streaming accounts (as of the end of December 2019), says the report – shared by 99m legitimate subscribers. (The discrepancy between these two numbers is because some of these accounts are shared between multiple people via Family Plans etc.)
Considering there are around 328m people living in the United States, this means that nearly a third of the country's residents are now subscribers (whether they pay the bill directly or otherwise) to music streaming services.
---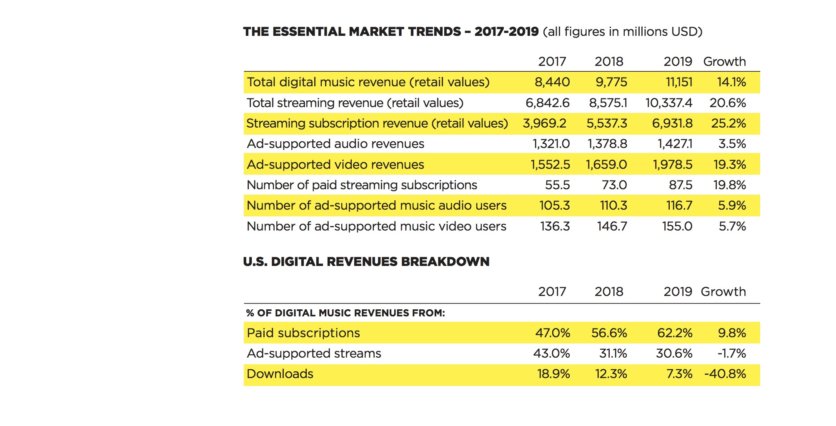 ---
Another interesting data point: according to Streaming Forward, there were a total of 116.7m users of ad-supported audio streaming services (i.e. Spotify's 'free' tier etc.) in 2019.
That's not too many more than 99m people who were using paid subscription audio accounts.
DiMA says in its report that "it is clear that streaming is on track to surpass terrestrial radio's audience [in the US] and is outpacing the number of consumers who still physically purchase music for listening".
In total, music streaming services in the States – across audio ad-supported, video ad-supported (i.e. YouTube and Vevo) plus subscription – generated $10.337bn in 2019, says DiMA's report, up 20.6% YoY.
---
Obviously enough, the numbers published by DIMA (via Spotify, Apple etc.) reflect the retail revenues generated by these companies' music platforms.
A chunk of this money would subsequently be paid out to music rightsholders – i.e. record labels/distributors and music publishers.
Helpfully, DiMA and Midia publish their own estimate of recorded music industry trade revenues (i.e. the wholesale cash paid to record labels/distributors) across both ad-funded and subscription streaming. In 2019, this recorded music wholesale figure came out at $5.279bn.
That equated to 51% of the total amount of streaming money generated by the services ($10.337bn) in the year.
---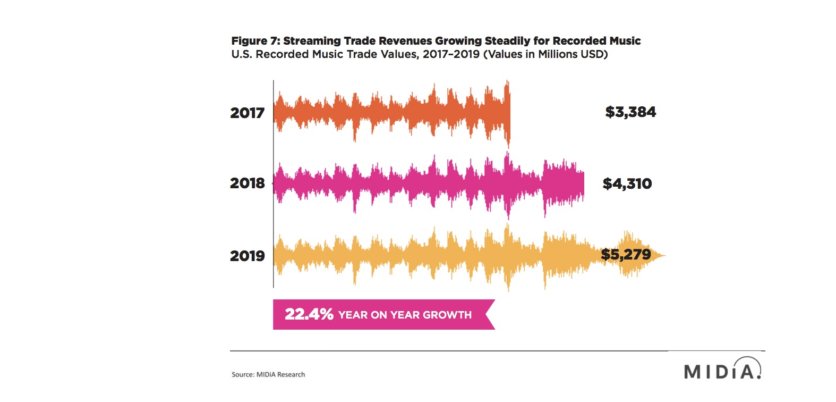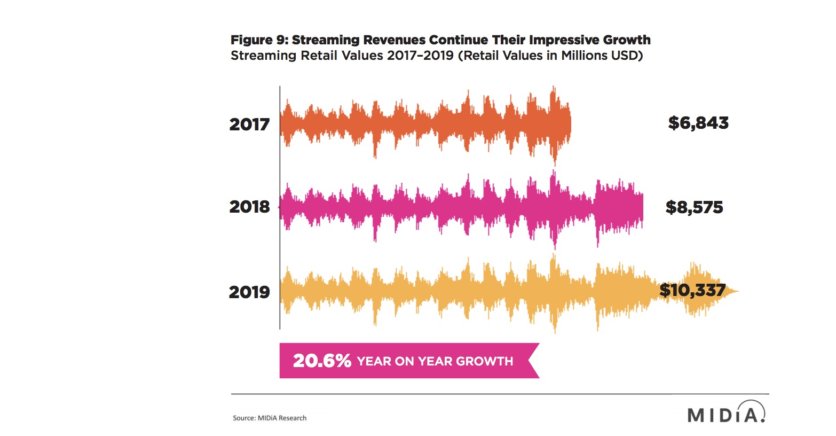 ---
Another notable segment of the report suggests that, despite a slowing of growth in subscription streaming revenues, total money generated by music streaming platforms in the US will continue to see impressive increases in the years ahead.
Streaming Forward forecasts that the $10.3bn seen from streaming in 2019 will rise to $13.9bn in 2021 and $15.9bn in 2024. (It should be noted that the data in Streaming Forward was compiled before the COVID-19 pandemic shut down many industry income sources in 2020.)
One of the main drivers behind this future growth will be smart speakers – and DiMA / Midia provide some interesting numbers on this topic, too.
---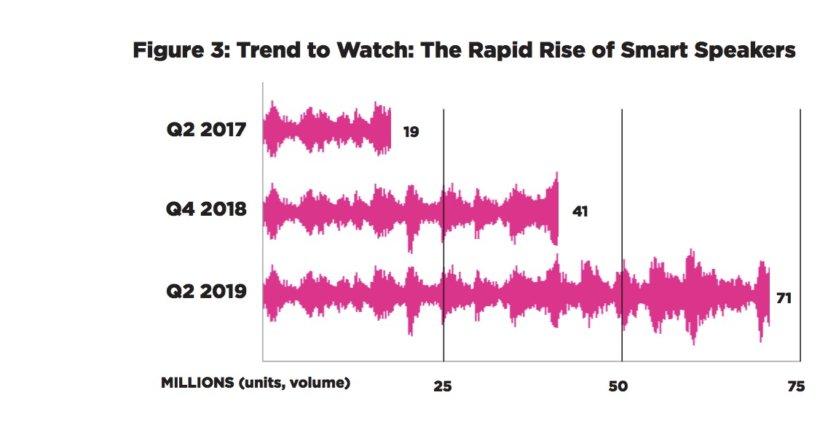 ---
According to Streaming Forward, there were 71 million owned smart speakers in the United States at the close of Q2 2019, a number which had almost quadrupled in just two years.
The report reads: "Music listening on smart speakers in the home is still in its early stages… The evolution of streaming through smart speakers is one of the most exciting opportunities the industry has ever had and developments in this area are worth close attention in the coming years."
---

Cinq Music Group's repertoire has won Grammy awards, dozens of Gold and Platinum RIAA certifications, and numerous No.1 chart positions on a variety of Billboard charts. Its repertoire includes heavyweights such as Bad Bunny, Janet Jackson, Daddy Yankee, T.I., Sean Kingston, Anuel, and hundreds more.Music Business Worldwide