MBW's Stat Of The Week is a series in which we highlight a data point that deserves the attention of the global music industry. Stat Of the Week is supported by Cinq Music Group, a technology-driven record label, distribution, and rights management company.
---
The modern music business, as leading executives are often reminding us, is the global music business.
Hits can come from anywhere in the Spotify era, goes the logic. Even language is no longer a barrier to international success in a post-Despacito world.
Yet here's the funny, unexpected thing that's playing out as streaming increases its stranglehold on the global industry: the success of local artists, in local territories – in contrast to globe-spanning superstars – is becoming an increasingly important component of the music business.
So much so, that local consumption of local artists is comfortably generating the majority of prosperity for the blockbuster record industry as we stand today.
That's the indication from some under-discussed statistics, spotted by MBW, in the latest company report of Universal Music Group (via its parent Vivendi).
According to Vivendi's annual report for 2019, local artists (i.e. artists from a certain territory, selling / being streamed in that territory) accounted for 61% of UMG's revenues last year.
To flip that on its head, just 39% of UMG's revenues last year were generated by the consumption of music outside of an artist's home territory.
Looking back through previous Vivendi annual filings tells us this is a real trend to watch.
In 2018, says Vivendi, "content by local artists in their own country" accounted for nearly 60% of UMG's sales; in 2017, this number stood at 59.4%; in 2016, it was 59.0%.
The power of local artists in home markets is clearly creeping up.
You only need look at France for further evidence: according to local market monitor SNEP, some 19 of the Top 20 most successful albums in the European country last year were release by French (and, what's more, French speaking) artists.
Across the year's Top 200 albums, says SNEP, French artists claimed 80%.
---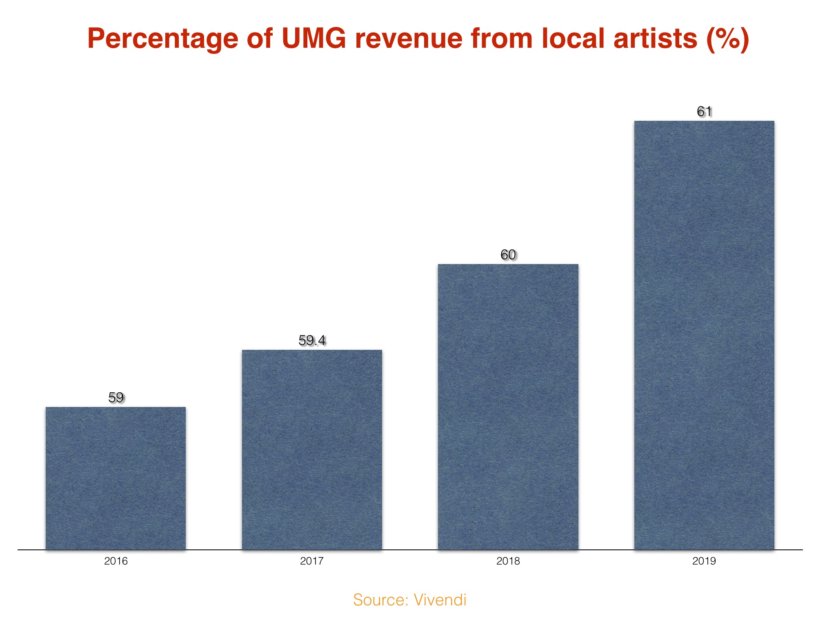 ---
Vivendi's data tells us that, last year, Universal was signing local artists in nearly 60 countries, with albums recorded in 44 languages.
Furthermore, Vivendi states that the fact 61% of Universal's 2019 revenues were derived from local artists "highlights [UMG's] ongoing commitment to investing in local talent, infrastructure and skills".
It adds: "UMG's growth stems from its ability to develop its roster of artists with international reach, but also to spot and promote local artists, from young and emerging to best-selling acts. Supporting cultural diversity is integral to UMG's success."
And, even in 2020 – an abnormal commercial year, for obvious reasons – this kind of investment doesn't appear to be letting up.
In the past month alone, we've seen Universal launch its TuneCore rival Spinnup in Japan, as well as expanding its team in MENA by opening local HQs in Morocco and Israel, while UMG-owned distribution company Ingrooves has continued its own rapid global expansion by arriving in Turkey.
Elsewhere, amongst other key international moves, Universal has this year struck a partnership with Nigeria's Aristokrat – adding to UMG's own presence in the market – and launched Def Jam Africa, following the launch of Def Jam South East Asia in September 2019.
Naturally, Universal isn't alone in its strong investment in regions outside of the US and the UK.
For example, in the last month, Sony Music has launched Epic Records in France, inked a JV with entertainment & brand agency Celebrity Services Africa (CSA) to develop more artists in Africa, and bolstered its presence in Turkey with the hiring of Özden Bora as local MD.
Additionally, to pick just a few examples, Sony/ATV has launched in India – where both Warner and Universal have recently made major plays for Punjabi music via local partnerships – while Warner Chappell Music has opened a second office in Shanghai, while inking an agreement with NetEase Cloud Music in China.
The list goes on (a few more: UMPG expanding in China; Downtown buying Sheer in South Africa; Kobalt entering the Indian publishing market via Turnkey; Warner investing in Africori).
All of this activity is taking place because these large-scale companies know that, paradoxically, the modern music business might be the global music business, but in order to win, you have to think local – and invest local – like never before.
---

Cinq Music Group's repertoire has won Grammy awards, dozens of Gold and Platinum RIAA certifications, and numerous No.1 chart positions on a variety of Billboard charts. Its repertoire includes heavyweights such as Bad Bunny, Janet Jackson, Daddy Yankee, T.I., Sean Kingston, Anuel, and hundreds more.Music Business Worldwide