"Here's what I don't get: Why do they expect our music to cost next to nothing in emerging markets, but when I go to India, a BMW costs the same as a BMW everywhere else?"
A high-ranking major record company executive, speaking in private this week, raises an interesting point.
Obviously, music is a unique case study: with the twin challenges of rampant free YouTube and piracy, convincing consumers in emerging markets like India, Brazil or Russia to pay any money for a streaming subscription is no easy feat. (Russia, incidentally, is going to be Spotify's next major territory launch, MBW is told by reliable sources.)
Yet one piece of news from this week reiterates our mystery executive's point: Amazon Echo's launch in Brazil.
The standard prices for Amazon's three latest-model Echo hardware devices (Echo Dot, Amazon Echo and Echo Show 5) range from R$349 to R$699 (two will launch with introductory discounts) – the equivalent of approximately US $85 to $169. Yet in the States, the same devices cost between $49.99 and $89.99.
However, a standard individual plan to Amazon's premium music streaming service, Amazon Music Unlimited, which launched in Brazil three weeks ago, costs R$16.90 (the equivalent of US $4.16) per month in the South American territory, or R$169.00 (US $41.63) for a whole year.
In the States, the price of that same service will set you back double: Non-Prime members pay $9.99 per month for access to AMU in the US.
---
Why does this all matter? Because an intriguing trend is starting to surface: music streaming subscriptions are typically far cheaper in emerging markets than they are in the US and Europe, but hardware built to play that music – often from the very same companies running the music services – is significantly more expensive.
This pattern is certainly not limited to Brazil, or to Amazon. Take the Google Home speaker, for example, which is priced at $49 to $99 in the US. In India, the same Google devices costs between INR 4,999 and INR 9,999 – the equivalent of $70.58 – $141.17.
Yet a YouTube Music subscription costs 99 rupees ($1.40) per month in India, while a fuller YouTube Premium sub is 129 rupees ($1.82). In the US, a YouTube Music subscription is $11.99 per month.
---
Why are these higher prices being attached to hardware but not music streaming services?
There are a number of factors. Firstly, there are different customs duties on products imported from country to country which will have an effect on a physical product's final retail price.
Secondly, in the above mentioned countries, the per capita (per-head) GDP is drastically lower than in the US. According to World Bank statistics, Brazil's annual per-capita (i.e. per-head) GDP in 2018 was $8,921. In India, it was $2,016. In the US? $62,641.
The average consumer in emerging markets evidently has less disposable cash to part ways with each year, and music subscription pricing has obviously been designed with this sensitivity in mind.
Yet it certainly looks like music subscription services – which remain famously unprofitable even at the world's biggest companies – are being used as loss-leaders in these emerging markets; they are a key entry point to upsell consumers to expensive complementary hardware.
---
All of which brings us back to the question posed at the start of this article: "Why do they expect our music to cost next to nothing in emerging markets, but when I go to India, a BMW costs the same as a BMW everywhere else?"
The anonymous major label exec is questioning whether tech giants are undervaluing music in multiple global markets. Yet, as we've seen, those same streaming companies are refusing to take a similar price hit on their flagship music hardware.
The big question, then: Where does all of this leave Spotify, a company striving to convince Wall Street of its future profitability credentials as a pureplay music (or, at the very least, pureplay audio) proposition?
Without a hardware 'get out' attached to its music service, the company's global Average Revenue Per User (ARPU) continues to tumble as it launches low-priced iterations of its service in markets like India, the Middle East and Vietnam.
---
If you hadn't noticed, SPOT's share price has been taking a kicking of late. At the close of the NYSE yesterday (October 3), it stood at $114.82, representing a company-wide market cap value of $20.64bn.
Last Friday (September 27), that same share price fell to its second-lowest point of 2019 ($112.24), representing a market cap of $20.17bn.
---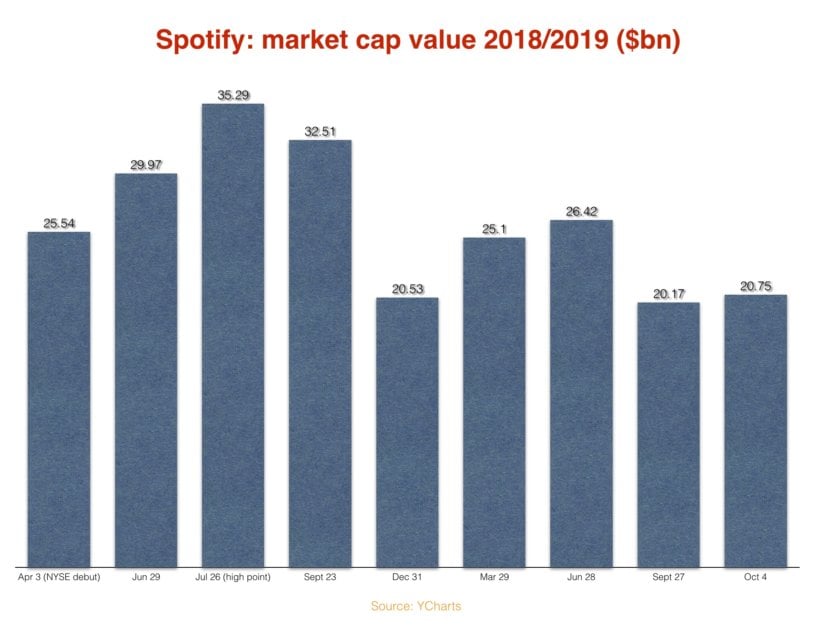 ---
That market cap is down by over $12bn on the same point a year ago, and over $15bn on the peak of Spotify's public valuation, which reached $35.29bn on July 26 last year, according to YCharts data. (SPOT's market cap topped $35bn once again, a month later, on August 27, 2018.)
Although the current Spotify stock price hasn't fallen as low as the to-date nadir for the company, which came at the close of 2018, it's certainly true to say SPOT is struggling to recapture the excitement on Wall Street which led to its valuation balooning just three months after it landed on the NYSE in April last year.
---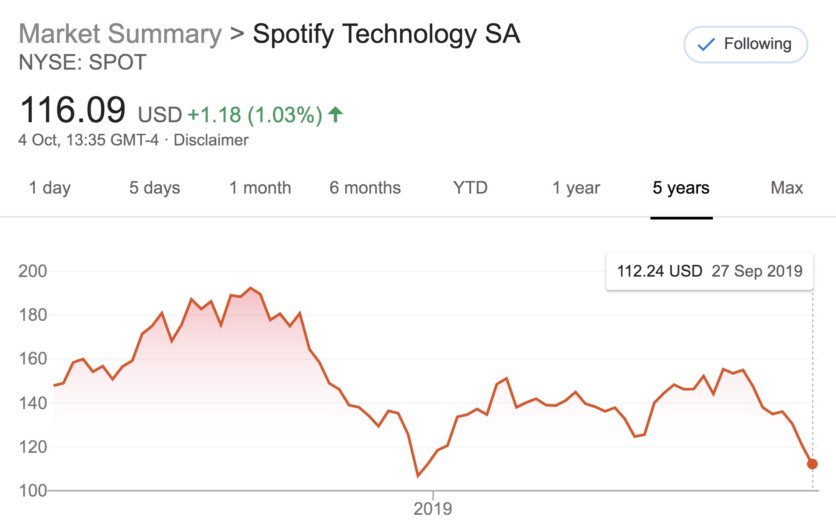 ---
Earlier this week, two significant investment groups responded to Spotify's tanking share price: Evercore and Credit Suisse.
The former upgraded its Spotify stock rating from 'Underperform' to 'In-Line', while Credit Suisse upgraded it from 'Underperform' to 'Neutral'.
This essentially suggested that both companies believe Spotify's stock pricing and market cap, following heavy declines, is now close to where it should naturally sit.
Evercore analyst Kevin Rippey wrote that "the path to substantial gross margin expansion for SPOT is unclear".
The financial press, reporting the moves, suggested that Spotify's stock price falls are "largely because of increased competition from companies such as Amazon.com, Apple, and Alphabet's Google".
All of which, like Spotify, have music streaming products priced at vast discounts for emerging markets.
And all of which, unlike Spotify, sell their music-playing hardware in those same markets for much the same prices – or more so – that they do in the United States.Music Business Worldwide