Spotify is running away with the paid-for music streaming market, according to new MBW research – just as Apple and YouTube ready new services to tackle its dominance.
The Swedish streaming platform released its full-year financial results last week, posting a €162m net loss despite revenues in excess of €1bn.
In calendar 2014, Spotify posted €1.08bn in revenues, of which €982.9m ($1.11bn) came from subscriptions and €98.9m ($113m) was derived from free users.
The past 12 months has been marked by the death of notable streaming services including Simfy and Sony Music Unlimited.
Spotify's dominance of the global market surely must have made it difficult for these platforms to survive.
According to the IFPI,  global subscription streaming revenues for labels and artists rose 39% to a total of US $1.57bn in 2014, making up 23% of digital revenues.
If we take Spotify at its word – that 70% of its revenues are passed to music rights-holders as royalties – then its subscription payout in 2014 would have been around $777m (or $771m at 2014 inflation).
Applied to the IFPI's figures, that would have made the premium digital revenues landscape in 2014 look something like this: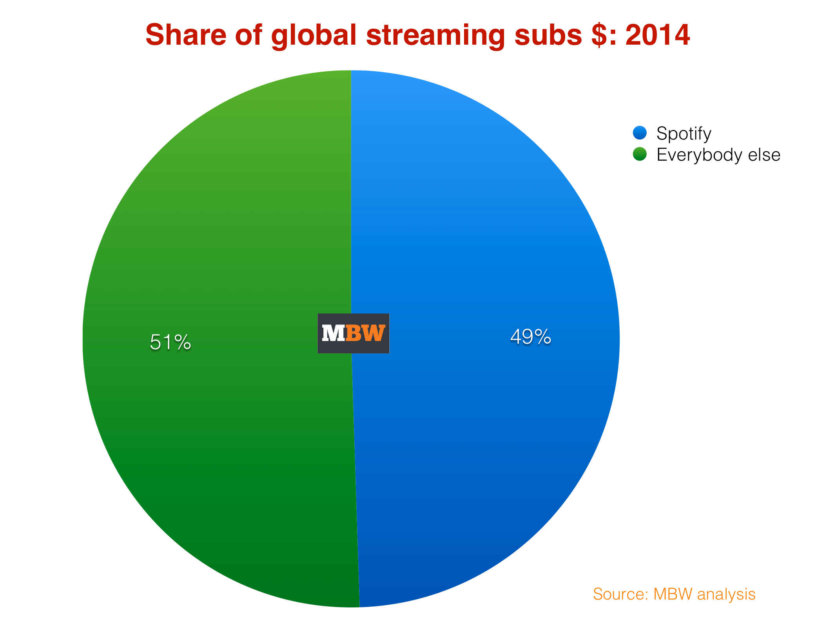 Remember, that green space includes revenues from the likes of Rdio, Beats Music, Deezer, Rhapsody/Napster and TIDAL (WimP).
This fits with comments from Spotify's Will Page made at Music Biz in the US this week, where he claimed that the platform contributed 10% of all US label revenues in Q1 2015.
In terms of ad-funded or 'freemium' streaming users – including YouTube and Vevo, as well as Spotify's free tier – the IFPI concluded that these equated to $641m in 2014.
Spotify's own ad-funded revenue in 2014 stood at €98.9m – $113m ($111m) – meaning it loses its dominance in this more populated, less rich field.
Applying Spotify's 70% royalty average, its 2014 ad-funded tally works out at $79m ($78m).
All of which means Spotify's share of ad-funded revenues in 2014 were approximately…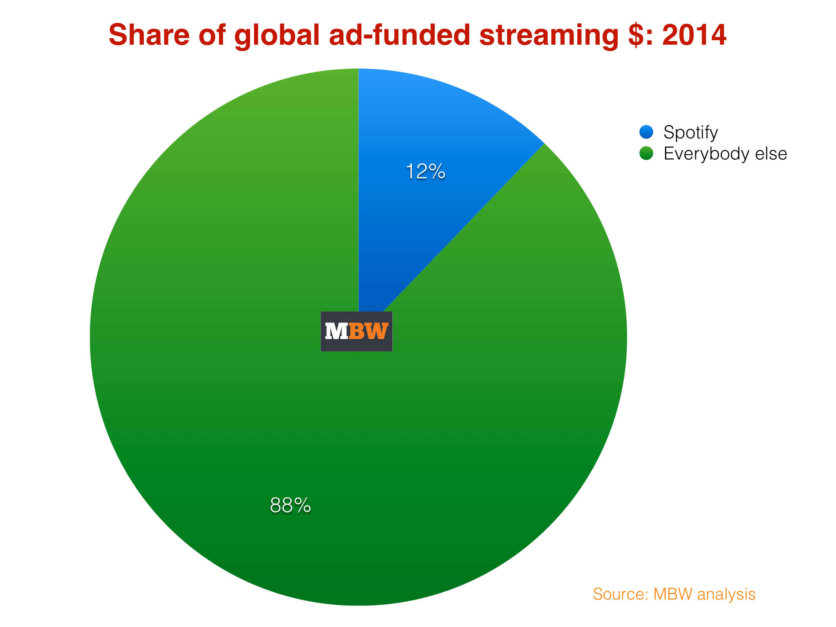 Interesting to note that when we look at the same numbers in 2013, we find that Spotify's dominance of paid-for streaming has remained solid, despite new players continuing to entering the market.
Spotify's subs revenue in 2013 was €678.7m – $774m (or $757m at inflation).
70% of that figure is $542m ($530m).
Meanwhile, the IFPI reported that subscription revenue for rights-holders hit $1.11bn in the year.
Which all means that Spotify's share of the market by value has dipped ever so slightly, despite its 45% growth in subscription revenue year-on-year.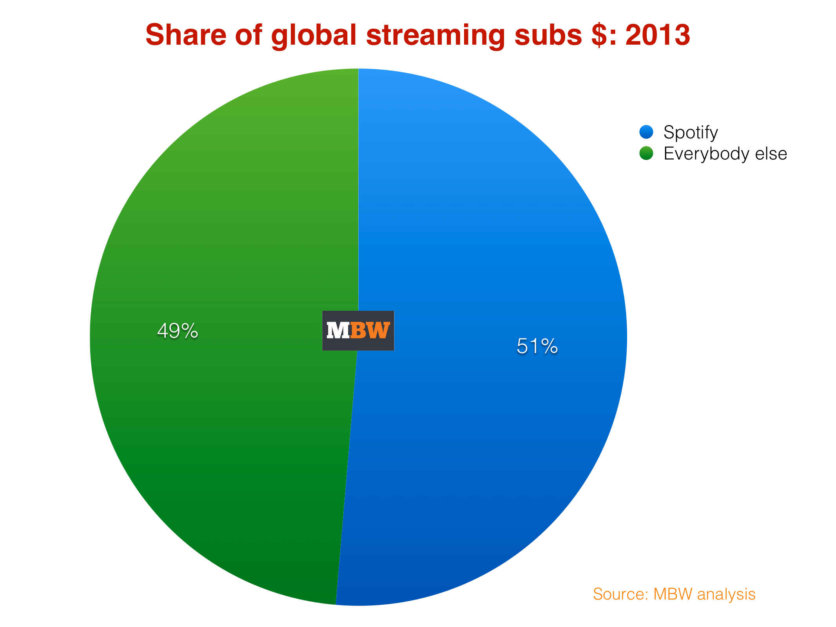 Music Business Worldwide