Spotify's UK company was profitable to the tune of £1.25m ($1.8m) last year.
The vast bulk of its sales came from subscription – but its advertising revenues in the market actually fell.
According to a new filing on Companies House, Spotify Ltd (UK) posted £187.19m ($275.2m) in total revenues in 2015, up 18% on the £159.07m ($233.8m) recorded in 2014.
The business shelled out £149.19m ($219.3m) of this figure – or 80% – on cost of sales, predominantly made up of rights-holder licensing payouts.
Subscription was by far the UK company's biggest income stream, accounting for £171.7m ($251.6m) – or 92% of total revenues – up 44% on the £119.16m ($175.2m) recorded in 2014.
In news which may displease labels (with whom Spotify is currently locked in negotiations), advertising revenues hit £10.85m ($15.9m) in 2015, down just over 2% on the £11.09m ($16.3m) recorded in 2014.
As a result, ad revenues accounted for 5.8% of total Spotify UK revenues in 2015, compared to 7% the year before.
Worldwide, Spotify's advertising revenues nearly doubled in the 12 months, up 98%.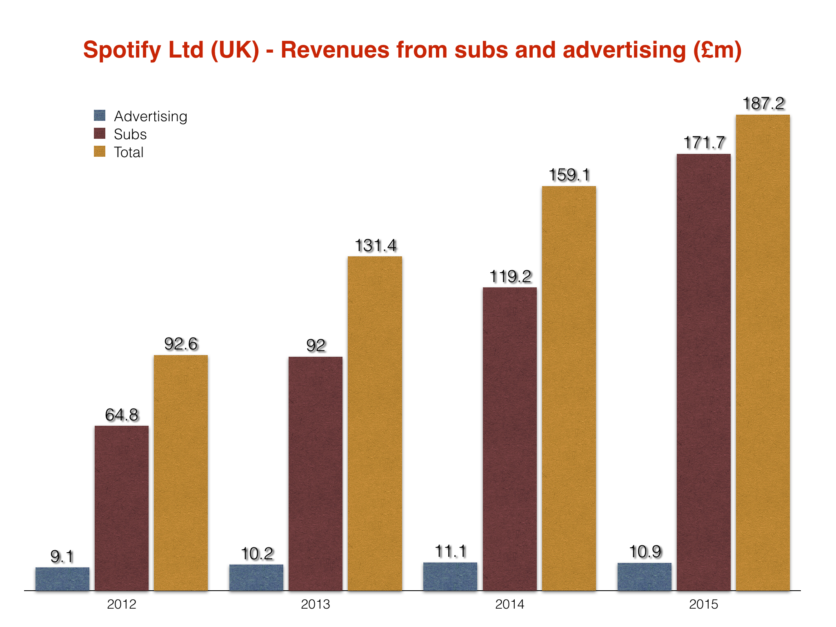 Its UK company spent £9.35m ($13.7m) on wages and salaries in the year, across 180 employees – an average of £51,944 ($76,350).
Spotify Ltd posted a £1.25m ($1.8m) total comprehensive profit in the year, improving on a £1.21m loss in 2014.
As MBW revealed in May, Spotify posted global revenues of €1.95bn (£1.47bn; $2.2bn) – meaning that the UK company contributed around 13% of its worldwide income.
The streaming business posted a global net loss of $194m (£147m; €173.1m) in 2015, widening by just 6.7% compared to 2014.
Yesterday we learned that Spotify co-founder Martin Lorentzon was stepping down as Chairman of the company after 10 years. He will continue on the Spotify board.
The news came a month after we reported that CRO Jeff Levick and and top global sales exec Jonathan Forster were also departing.
[All £/$ exchanges made at January 2016 rate.]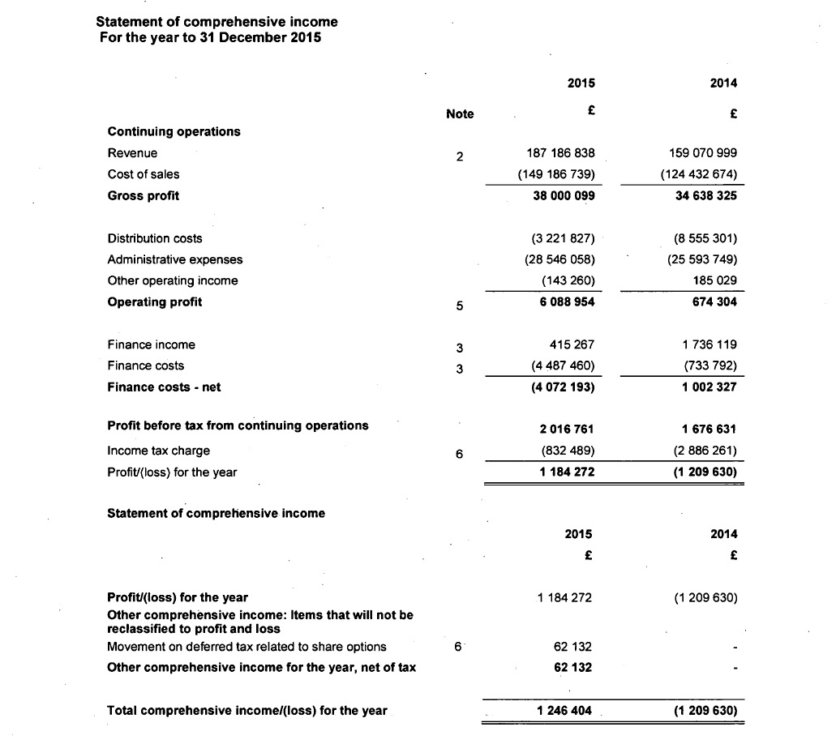 Music Business Worldwide