Spotify is planning to raise the price of its family subscription plan by 13% in Scandinavia.
That's according to a report in Bloomberg today (August 15), citing people familiar with the matter.
Bloomberg's report stresses that the increase is a "test", and not necessarily a permanent price hike in the region – nor, it reports, is it an indication of an intention to increase prices elsewhere in the world.
This is not the first time that Spotify has raised its prices in the region however: in July 2018, it increased its standard, student and family plans by 10% in Norway. (It seems likely, therefore, that this newly-reported 13% rise will come in the Nordics outside of Norway itself, but we shall see.)
Although Spotify continually refers to the Norway price increases as a "test", these hiked prices have never come back down: a standard subscription to Spotify in the country still currently costs 108 NOK per month. That's equivalent to approximately $12.12, and 10 NOK higher than a sub cost before the price rise in July 2018.
Likewise, a Spotify Family Plan in Norway remains at the newer, higher price of 169 NOK ($18.76) per month, up from 159 NOK previously.
---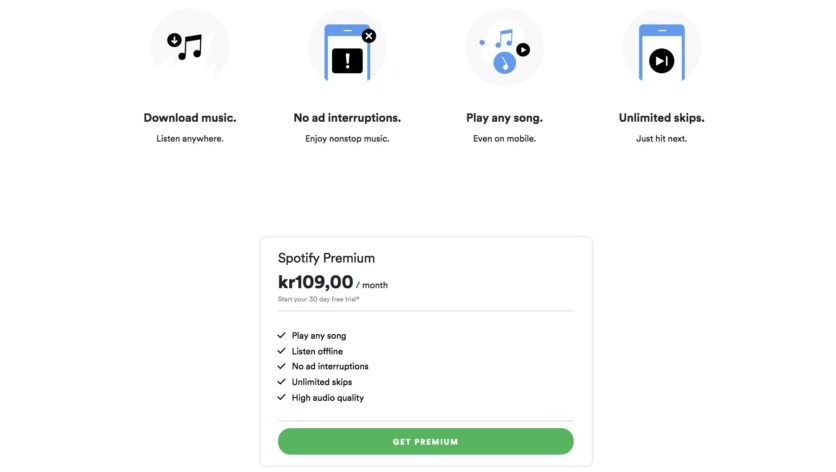 ---
MBW has reported extensively in the past of Spotify's continued dismissal of industry calls to increase its prices, with its declining global ARPU (Average Revenue Per paying User) rate increasingly being called into to question.
As revealed in Spotify's Q2 financial results, the company's average paying subscriber across the world (ARPU) in Q2 2019 paid €4.86, down less than 1% YoY, but down 2% excluding the impact from foreign exchange rates.
"Downward pressure on ARPU continues to moderate, and we continue to expect that ARPU declines through the remainder of the year will be in the low single digits," said Spotify at the time.
Spotify's declining ARPU can be attributed to a number of factors.
These include the cost of its service in emerging markets such as India where it launched in February for the equivalent of $1.67 a month, and its telco bundles, such as the recently announced AT&T deal, which will see the US-based operator's Unlimited & More Premium customers offered free Spotify subscriptions.
Today's news will be welcomed by investors and industry figures who suggest that an increase to Spotify's standard subscription price – especially in Europe where some 36% (the equivalent of 83.5m people) of Spotify's Monthly Active Users were located at the end of Q2 – could be a solution the company's declining ARPU.
Spotify's global Monthly Active User count (active free users and subscribers combined) was up 29% year-on-year in Q2, and up by 15 million people quarter-on-quarter to 232m.
Spotify counted 108m paid subscribers at the end of Q2.Music Business Worldwide