Spotify published its financial results for Q3 2021 today (October 27), revealing that its global Premium Subscriber base grew to 172 million in the quarter (ended September 30).
That was up 19% year-on-year, and up by 4%, or 7 million subscribers, on the 165m that SPOT counted at the end of the prior quarter (Q2 2021).
The company's total global Monthly Active Users, (MAUs), meanwhile, grew 19% year-on-year to 381m in Q3 2021 and by 4% compared to the previous quarter (Q2 2021) when the platform counted 365m MAUs.
Spotify's guidance for Q3 2021 included total MAUs of between 377-382 million, total Premium subscribers of between 170-174 million.
Spotify's Premium subscriber growth translated into Premium revenue of €2.178 billion ($2.52bn at current exchange rates) in Q3, which was up by 6% on the €2.056 billion ($2.38bn) generated in the prior quarter (Q2 2021).
The firm's average monthly revenue per user (ARPU) landed at €4.34 ($5.03) in Q3, up 4% year-on-year (up 3% year-on-year at constant currency). SPOT says that it "saw a benefit to ARPU primarily from our price increases".
Meanwhile, Spotify's ad-supported revenue hit €323 million ($374m) in Q3, up 17% on the €275 million ($319m) generated in the prior quarter (Q2 2021), and up by 75% year-on-year (see below).
Spotify's Ad-Supported MAUs grew by 10m – from 210m in the prior quarter (Q2 2021) to 220m in Q3.
In a letter to shareholders, the company writes that "Nearly all of [SPOT's] major metrics finished better than expected [in Q3], including MAUs, Revenue, Gross Margin, and Operating Income".
Adds the letter: "Subscriber growth was inline and importantly, ARPU growth increased year-on-year. Additionally, we saw another quarter of significant advertising strength and user engagement metrics across many markets showed encouraging signs of growth."
Spotify tells shareholders that it experienced double digit year-on-year growth in all regions with "particular strength in Rest of World where performance was aided by the resumption of marketing activity in India along with above-plan growth in the Philippines and Indonesia".
The music streaming company also says that it saw "improved momentum across the 86 markets launched earlier this year, with "outperformance" led by South Korea, Bangladesh, and Pakistan.
---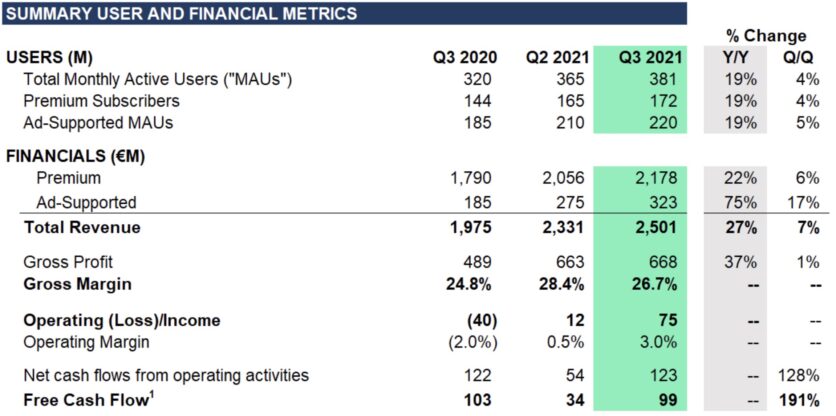 ---
In its letter to shareholders, Spotify notes that the platform's Ad-Supported Revenue "meaningfully outperformed", and was "driven by higher sold impressions, increased CPMs, and accelerated demand within the Spotify Audience Network.
Added Spotify: "The strength in advertising was broad-based across all sales channels, with the United States and United Kingdom meaningfully exceeding expectations.
"Our music business was driven by growth in impressions, a meaningful improvement in sell-through rate, and double-digit CPM growth.
"Our Podcast business was driven by strong double-digit YoY growth at existing Spotify studios (The Ringer, Parcast, Spotify Studios, and Gimlet) along with the Megaphone acquisition and the exclusive licensing of the Joe Rogan Experience, Armchair Expert with Dax Shephard, and Call Her Daddy."
Elsewhere in SPOT's latest filing, the company notes that within its Two-Sided Marketplace strategy, it continued to test Discovery Mode with record labels and distributors, and  "saw [quarter on quarter] growth in customers and Gross Profit contribution".
Sponsored Recommendations, meanwhile, such as, the Marquee tool, also continued to gain traction in Q3 according to Spotify as it expanded into more markets including France, Monaco, Switzerland, Germany, Austria, and Liechtenstein.
Spotify has maintained its prior Q4 guidance for Total MAUs, Total Premium Subscribers, and Operating Profit/Loss, but has increased the bottom end of the range for its Total Revenue and Gross Margin.
The company's guidance for Q4 2021 includes total MAUs of between 400-407 million, total Premium subscribers of between 177-181 million and total Revenue of €2.54-€2.68 billion.
"Audio is our right to win. While we have been relentless in our pursuit of being the world's largest audio platform, it's still early days and we are just getting started."

Daniel Ek, Spotify
Spotify CEO and founder, Daniel Ek, said: "We had a very strong quarter. The business is doing really well and I'm pleased that we continue to deliver across the areas that are fundamental to our growth and long term strategy.
"Audio is our right to win. While we have been relentless in our pursuit of being the world's largest audio platform, it's still early days and we are just getting started."Music Business Worldwide