Spotify ended Q1 (the three months to end of March) with 100m premium subscribers, the company has confirmed in a new financial update.
That was up 32% (+25m) year-on-year and up 4% (+4m) quarter-on-quarter.
The average Spotify subscriber across the world (ARPU) in the quarter paid €4.71, which was roughly flat year-on-year (down 2% excluding the impact from foreign exchange rates).
The firm told investors: "Downward pressure on ARPU has moderated, and we expect that ARPU declines through the remainder of the year will be in the low single digits."
Spotify's total monthly active users (MAUs) in Q1 grew 26% YoY to 217m.
The firm confirmed that it now has more than 2m users in India.
Spotify's total revenue in Q1 stood at €1.51bn, up 33% year-on-year. Premium/subscription revenue made up 92% of this figure at €1.39bn, up 34% YoY.
Ad-Supported revenue of €126m grew 24% YoY, but was significantly down on the €175m generated in Q4 2018.
Spotify's operating losses totalled €47m in Q1. The firm said its better than expected loss in the quarter was a result of higher Gross Profit and lower than expected marketing spend.
The company ended Q1 with €1.7 billion in cash and cash equivalents, restricted cash, and short term investments.
It now says it expects to end 2019 with between 245-265 million MAUs and 117-127 million premium subscribers.
---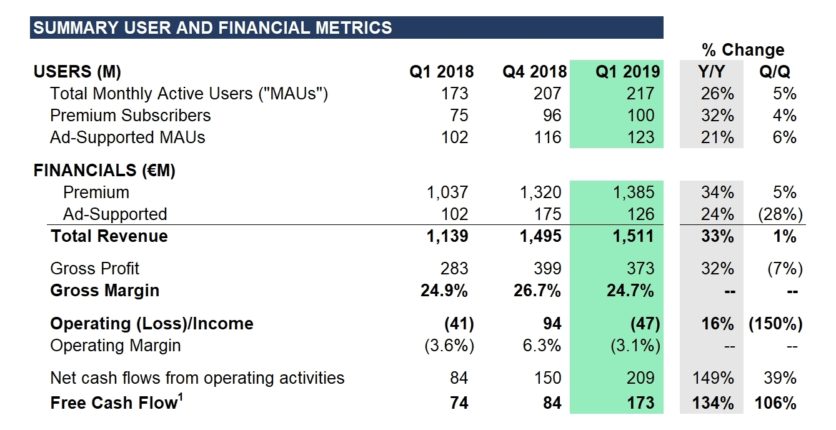 ---
Spotify commented: "We saw a small incremental benefit from podcasts during Q1 following our acquisitions of Gimlet Media and Anchor in February and the successful rollout of Spotify owned and exclusive content (The Joe Budden Podcast, Amy Schumer Presents: 3 Girls, 1 Keith, Dope Labs, etc.) We expect the revenue from podcasts to accelerate through 2019.
"Over time, our ambition is to develop a more robust advertising solution for podcasts that will allow us to layer in the kind of targeting, measurement, and reporting capabilities we have for the core Ad-Supported business."
It added: "Ad-Supported revenue growth underperformed our expectations in Q1, primarily in the US and primarily with our sponsored sessions video product. The performance shortfall was pricing related. We have course corrected and are seeing strong growth across the ads business in Q2.
"Two of our strongest areas of growth in Q1 were measurement and programmatic revenues. Measurement related revenues doubled from 20% to 40% of total ad revenues Y/Y, while Programmatic and Self-Serve grew 53% Y/Y and now account for 26% of Total Ad-Supported Revenue."Music Business Worldwide