Spotify made a big splash on the beach in the South of France for the Cannes Lions Festival of Creativity last month.
Spotify describes the event as "the largest global advertising showcase of the year", with Brian Benedik, VP, Global Head of Advertising Sales calling it "the Super Bowl for global marketers".
Why does Spotify's huge presence at this event matter?
Because as claimed by Benedik, "Spotify is a global advertising platform."
The first half of 2019 has seen the company hedge its bets on a format that will allow it to cram more advertising into its users' listening time. The way Spotify positions itself in front of the advertising world this year is an important part of its podcast strategy.
You might be growing tired of reading the word 'podcast' in the music trade press by now, but Spotify has been making so much noise about its plans in the field over the past year that it's difficult to ignore.
The firm announced the acquisition of podcast firms Gimlet Media and Anchor on February 6 and then Parcast the following month.
Spotify has also rolled out owned and exclusive content like the Joe Budden Podcast, Amy Schumer Presents: 3 Girls, 1 Keith, Dope Labs, and of course an exclusive deal with Barack and Michelle Obama's production company, Higher Ground.
---
Spotify revealed in its Q4 2018 financial update, released the same day of the Gimlet/Anchor announcement, that it was planning to spend up to $400-$500m on acquisitions this year. (This included $343m paid for Gimlet and Anchor.)
That's a huge bet on podcasts. So huge, in fact, that Spotify's cited $400-500m acquisition warchest is in the ballpark of what the entire podcast industry earned in ad revenue last year.
Advertising revenue from the podcast market was estimated to have grown 53% last year to around $479.1 million according to a recent report from the Interactive Advertising Bureau (IAB) and PwC. That figure is estimated to top $678.7m by the end of 2019 and $1 billion by 2021.
Spotify said in April that it saw "a small incremental benefit" from podcasts during Q1 2019 and expects its revenue from podcasts "to accelerate through 2019".
The company's gamble on podcasts and the potential for increased advertising revenue as a result has clearly struck a chord with Wall Street, too.
As reported by Business Insider on June 25, a research team at Guggenheim Partners led by Michael Morris "elevated its outlook for the streaming service's advertising revenue" in the wake of Spotify's recent podcast moves.
---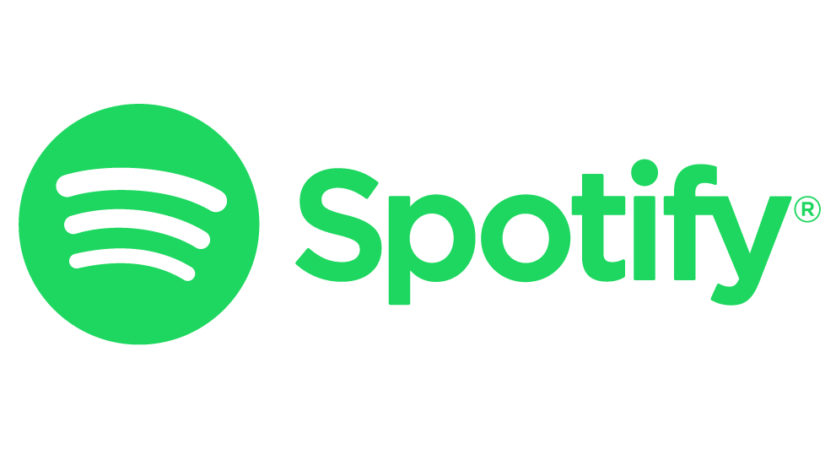 Spotify's advertising revenue has, historically, been underwhelming.
In Q4 2018, revenues from its ad-supported tier reached €175m ($200 million), which represented just 11.7% of its total revenue in those three months.
In Q1 2019, Spotify's quarterly ad-supported revenue was €126m – up  24% YoY, but substantially down on the €175m generated in the previous quarter.
Last October MBW asked Spotify's (now outgoing) advertising boss Benedik if the company would ever consider serving advertising to paid users, to which he replied that this was "not a line we will ever cross".
---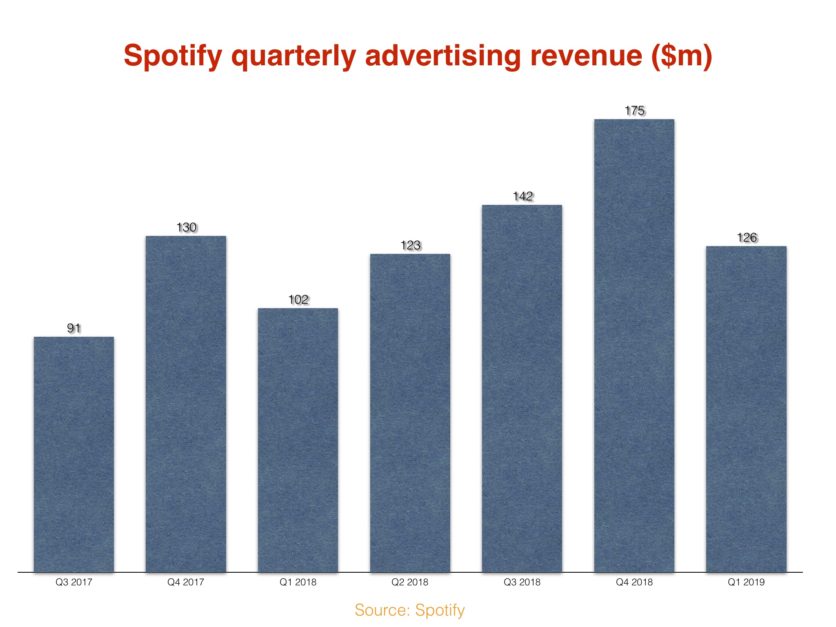 ---
Yet Spotify does serve ads to Premium users. It sells advertising in its original podcasts in the form of 'host reads' – i.e. advertising copy read out by the podcast hosts.
Benedik did make reference to this approach last October,  lauding it as Spotify's "main podcast ad driver right now", but the practice arguably contradicts the company's 'no ads for premium users' mantra.
Spotify is very keen to tell marketers how effective this form of advertising is. According to Spotify research, 81% of listeners took action after hearing host-read ads during a podcast.
"Host reads are a particularly effective way for brands to tap into the personal, intimate nature of the medium," writes the company in a post on Spotify for Brands.
"When listeners hear these hosts evangelising products, they don't feel like they're being marketed to — the effect is more like hearing about a product or service from a trusted friend."
---
If advertising revenue is one of the key drivers behind Spotify's podcast strategy, then the company is going to need to do more than merely sell host read advertising to scale this part of its business.
Spotify said as much in its Q2019 financial update: "Over time, our ambition is to develop a more robust advertising solution for podcasts that will allow us to layer in the kind of targeting, measurement, and reporting capabilities we have for the core ad-supported business," said the company.
The next step: Spotify recently announced that it is allowing advertisers to target users with content based on the type of podcasts they are listening to.
This ad targeting feature was initially tested with partners Samsung and 3M and rolled in 10 markets including the US, Canada, UK and Australia.
This hints as to where Spotify might be going, and what kind of company it might acquire next. Last October, Benedik gave us a clue about what Spotify might need: a "scalable digital ad insertion" solution for podcasts.
"Dynamic Audio ads allow advertisers to serve ads tailored to listeners in real time using listener data signals," explains the Digital Audio Buyers Guide 2019.
"The technology strings together different elements, or pieces of an audio ad, to get a message just right for each listener."
Spotify could of course build this in-house, and according to couple of job posts spotted by MBW it is working on something which fits the bill, but an audio ad-tech acquisition at this stage could make total sense.
Interesting to note, then, that now-Sirius-owned Pandora got there first, by acquiring AdsWizz – a former Spotify advertising network partner – in a $145m deal last year.Music Business Worldwide