Each week, The MBW Review gives our take on some of the biggest news stories of the previous seven days. This week, we delve further into Spotify's 2015 financials, which showed revenues of $2.18bn but a net loss of $194m. The MBW Review is supported by FUGA.
---
At Napster's piracy era height, 80m monthly users were swarming towards its platform.
It must have been particularly momentous for Sean Parker, then, to see Spotify surpass this milestone last year.
At the end of 2015, Spotify boasted 89m active users – 28m (or 31.5%) of which were paying customers.
Daniel Ek's promise to take the scalp of illegal downloading has come good.
Yet there's no getting away from the fact that Ek's business now faces some harsh commercial hazards.
Nor that some of them appear to be self-inflicted.
---
Spotify's global headcount reached 1,610 people in 2015 – representing a 19% year-on-year increase.
It's not hard to make the case that this was a necessity: after all, Spotify's paying subscriber base grew by 87% in the same period, up from 15m at the end of 2014.
No-one, least of all the major labels, can degenerate the importance of the income generated by this success.
However, Spotify's annual salary bill hit $173m (€155.3m) in 2015, meaning its average employee was paid more than $107,000 a year.
That was 13% up on the same figure in 2014, and around 50% bigger than the last-stated average yearly wage at SoundCloud.
Add in related expenses such as social security, pensions and share-based compensation, and Spotify spent $271m (€243.4m) on personnel last year – a jump of 35% on 2014.
Gulp: that works out at an annual cost of more than $168,000 per employee.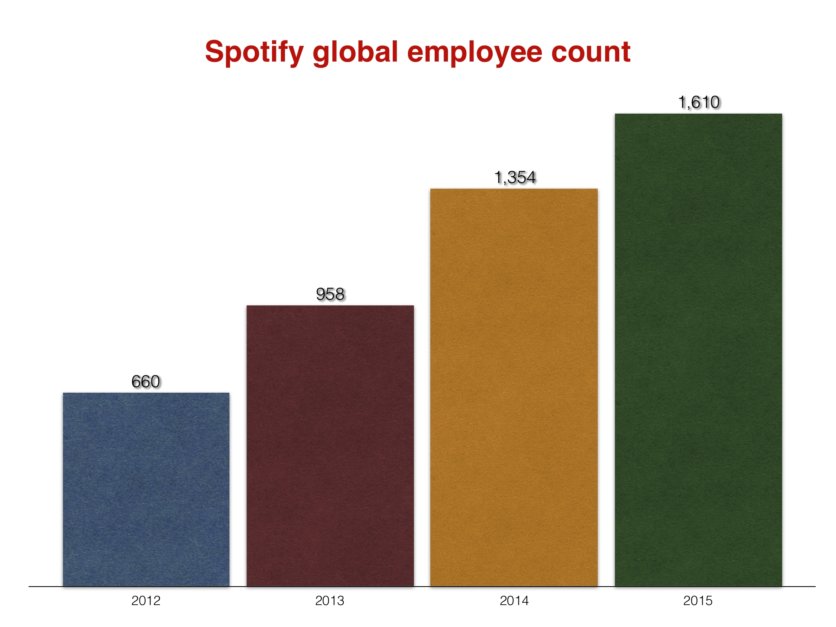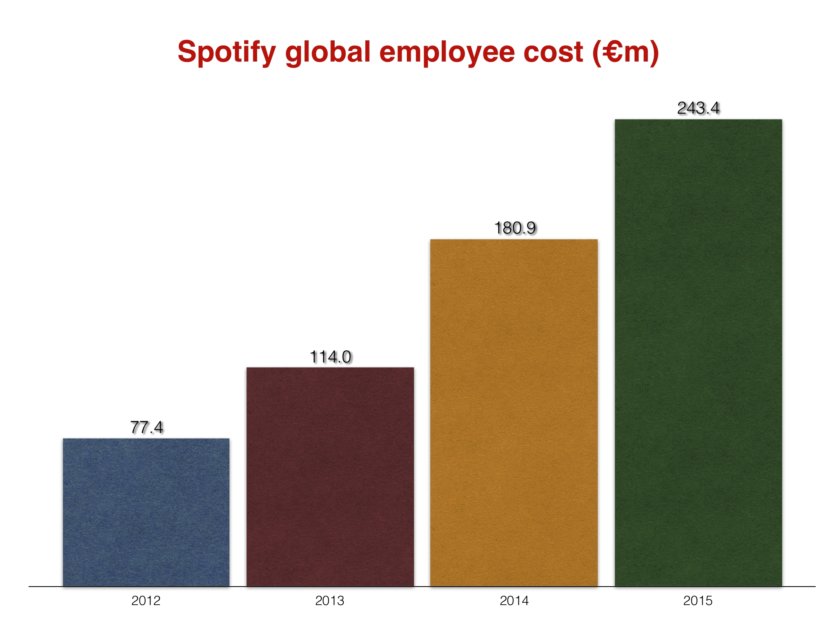 ---
These numbers are especially notable because Spotify's employment bill in 2015 ($271m) was significantly larger than its net loss ($194m).
Spotify told investors that this money helps "maintain Spotify's culture as we grow", ensuring that it doesn't "lose the innovation, teamwork and focus that contribute crucially to our business".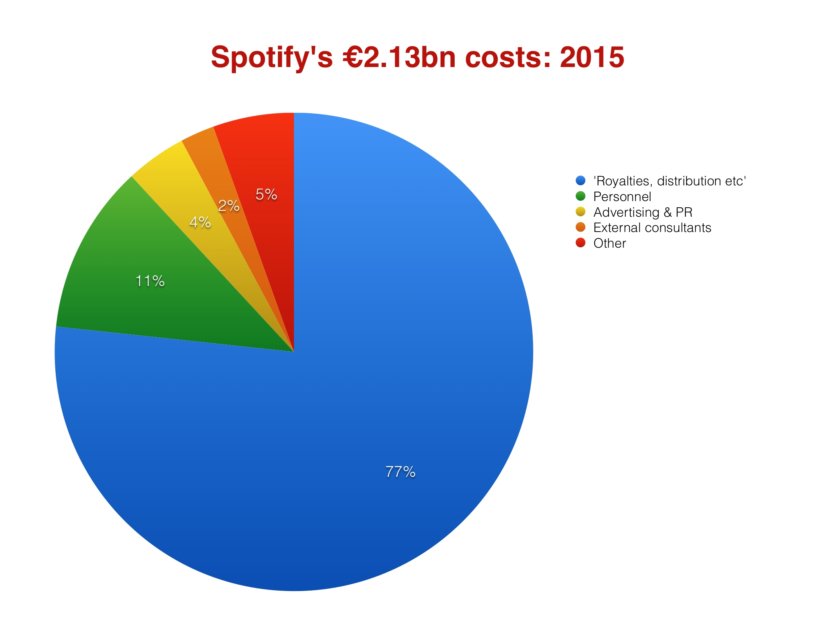 Of course, Spotify is a private company with private investors. (For the time being, anyway.)
If these investors are happy, and Daniel Ek's happy, what right does anyone from the music biz have to question Spotify's internal expenditure?
Especially when a back-breaking 77% of Spotify's costs last year (see above) were allocated to getting rights-holders paid?
Well… none.
Yet.
---

"Spotify will float. And then when they're on the stock market and our entire business doesn't have a hope of living without them, they'll call up and say: 'It's 60% now.'"
The words of a senior US-based record business figure speaking in confidence to MBW earlier this year.
His comment was laced with a little paranoia – but logic, too.
Generally, Spotify says it ensures 70% of gross revenues make their way back to labels and artists in licensing fees.
That's why the biggest drain on its 2015 balance sheet was 'royalty, distribution and other costs' – essentially payment to the music business, plus the mechanics of making it happen.
Setting the company back an eye-watering $1.83bn (€1.63bn), this category torched 84% of Spotify's total $2.18bn revenues last year.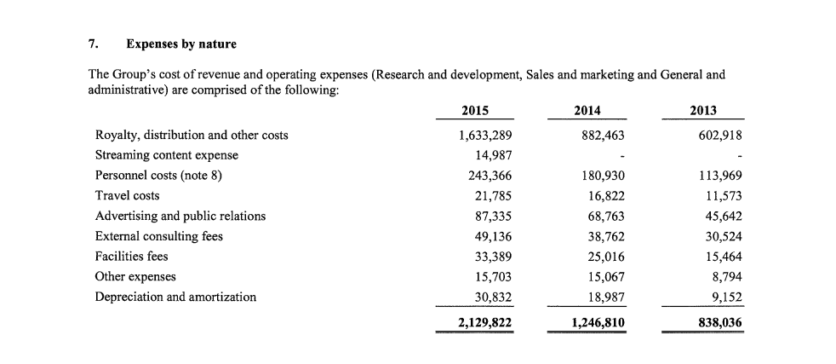 On the flip side, Spotify handed over most of the $2bn paid to labels from all subscription services in 2015 – services now fast becoming the No.1 earner for the record business's biggest players.
At some point, something is going to have to budge.
To our confidential exec's point: if Spotify had been permitted to peg back the percentage of gross revenues it paid the music biz in 2015 from 70% to 60%, it would have saved $218m.
More than enough to make it a profitable operation.
---

Spotify's recent billion-dollar funding will keep this royalty reduction conversation at bay for a while yet.
But, eventually, record labels are going to have to make a crucial call: are we willing to take a short-term downer in order to help Spotify un-break its business model?
Knowing major music companies as we do, this option will be naturally distasteful to the likes of Lucian Grainge and Doug Morris (pictured) – especially when they control the influence of equity stakes in Spotify.
You can therefore bet that Universal, Sony and others will meticulously mine Spotify's balance sheet for  signs of problematic expenses before acquiescing to any pay cut themselves.
This may be mightily unfair, considering how many bonuses Spotify has single-handedly earned certain label execs (while fending off threats from Apple, Google and Amazon on a comparative pittance).
Yet the fact remains: to cement Spotify's longevity after a golden period for music biz payouts, Daniel Ek may soon have some difficult explaining to do.
Spotify is bigger than Napster ever was.
But its ultimate fate is by no means secured.
---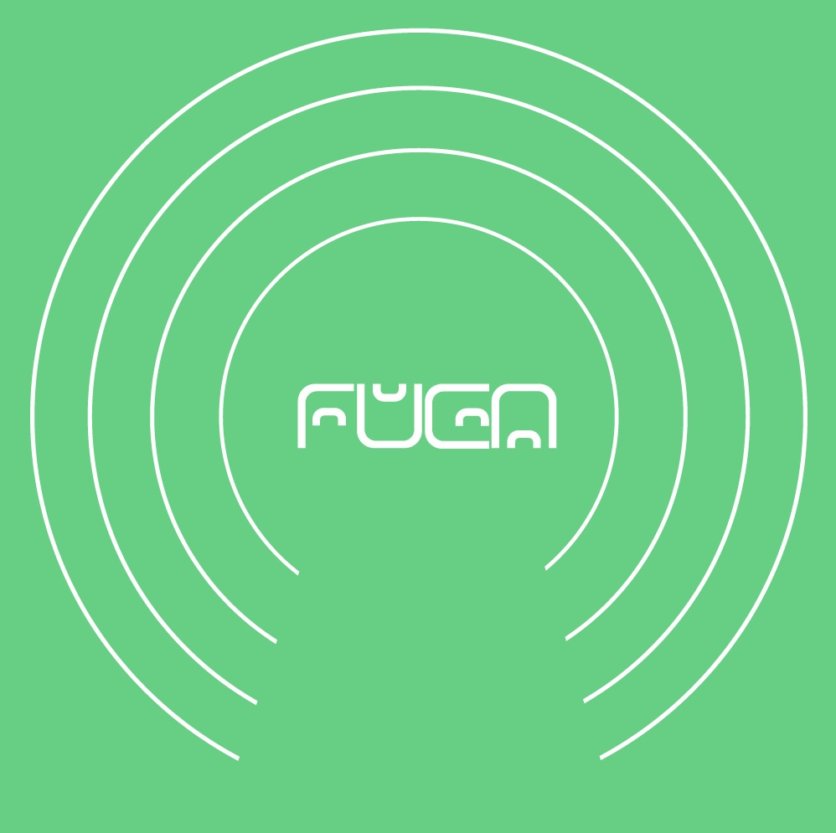 The MBW Review is supported by FUGA, the high-end technology partner for content owners and distributors. FUGA is the number one choice for some of the largest labels, management companies and distributors worldwide. With a broad array of services, its adaptable and flexible platform has been built, in conjunction with leading music partners, to provide seamless integration and meet rapidly evolving industry requirements. Learn more at www.fuga.comMusic Business Worldwide