Spotify is today launching a new bundle in the United States, in tandem with TV-on-demand service Hulu.
The streaming music company has announced that 'Spotify Premium with Hulu' will cost $12.99-a-month, offering access to Spotify's ad-free tier in addition to Hulu's 'Limited Commercial' service.
That's an increase of $3 per month on Spotify's standard $9.99-per-month Premium tariff.
Hulu's standard US packages are $7.99-per-month for 'Limited Commercials' and $11.99-per-month for a completely ad-free experience – although it does offer a month's free trial to new users.
Existing US-based Spotify subscribers can upgrade to the package from today (April 11), and Spotify says it will be rolled out to non-subscribers this summer.
Eligible existing Spotify Premium subscribers can also take advantage of a 99-cent promotional offer today, which will enable them to try the 'Hulu Limited Commercials plan' for three months as an introduction to the bundle.
"Hulu's TV content is highly acclaimed, and with this exclusive Spotify offer we are bundling two top media platforms for an unbeatable price."

Alex Norstrom, Spotify
Spotify offered a similar bundle deal with Hulu to students last year for $4.99-per-month, but is now expanding the package to its subscribers (and subsequently to its potential subscriber) in the US.
Hulu offers a catalogue of more than 75,000 current and classic TV shows and movies.
"Based on the outstanding performance of the Spotify and Hulu student package, it's clear that consumers love to combine their music and television experiences together," said Tim Connolly, SVP, Head of Distribution and Partnerships at Hulu.
"Hulu and Spotify are brands that are defining how fans connect with entertainment in the future, and we are excited to expand our partnership to bring this combined package to all existing and new Spotify Premium
subscribers."
"Our student launch with Hulu was incredibly well received and we are excited to extend our reach by bringing Hulu to more of our Premium members in the US," said Alex Norstrom, Chief Premium Business Officer at Spotify.
"Hulu's TV content is highly acclaimed, and with this exclusive Spotify offer we are bundling two top media platforms for an unbeatable price. This is just one example of how we can add value to our premium members day after day."
In addition to Hulu's original series like The Handmaid's Tale, The Looming Tower and Marvel's Runaways, the TV platform offers of thousands of hit series and movies including The Good Doctor, Roseanne, This is Us, Atlanta, Family Guy, The Voice and Power, in addition to the entire series runs of classic shows like Lost, ER, Seinfeld, Full House, Family Matters and more.
According to recent Spotify financial documents, the company had 71m subscribers around the world at the end of 2017.
The company turned over €4.09bn in the year, of which €1.58bn – or 39% – was in the United States.
Spotify is currently forecasting that it will finish 2018 with between 92m and 96m subscribers worldwide.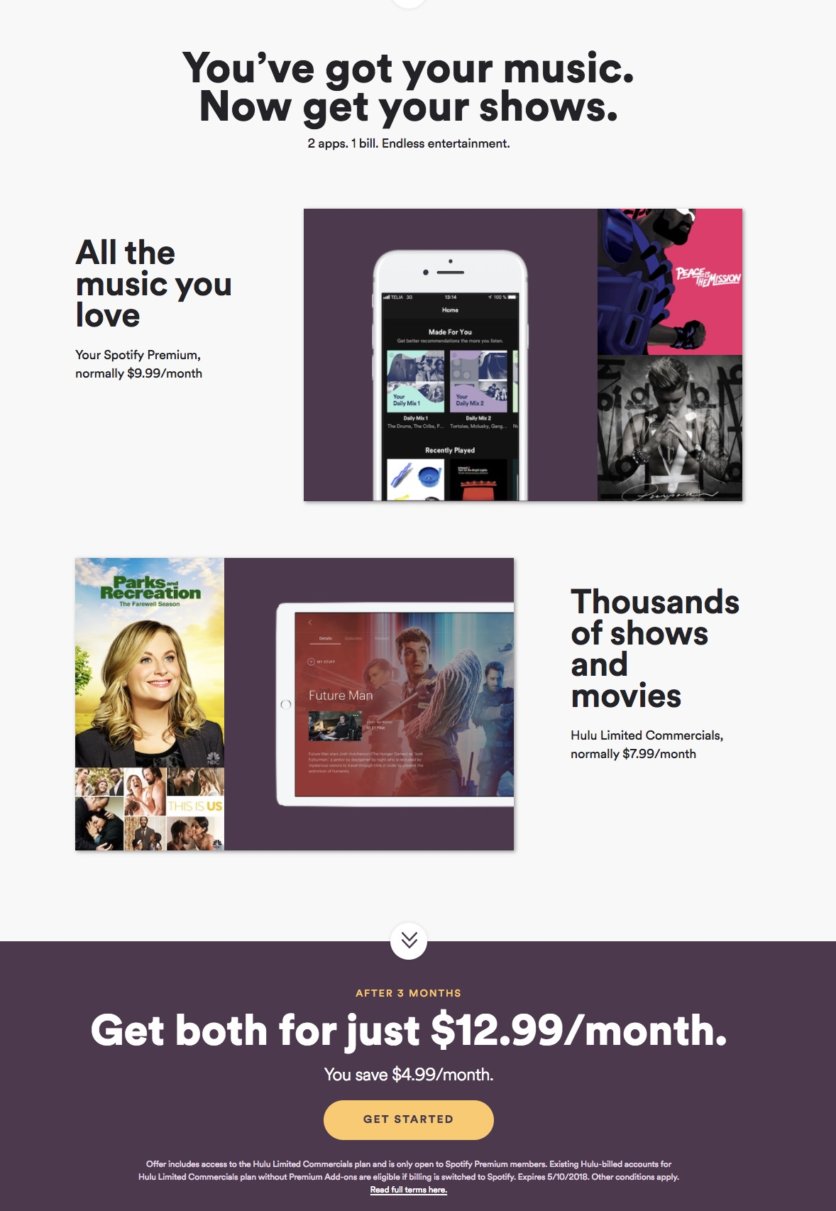 Music Business Worldwide