In little over 12 months' time, Spotify will be out of contract with all three major record companies.
Universal, Sony and Warner all inked 24-month deals with the streaming platform last spring/summer, MBW understands – with Warner the last to put pen to paper in August.
One of Spotify's biggest victories during these 2017 negotiations centered on its gross margin.
All three majors agreed to reduce the average percentage of Spotify per-stream revenue they received in order to give the company a better chance of profitability. (Sources suggest this average percentage fell from 55% down towards 52% – although, certainly in the case of Universal, the reduction was granted on the basis that Spotify hit steep subscriber targets.)
Partly as a result of this reduction in payouts, Spotify's gross margin improved dramatically in 2017 – up 7% year-on-year to 21% from 14% in 2016.
---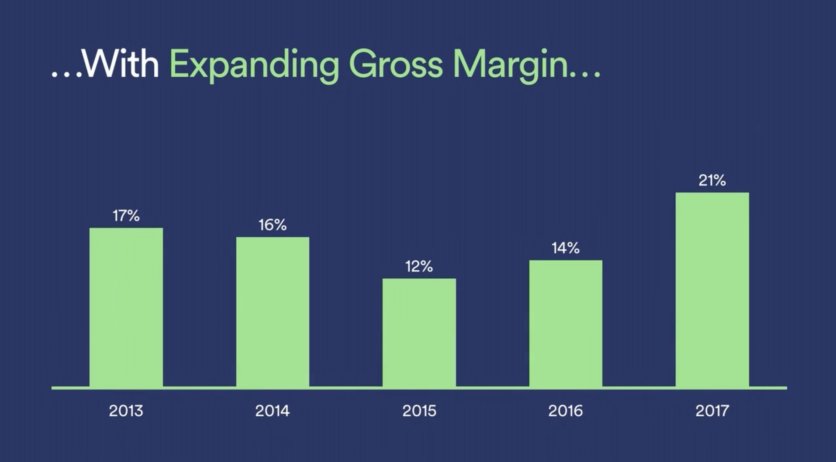 ---
The labels' acquiescence to giving Spotify a bigger slice of the pie was proudly mentioned by Spotify CFO Barry McCarthy at the streaming company's Investor Day in March.
McCarthy said: "The [gross margin improvement] wasn't a magic trick – the labels were acting in their own self-interest to shore up Spotify's economically-challenged margin structure, because of the growing importance of a healthy Spotify to the entire music industry ecosystem."
Today, however, gripes at those same major labels over the "economically-challenged" Spotify are growing… almost as fast as the public market cap of Daniel Ek's company (currently: $35bn).
One very senior US-based source at a major record company tells MBW: "If Spotify comes in here [during the 2019 re-negotiations] and asks for any sort of margin improvement, we're going to laugh them out of the room.
"Over the last six months, trust has eroded and they've started doing things which seem blatantly out to get us. They're valued at a multiple which is much higher than any major label today; perhaps it's now time for us to start clawing that margin back."
"If Spotify comes in here [during the 2019 re-negotiations] and asks for any sort of margin improvement, we're going to laugh them out of the room."
Another senior source, at a separate major, says: "We're not going to entertain the idea of giving them more margin relief; it's not going to happen. There are a range of options on the table: what if we separated [Spotify's] Top 100 artists from other artists during the negotiations? We're thinking about all of this stuff."
Spotify's relationship with the majors has faltered following revelations that the streaming service is striking direct licensing deals with artists. Daniel Ek (pictured) has confirmed this move, but clarified: "Licensing content does not make us a label, nor do we have any interest in becoming a label."
The majors' view of Spotify has been further soured, we're told, by the platform's announcement this week that it's allowing 'free' users to skip advertising in Australia – as part of a trial designed to personalize consumer-facing marketing on its service.
One major label source we spoke to today (August 14) questioned whether this move was in breach of the contractual agreement signed by their company and Spotify last year.
In fact, MBW has spoken to a range of executives in the upper echelons of the major rights-holders over the past week  – and ascertained what some of the key 'pain points' will be for Spotify when it comes time to re-negotiate with the music industry's biggest players next year.
Here are just a handful…
---
1) The future of free
Earlier this year, MBW noted that the major record companies were considering whether to block Spotify's long-awaited move into India, by refusing to license the company in the territory. (Interesting to note that a beta launch in India was expected from Spotify over the course of this summer, and is still yet to materialize.)
We called this licensing blockage a "nuclear option" for the majors but, in reality, it was lightweight versus the real Big Kahuna.
"We're always, always looking at Spotify's free tier," one major label source tells MBW. "If we pulled it completely, we might lose [a nine-figure sum] each year. But would that mean that subscription revenue would actually grow at a stronger rate? It's an ongoing debate."
"There is a strong argument to eradicate free from the charts entirely."
Another source at a separate major says: "Everyone knows it's really important for us to have maybe four or five globally relevant players in [music streaming]. It's obvious that it's in Spotify's long-term strategy to try and disintermediate us [via recent direct licensing deals with artists], so anything which drives competition and does not advantage Spotify is good thing right now."
They added: "We've re-thought the charts [to give better weighting to premium streams] and we may do so again; there is a strong argument to eradicate 'free' from the charts entirely. It's not just about volume of streams anymore – per-stream [royalty] rates are considerably better on Apple Music. "
One option growing in attractiveness, says one label source, would be to refuse to license Spotify's free tier in the most mature markets in the world.
"Why do we still have an ad-supported tier in Sweden, Norway and the Netherlands, where penetration is so high already?" they ask. "That conversation will definitely play out – either next year, or in the next re-negotiation cycle after that.
"A year ago, if you were to ask anyone [at a major] you'd have been told that the free tier is a great driver of [premium subscriptions]. But look at Apple Music: they've just over-taken Spotify in the US with premium plus [three-month] trials. Have we arrived at a new phase in the evolution of streaming? Maybe."
---
2) Promotions
This one has all three majors gnashing their teeth.
In Spotify's previous negotiations with the labels, the company scored itself serious leeway in terms of its ability to offer consumers cut-price trials of its premium tier.
The firm has also bulked up its subscription base with its Family Plan – allowing up to six people to access premium Spotify, all for $14.99 a month.
Meanwhile, the firm's Student Plan enables those in further education to access Spotify Premium for $4.99 a month. (This deal also includes a Hulu sub in the US.)
In its F-1 fiscal document, released earlier this year, Spotify argued: "While the launches of our Family Plan and our Student Plan have decreased Premium ARPU due to the lower price points per Premium Subscriber… each of these Plans has helped improve retention across the Premium Service."
"We're taking a much harder stand on this stuff."
It's also true, however, that Spotify includes every user of its Family plan within its paying subscriber figure, which hit 83m at the end of Q2.
"We're taking a much tougher stance on this stuff," one major source tells MBW. "We've witnessed a tremendous amount of co-operative marketing and promotion of Spotify's business – a lot of which has been under-written by us. There have been a lot of breaks and preferential rates to help Spotify with telcos and other distribution partners.
"Over the last 10 years, this was the right thing to do, as it helped educate the consumer about a new model. But now, there's a good understanding of streaming in most markets – and the company we're underwriting for has a valuation of over $30bn.
"Spotify was by far the most aggressive [streaming platform] in terms of asking for [help with promotional deals and bundles]. We're going to rein that in, and get them to underwrite their own consumer acquisition from now on."
Another industry source comments: "I think that Spotify's Family Plan, $15 for six accounts, is all kinds of wrong. There's far too much value there.
"You could charge $10 for the first account, and maybe a smaller amount per additional account on top, for example."
---
3) ARPU
It's the acronym which turns major label executives white as a sheet.
Spotify's ARPU [Average Revenue Per User] has seen a perilous decline in recent years –  largely thanks to a combination of telco bundles, those Family and Student Plans, plus market-sensitive pricing.
According to MBW's calculations based on Spotify's fiscal filings, the average Spotify subscriber worldwide is now paying approximately USD $30 less per year for their account than they were in 2015 ($8.16 per month in 2015 vs. $5.83 in Q2 2018.)
---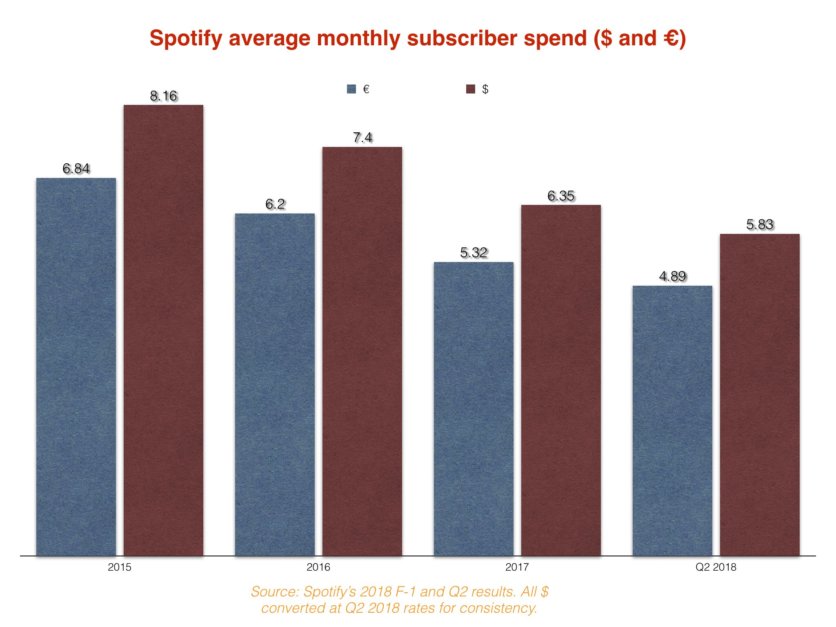 ---
"Spotify's focus is 'how do you grow subscribers?', rather than the actual economics of those subscribers," one major label source tells MBW. "We're starting to shift our thinking much more to revenue per user. Certainly in the more established markets, you want the conversation to change at this point."
Another major source added: "Some [ARPU reduction] is unavoidable; if you bring in China, Russia, India, Brazil – these are low ARPU markets and no-one expects to get a $10-per-month price point like you do in the US. But Family Plans, Student Plans and all the subsidizing of the promotions is massively driving down revenue per user as well."
Additionally, there is a groundswell of discussion over Spotify's advertised monthly price point.
Spotify launched in the US in 2011 at $9.99 per month. When you apply reverse inflation to that $9.99 today, in Q3 2018, it would be worth $8.92.
"Look at most other consumer products or services, and there'll be a price change or increase at some point," says one industry source. "Yet Spotify has never increased their prices, even in those Nordic markets where it all started [back in 2008].
"Moreso than just increasing the price on the basic product, we're pushing them to create new tiers of the service so they can up-sell people to [a higher price bracket with] hi-res audio, a more complete video catalog or different curation and programming."
---
4) data… and who pays for it
Major rights-holders are becoming increasingly annoyed that an artist and their manager can access in-depth data about an act's streaming performance via the much-lauded Spotify For Artists portal –  yet other stakeholders cannot.
Labels and publishers can, at best, hope to receive raw Spotify data about the same act with little of the granularity the artist themselves can study.
"We've been in heated discussions with Spotify on this point for some time," says one source. "We're the ones investing in the artist, and yet we're left under-educated when a manager calls wanting to discuss a data point. Spotify hides behind a handful of wonky reasons for this, including split rights between labels and publishers."
"Show me how much Spotify has invested in the career of a given artist versus what we've invested. And then show me what rights they own as a result. In both cases, the answer is Zero."
Concern is also growing at major labels over Spotify's hopes to charge companies for access to data in the future.
"Can Spotify really be so effective with their data that they add a bunch of value by predicting breakout artists and hits?" asks one major executive. "They seem to think they can do so in a way which we're willing to pay for: I'm very skeptical about that."
They add: "It comes back to the competition question: if Spotify is 25% of the market share for streaming in future, so it's a four-party game with Apple, Amazon, YouTube etc., how can they drive those kinds of insights and hope to get us to pay for them?"
One particularly aggrieved major label source says: "Show me how much Spotify has invested in the career of a given artist versus what we've invested. And then show me what rights they own as a result. In both cases, the answer is zero.
"They're planning to sell us data which already belongs to us."
---
5) Non-music content… and non-major content
We were bound to mention it at some point, weren't we? Fake artists.
Senior figures at all three majors remain steadfast in their belief that Spotify is filling certain 'mood' and 'ambient' playlists with tracks from pseudonymous artists, recorded by composers working for production music houses like Epidemic Sound.
These same sources also remain steadfast in their belief that Spotify is licensing this music at a cut rate versus what it would typically pay for major label material.
"'Fake artists' is a big deal, and it's coming to a head in the next round of negotiations," one major source tells MBW. "The issue is that Spotify has the power of retail and radio rolled into one – they're a combined gatekeeper across both those things.
"This is the equivalent of a retailer putting a 'no-brand' product on the shelf, but then promoting the hell out of it on the radio. It's obviously about clawing back margin for them, but they are unpacking the premium nature of this music – it's a substitutional move with an entirely commercial purpose."
Another weapon in Spotify's arsenal when it comes to improving its gross margin is the company's new love for podcasts.
The firm yesterday (August 13) agreed a deal which will see BBC Podcast content become playable Spotify.
"The bigger the percentage of [podcasts] in Spotify's audio mix, the bigger the margin opportunity to be had."

Barry McCarthy, Spotify
This follows a big-money deal, announced in June, to exclusively bring Amy Schumer's 'cast, 3 Girls, 1 Keith, to the platform.
Speaking to MBW over the phone ahead of Spotify's Q2 earnings call the other week, the company's CFO Barry McCarthy explained that podcast content offers a unique route to margin improvement: podcasts can be naturally aligned with audio brand sponsors, who become part of the 'cast itself.
"Podcast content everywhere [therefore] includes ads – on our platform as well – both for free users and paid users," said McCarthy. "There is an opportunity to expand margins."
He added: "The opportunity and the challenge is to take all the insights we have into listener taste to unlock the world of podcasting; if we do that I think there's an opportunity for it to become significant part of the overall audio mix.
"The bigger the percentage of [our] mix, the bigger the margin opportunity to be had."
The news that non-music content could be robbing hours of listening away from music on a music-led platform is, well, hardly music to the record companies' ears.
"There are protections in place as to how much Spotify is allowed to dilute music content as a share of the total contribution," says one major source.
"Like a lot of this stuff, perhaps we need to remind them that it's actually down in black and white in our contract."Music Business Worldwide