It's not news which will please Warner Music Group, but Spotify WILL go live in India in the coming hours – and its prices in the territory have been revealed.
MBW has confirmed with sources close to the platform that it will officially launch in the market before the end of today (February 26) – although, considering India's time-zone is ten and a half hours ahead of Spotify's HQ in New York, that is likely to mean the service will arrive in the country tomorrow morning local time.
Spotify will arrive, as predicted, within 24 hours after the Bombay High Court in Mumbai declined to grant an emergency injunction requested by WMG which could have prevented Spotify from launching in India.
The big news regarding the imminent launch concerns pricing, as spotted by eagled-eyed MBW readers in India who have cannily managed to log in to an early version of the service (which remains inaccessible to the general public).
---
For the first time, Spotify has adopted a pay-as-you go streaming model whereby users can pay for a single day's access to its ad-free Premium tier. This appears to be payable via local mobile wallet service Paytm.
One day of PAYG Spotify Premium access in India costs 13 INR ($0.18), with seven days costing 39 INR ($0.55) and one month costing 129 INR ($1.81).
Three months of PAYG access costs 389 INR ($5.47) with six months costing 719 INR ($10.10).
In other words, you can get six months of Premium Spotify in India for the approximate equivalent price of one month ($9.99) in the USA.
Alternatively, customers in India can pay 1189 INR for a full year's access to Spotify Premium – the equivalent of $16.71.
If customers are willing to sign up to a recurrent subscription, they are asked to pay a lesser amount of 119 INR ($1.67) per month.
---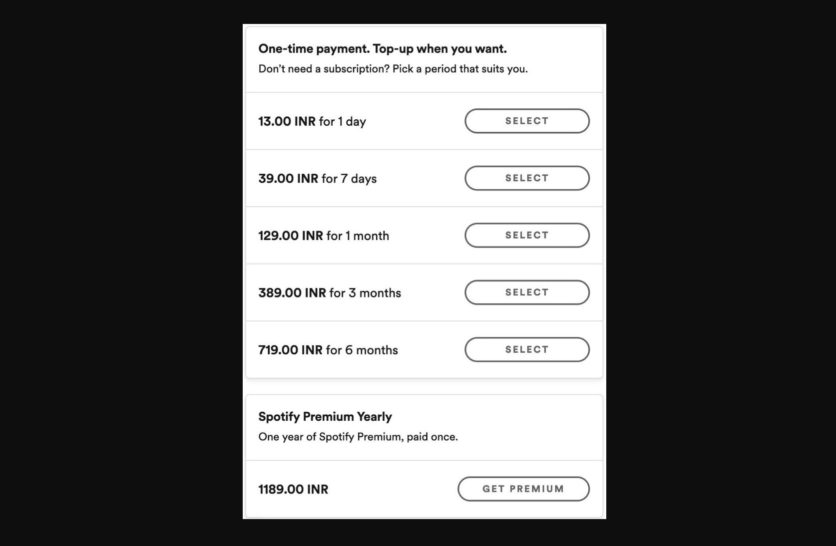 ---
A 'Premium For Students' offer allows those studying to save "up to 50% per month" off the subscription Premium price.
And users can also take advantage of a free Premium trial which lasts 30 days before they have to spend anything.
For context, a monthly recurrent Apple Music subscription in India costs 120 INR, very slightly more expensive than Spotify's 119 INR equivalent.
---
Spotify's launch in India, with its population of 1.3bn people, is seen as a crucial step in securing its next wave of global subscribers.
The company forecast to its investors earlier this month that it would add between 21m and 31m paying subs across the course of 2019.
It added 25m paying subscribers worldwide in the 12 months of 2018.Music Business Worldwide